Zinnia Mukherjee
Associate Professor and Program Director, Master of Public Policy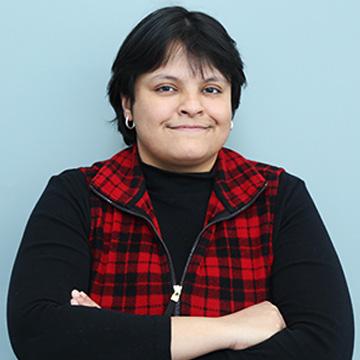 Education
Ph.D., Economics, University of Connecticut, 2004 - 2009.
MSc., Economics, University of Calcutta, 2001 - 2003.
BSc., Economics, University of Calcutta, 1998 - 2001
About Me
Dr. Zinnia Mukherjee is an Associate Professor of Economics and the Director of the Master in Public Policy Program at Simmons University. She joined Simmons as an Assistant Professor of Economics in 2013 after working at Connecticut College as a Visiting Assistant Professor of Economics (2009 – 2012) and at the American Institute for Economic Research in Great Barrington, MA, as a Research Fellow (2011 – 2013).
At Simmons, Professor Mukherjee loves teaching economics and public policy related courses at the undergraduate and graduate levels, and a couple of interdisciplinary courses on environmental issues. Her undergraduate economics course offerings include:
Principles & Intermediate Microeconomics (Econ 100, Econ 200),
Business Competition and Antitrust Policy (Econ 241),
Economics of Sustainability and Resource Use (Econ 145),
Environmental Economics (Econ 247), and
Public Economics (Econ 236).
She has developed two interdisciplinary courses that focuses on climate change and environmental leadership for the Simmons PLAN curriculum (Purpose, Leadership, and Action): Climate Change and Boston (BOS-101), and Environmental Leadership in the 21st Century (LDR-101). Whenever there is an opportunity available, she offers these courses for first-year students.
As a faculty member of the Simmons Master in Public Policy program, Professor Mukherjee teaches Economic Policy Analysis (MPP 503, a core requirement), supervises independent study and capstone projects (MPP 550 and MPP 505). In her current role as the Program Director, she advises undergraduate students on the MPP 3+1 track and graduate students enrolled in the Master in Public Policy Program.
In addition to offering courses, Professor Mukherjee thoroughly enjoys working one-on-one with undergraduate and graduate students on their research projects that are related to her area of expertise, and mentoring them based on the lessons learned from her life, academic, and career-related experiences. Whenever some funding is available, interested students work with her as research assistants on her ongoing research projects. Professor Mukherjee is the recipient of the 2018 Professor of the Year award.
As a researcher, Dr. Mukherjee is an applied microeconomist with her primary interests in environmental, natural resources, and sustainable development related issues. Some topics of research interests include the following:
Sustainable management of marine resources and fisheries, conservation of endangered species, effects of international trade on environmental outcomes, effects of climate change on coastal fishing communities, corporate social and environmental responsibility, and understanding how various markets affect human health and the environment.
Her interests also overlap with various public policy and resource management related topics such as differences in education, labor, and capital market outcomes across the population, sources of income and wealth inequality, agricultural and food policies, and development economics.
Dr. Mukherjee's articles have been published in Marine Resource Economics, Annals of Operation Research,Journal of Policy Modeling, Renewable & Sustainable Energy Reviews, Environmental Economics and Policy Studies, Marine Policy, Physica A: Statistical Mechanics and its Applications, Resources Policy, and Natural Hazards. She has presented her research at conferences such as the Eastern Economic Association, Southern Economic Association, Annual Meetings of the European Association of Environmental and Resource Economists, Applied Environmental Economics Conference (London, UK), Heartland Environmental and Resource Economics Workshop, and the American Agricultural and Economic Association Annual Meeting, among others. Her scholarship has been supported by the Simmons College President's Fund for Faculty Excellence Grant and multiple other Simmons research grants.
In addition to her teaching and advising responsibilities and her research, Dr. Mukherjee enjoys working with her colleagues on various department and university related matters. Most recently, she has been serving as the Chair of the Faculty Fiscal Affairs Committee (2021-present).
Selected Publications:
"Environmental Regulations and Export Performance: Evidence from the U.S." with Niloufer Sohrabji, Eastern Economic Journal, Vol. 48, April 2022.
"Behavioral Response of Fishers to Hypoxia and the Distributional Impact on Harvest," Marine Policy, Vol. 133, November 2021.
"U.S. State-Level Carbon Dioxide Emissions: Does It Affects Health Care Expenditure?" with Nicholas Apergis, Rangan Gupta, Chi Keung (Marco) Lau, Renewable & Sustainable Energy Reviews, Vol.91, 2018, 521 - 530.
"Paying for Green Energy: The Case of the Chilean Patagonia" with Juan Pedro Garces, Journal of Policy Modeling, Vol.38, No.2, March-April 2016, 397 - 414.
Mukherjee, Zinnia "Controlling Stochastic Externalities with Penalty Threats: The Case of Bycatch," Environmental Economics and Policy Studies, Vol. 18, No.1, January 2016, 93 - 113.
Mukherjee, Zinnia and Kathleen Segerson, "TED Regulation and Shrimp Harvest: The Role of Behavioral and Market Responses," Marine Resource Economics, Vol. 26, No.3, October 2011, pp 173 - 189. (Recipient of the 2011 Marine Resource Economics Outstanding Article Award)