Campus & Community
Why I Got Vaccinated: Area Coordinator Marcus Hill Participates in Vaccine Clinical Trial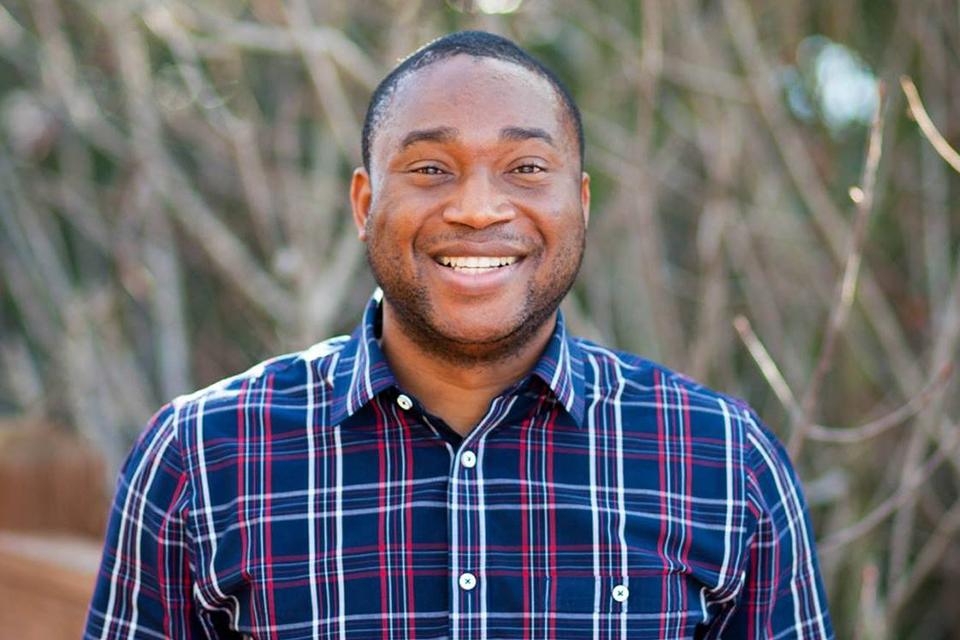 The Moderna Vaccine Clinical is a two-year trial, and I'm almost a year in, and I have no regrets... it's a small price to pay to help save lives...
Throughout the pandemic, Simmons' top priority has been the health and safety of our community. We're encouraging everyone to share why they got vaccinated and what they are most looking forward to upon returning to campus. Read Residence Life Area Coordinator Marcus Hill's experience as a participant in the Moderna Vaccine Clinical Trial and why it's important to him to be a part of the solution.
---
When Simmons University shut down in March 2020, I remember helping students move out of their dorms, purchasing flights for students who couldn't afford to fly home, and as most people across the country, glued to the TV daily.
Once the semester ended, the campus was empty, and I was officially on leave, not knowing what to do as the world grasps to endure the virus and how to survive a pandemic.
Being a person of faith and wanting to help, I felt powerless about how to contribute. It wasn't until July 31, 2020, when Dr. Anthony Fauci was testifying before congress regarding the need for a diverse group of people for the clinical trials. The very last thing he said was if you hear nothing else from this, sign up for clinical vaccine trials "so you can be part of the solution of this terrible scourge." He shared the website, and within five minutes, I had signed up.
It was no surprise that Black Indigenous People of Color (BIPOC) were not signing up. Between the mistrust of the federal government, the heinous treatment of African Americans with the Tuskegee trial, and a lack of recruitment methods, I didn't blame them. Besides, I thought it was a long shot that I would get chosen.
To my surprise, when Javier called from the Brigham and Women's Hospital (BWH) Center for Infectious Disease (CDC), where the Moderna Clinical Trial started, he called and asked if I was still interested. After having a lengthy conversation, doing research, and speaking with my family, everyone encouraged me not to do it. All of my African American mentors said they wouldn't get the vaccine, including my father. I didn't blame them! But after getting clearance from my primary care medical doctor and talking it over with my partner, I knew this was the right thing to do.
I knew this was the right thing to do.
COVID has robbed people of their lives, jobs, family members, and the body count would continue to grow without a vaccine. I had two goals I wanted to accomplish by joining the trial. The first was to have the ability to encourage other people, particularly the BIPOC, to get vaccinated if indeed this vaccine proved to be safe and effective against COVID-19. The second was to see my family again, who are across the country in California. I haven't seen my mother, sister, and young nieces in over two years. My dad lives in Portland, Oregon, and I haven't seen him in four years. If my joining the trial meant helping save lives and hugging my family again, sign me up!
The Moderna Vaccine Clinical is a two-year trial, and I'm almost a year in, and I have no regrets. Although I receive phone calls from Brigham and Women Hospital for monthly check-ins, must complete weekly attestations via an app, and a couple more hospital visits, it's a small price to pay to help save lives, and I accomplished my goal. My entire family is now fully vaccinated, and my whole family will see each other again on July 12 for my sister's birthday.
I'm looking forward to all of them visiting Boston, but I'll fly to California for now. But that's not the best part; because of my courage to participate in the trial, my two young nieces, Amani (10) and A'jAnai (7), recently joined the clinical trial in California. So, if my young nieces are brave enough to get the vaccine, you should be too!