Alumnae/i Feature
Vivian Williams '06MSN Receives American Academy of Nursing Edge Runner Award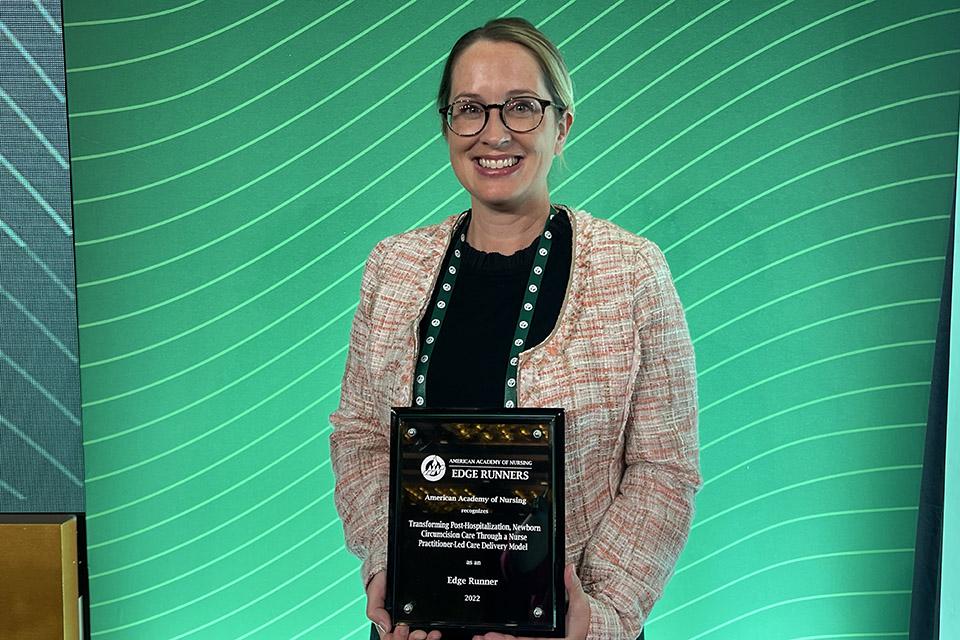 The American Academy of Nursing's Edge Runner initiative recognizes the nursing profession's contributions to transforming the health system through nursing solutions. Vivian Williams '06MSN spoke with us about her passion for nursing and her reaction to receiving this recognition.
This fall, the American Academy of Nursing selected eleven innovative models of care to be named Academy Edge Runners. Vivian Williams, MSN, RN, CPNP has led the creation of a nurse-led care delivery model to improve the urologic care to children and their families. The Edge Runner initiative recognizes evidence-based, nurse-designed models of care and interventions that impact cost, improve healthcare quality, and enhance consumer satisfaction. Through its Edge Runner program, the Academy recognizes the nursing profession's contributions to new, innovative ideas the transform the healthcare system. Edge Runners represent the powerful connection nurses have to the healthcare system, the public, and society by acknowledging the marriage of science with humanistic, caring-focused practices as the essence of the profession.
Williams is deeply honored by the recognition. "I was extremely emotional. The work that I do enables nurse practitioners to work to the full extent of their license and expertise. To be able to elevate the program we have through this designation is unbelievable and touching," she says.
Williams has worked at Boston Children's Hospital for 17 years. She is an advanced practice registered nurse (APRN) and within the hospital has achieved Advanced Practice Nurse III designation and was appointed as Lead APRN within the Department of Urology. Vivian manages the care of patients who are admitted into the hospital, oversees consults throughout the hospital, and proposes privileges and guides competency standards for in-patient and out-patient nurse practitioners within the Department of Urology.
Additionally, Williams is the architect of the nurse-practitioner-led Newborn Circumcision Clinic (NCC) working collaboratively with physician and nurse colleagues. Williams helped to develop the clinic to address a gap in care for parents who choose to have their child circumcised and cannot do so in the immediate newborn period. This includes premature infants or infants diagnosed with a medical issue that prevents them from having this procedure performed in the immediate newborn period. Previously, parents would have to wait until their child was older, when the procedure would often be conducted using general anesthesia in a hospital operating room setting.
"The purpose of this program is to provide parents with another opportunity," says Williams. "Through this nurse-led model, we can offer circumcisions to newborns who meet certain safety criteria. We can also perform the procedure with local anesthetic, thereby reducing the risks associated with general anesthesia in the newborn population. This approach also reduces the cost of care and expands access for patients and families. Importantly, this nurse-designed model supports parent presence, effective pain management, and prepares parents to effectively provide post-discharge care management. Our research shows that we provide safe care."
Williams first became interested in nursing through a family connection. "My grandfather was the Chief of Neurology at the Floating Hospital for Children, (previously part of Tufts Medical Center). I was inspired by his knowledge and care of children. I always knew that I wanted to go into pediatrics," recollects Williams.
Williams desired a role where she would be able to spend time directly caring for patients and their families. Williams studied medical laboratory science in her undergraduate years, but realized that she missed interacting with people. She thereafter decided to become a nurse practitioner.
One of the main reasons Williams chose to attend the Simmons School of Nursing was for its direct entry program, which does not require a bachelor's degree in Nursing. Students can matriculate into a graduate program in nursing after completing an undergraduate program in an unrelated field and build upon this prior education and experience to become a nurse practitioner.
"When I started the Simmons program, there were very few options for direct entry students," says Williams. "I knew that Simmons was a well-rounded and respected institution. It also has important ties to local teaching hospitals and organizations. I found that the program was robust and it was a good match for me."
Williams' advice to novice nurses is to ask questions, seek opportunities, find mentors to support you and to push the envelope. "There is so much power in research, clinical inquiry, and being able to base your practice upon evidence-based outcomes," she says. "When you have an idea, do it. And then show what a great job you have done by using research to validate and improve your work. For folks interested in leadership, you should immerse yourself in the field. And never doubt yourself."