Campus & Community
The Vital Importance of Preserving Privacy in the Modern Library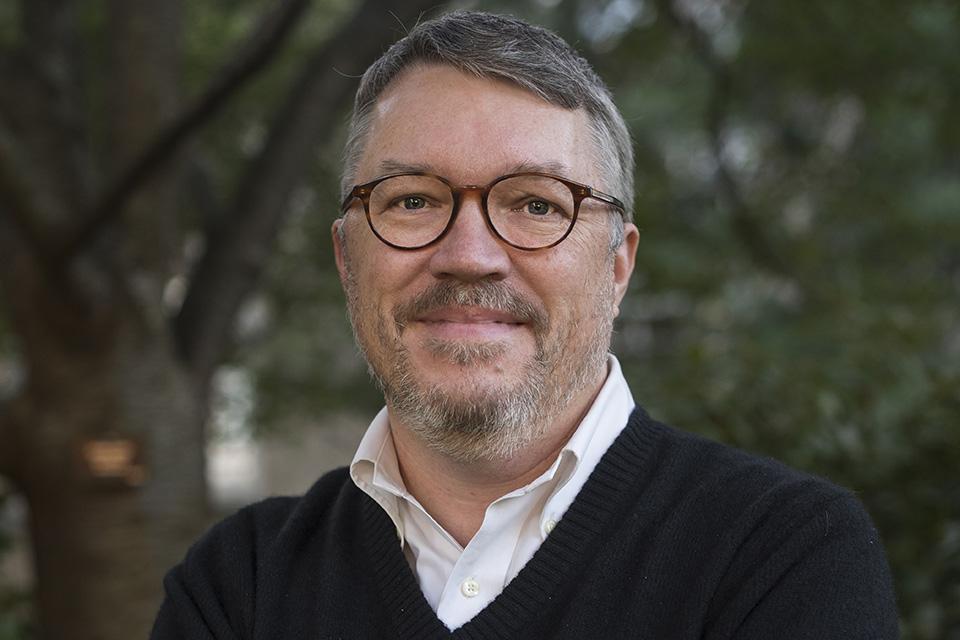 SLIS Allen Smith Scholar, Frederick Lane, on the importance of creating a space that models civility and calm.
The School of Library and Information Science is proud to welcome Frederick Lane as our Allen Smith Visiting Scholar. An author, attorney, educational consultant, and lecturer based in Brooklyn, NY, Lane is a nationally-recognized expert in the areas of cybersafety, digital misconduct, personal privacy, and other topics at the intersection of law, technology, and society. 
Lane has appeared on The Daily Show with Jon Stewart, CNN, NBC, ABC, CBS, the BBC, and MSNBC. He has written nine books, including most recently Cybertraps for Educators (Mathom Press 2015) and Cybertraps for Expecting Moms & Dads (Mathom Press 2016).
Frederick Lane will lead two panel discussions: "Free Speech, Civil Discourse, and Libraries" on March 13, 6-8 p.m., and "Cybertraps for Librarians" on March 16, 2-5 p.m. Each event will also be recorded and made available online.
What is the most vital privacy issue facing LIS professionals?
Preserving the privacy of patron reading records is vital. At its most basic level, this means providing physical and institutional security for the records of which books patrons borrow from the library. "Physical security" can be accomplished by making sure that only authorized members of the library staff have access to the records. "Institutional security" refers to adopting policies that address under what circumstances law enforcement officials can review the borrowing records of patrons. 
A subset of both types of security is the issue of "computer security." With more and more library data stored on computers, and more and more readers borrowing books electronically, it is vital for libraries and librarians to understand computer security and implement appropriate safeguards. For instance, libraries should consider encrypting patron data and implement the use of the secure communication protocol (https) for remote connections.
How do LIS professionals and libraries use technology but steer clear of privacy issues?
The single most important way in which LIS professionals and libraries can use technology and protect patron privacy is to collect as little data as possible about patron library use. Data can't be stolen or misused if it is not collected in the first place. I would describe this as the "Least Feasible Data Collection" protocol. Before a decision is made to collect and store identifiable data about patron library use, the following questions should be thoroughly discussed:
What data is the library planning to collect?
What is the goal that the library is hoping to achieve through the collection of data?
What is the least feasible amount of data collection necessary to achieve the goal?
What is the maximum period of time the library needs to store the data consistent with the goal in question?
What are the potential consequences for the patron or the library if the data is compromised?
Is it possible to adequately protect the data and if so, how?
Do the potential consequences of a breach or misuse outweigh the goal envisioned by the library?
As a former school board member, I know that sometimes the perceived goals of an organization (library, school district, etc.) can outweigh the interests of the people served. Those concerns should be carefully examined each time a new policy is considered and on a periodic basis for existing policies.
What is the future of cybersafety? 
In the near future, the main cybersafety issues we will face are an intensification of two existing trends: the intense harassment and bullying online, and the sociological impact of access to adult materials by minors. Although these are complicated issues that will only be solved through the efforts of many aspects of society, there is no question that libraries and library professionals can play an important role. With respect to bullying and harassment, libraries can help promote civil discourse through education programs, workshops, materials for parents, and positive example of the library space itself. As for online adult materials, the most powerful step libraries can take is to help provide context for what kids see online. I believe libraries should be proactive in selecting and collecting materials about sex education, gender roles, and related topics. Having done so, libraries should develop a thoughtful outreach program to inform kids and parents that such materials are available.
What can librarians do to encourage civil discourse?
First and foremost, create a space that models civility and calm, which most libraries do innately. But there are a variety of other proactive steps that can be taken: workshops for kids and parents about online civility, poster contests, civility challenges ("how long can YOU go without insulting or hurting someone online?"), and so on. I think that libraries have a place in communities and the moral authority to host conversations about what our values regarding civility should be and how best to promote those values.
How can the library be preserved as a safe (civil) space, while also dealing with challenging issues?
The two top answers are: 
Maintain and promote the role of libraries as a safe space for multiple viewpoints.
Actively encourage and promote respectful conversations, especially about challenging issues. 
Libraries have innate advantages in this regard, in that they are typically grounded in a specific community and respected for their dedication to wide-ranging knowledge. I believe there is a growing hunger for opportunities to calmly discuss the issues with which we are grappling and I think libraries have a unique opportunity to be at the forefront of those conversations. Properly done, that type of conversational leadership will only enhance the reputation of libraries and their role in our communities and our intellectual lives.