Alumnae/i Feature
Get Into Trouble: Alum-Owned Bar Lands on Esquire's List of Top 27 in America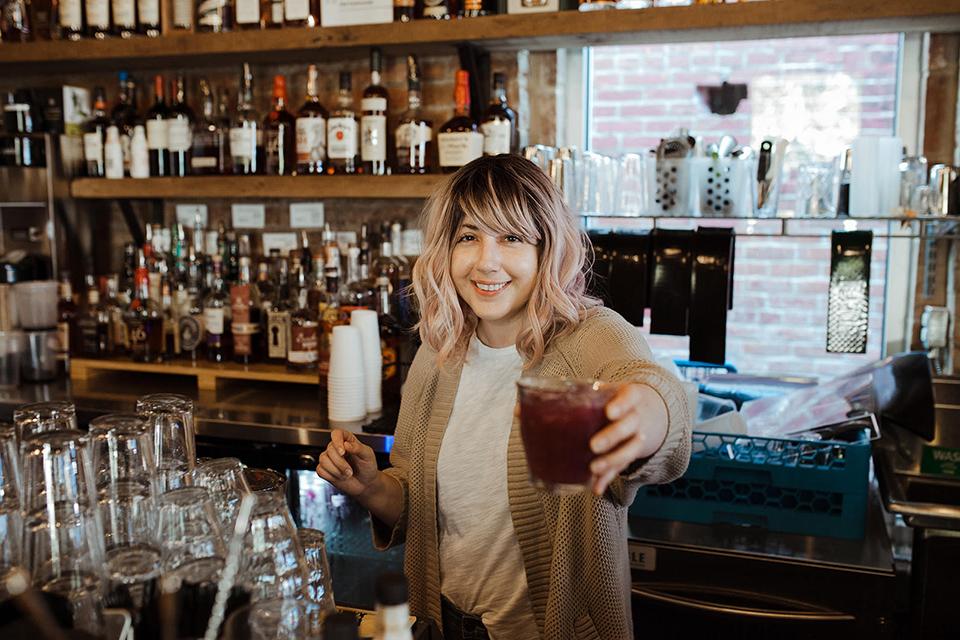 ...we wanted every person who walked in to know that they were welcome and that this bar could be a home if they wanted it to be one, and we just keep aiming for that goal every day.
Kaitlyn Soligan Owens '12MA knows her industry isn't traditionally designed for women to succeed. As a gender and cultural studies alum, she sees the world differently and knows that if traditional ways of doing business aren't working for you, then approach them in new ways and make it work. Learn more about her journey into founding the successful Louisville haunt, Trouble Bar, and why it was important for her to build a safe, inclusive and comfortable space.
---
Why did you choose to attend Simmons for a master's in gender and cultural studies?
I grew up in Massachusetts and went to UMass Amherst, but after college, I moved to Washington, DC, and traveled for some time. I felt ready to come home to Boston by the time I was looking at master's programs. I knew I wanted to specialize in gender studies rather than women's studies, and ten years ago, very few programs did that or had a strong foundation shaped by queer studies. It was either a great coincidence or fate that Simmons had the strongest program and gave me the chance to come home again.
In your experience, what was the best feature of the program?
Hands down, the best feature and the deciding factor in why I chose the program was that the department head changed every few years. It also changed hands from specialty to specialty, constantly shaping the focus to remain as cooperative as possible. That doesn't work for everyone, but for me, it illuminated how interconnected our subjects were and gave me a much broader lens.
While I got my degree, Professor Jyoti Puri ran the department, and then it was run by Professor Renee Bergland. They were both brilliant to learn from, but I doubt their areas of expertise, teaching styles, or even personalities could be more different. It was a constant reminder of how many ways there are to communicate effectively and teach and learn successfully.
When traditional ways of doing business are setting you up to fail, inventing new ways of doing things that work for you is a much easier choice.
Tell us about founding Trouble Bar. How did this venture begin?
There's a long, winding story there that starts, probably, at the Museum of Sex in New York City — really — or it might actually start when I got my first job as an executive assistant in DC right out of college and met my best friend and now business partner, Nicole. Or maybe it doesn't even start until we walked into the building that would become our bar, a few weeks before I was diagnosed with cancer at the age of 34.
As a writer, that's what I love about stories and what constantly frustrates me: your stories begin and end when and where you say they do. Whatever version I told of this one would be too long, so instead, I will give some unsolicited advice, and maybe someone will remember it someday when it matters:
Success is whatever you believe it is, and your life is whatever you make it into. The most common pressure you'll feel is to make your life comprehensible to others, to tell a familiar and comfortable story. If the life you want for yourself aligns with those expectations from others, that's an incredible gift. But if it doesn't, you're off the map and into territory only you will be able to charter. If you just follow that instinct wherever it takes you, it will be an incredible adventure. If your journey is anything like mine, you will spend it fascinated and be very broke for a very, very, very long time.
How have the lessons learned at Simmons translated to what you're doing now?
Gender and cultural studies was a full-on trip that changed the way I think about everything. Because I see the world differently than many other folks, I've followed whatever rabbit down whatever hole looked the most interesting. I'm a post-structuralist intersectional feminist, and that has shaped everything about our businesses, and most importantly, how we build community, which is what our businesses are designed to do.
In the practical sense, that means assuming everything that is "normal" or that people "know" is the right way to do business isn't necessarily right for us, and starting totally from scratch on how we build our team, how we all work together, what our goals are, and how we accomplish them. What helped is that traditional success in our industry isn't designed for an owner-operated bar run by two women and a staff of mostly women — and it isn't designed for our Beverage Director Felicia Corbett, who is a Black woman and a three-time cancer survivor. When traditional ways of doing business are setting you up to fail, inventing new ways of doing things that work for you is a much easier choice.
What's your favorite part of your job?
A busy night where the drinks are flowing, people are talking and hanging out and occasionally plotting world domination, spending time with people they already love, and meeting people they will love someday. A good night at the bar is like getting to throw the best party in the world and waking up to great memories and a magically clean house.
Success is whatever you believe it is, and your life is whatever you make it into.
Tell us about being named one of the 27 Best Bars of 2021 by Esquire.
A fun fact is that no one calls and tells you that your bar will end up on this list, so we found out the day the list was released when a friend congratulated us on social media. The day was a blur. We're mostly stunned — we are a neighborhood bar, way outside (for now!) of the trendy neighborhoods our city is focused on promoting and developing. Being able to bring that kind of shine to our neighborhood, which is our favorite place in the world, and to our city and state and the scene we have to offer is such an honor.
It feels so special to help demonstrate that you can build a business this way and be successful. I know how strong our bar scene is, and I want to see a lot more of us on that list in the future. I truly want Louisville to have as many recognized and celebrated bars as New York or LA. We make all that bourbon everyone is drinking — I'd like them to drink it here!
Tell me about why it's important to you that Trouble Bar is an inclusive space.
Our bar was designed on accessibility as a principle from the very literal ground up. I have been someone who needed access and inclusivity and general human thoughtfulness that is too often scarce in our normative designs — most folks in my life have been as well. When I go out with friends and family with mobility challenges, we're constantly thinking about where they'll be comfortable, how to get them in somewhere they can navigate, how they can sit down. Those bars where everyone stands seem real cute until you're on crutches or need a cane in your twenties.
When I go out with friends with non-conforming gender identities or who are actively transitioning, I need to know where they will be safe and comfortable, but more than that, I want them to be loved and adored as much as I love and adore them. I don't want a gender-neutral bathroom sign — I want a bathroom they feel actively comfortable using and a staff with a conscious approach to pronoun usage.
I'm queer and Jewish and have experienced firsthand how illness excludes us from public spaces. But Nicole and I are also both white and drinkers, so we went through the space and thought about what our friends who are folks of color would need, what a Black woman would need to feel comfortable in the space, what a sober person would need. Not everyone does feel at home in our bar — some people just have different tastes, some people can't quite put their finger on what's so weird about it, and some people — and this is true! — don't stay when there are only women behind the bar!!! But we wanted every person who walked in to know that they were welcome and that this bar could be a home if they wanted it to be one, and we just keep aiming for that goal every day.
Do you have a favorite cocktail or type of bourbon?
My favorite drink is an old fashioned, because I like whiskey and I've been drinking it for a long time, and I learn a lot about a bar by how they make that drink. I think knowing what you like to order at a bar — and I don't care if it's a Diet Coke or a neat pour — is a sexy and powerful thing.
I think you should drink what you like, and some people don't care to get into whiskey. But if you are interested, I'd ask a dive bar for a whiskey and ginger — Irish whiskey if they have it, like Jameson — and a nicer bar that makes cocktails, ask for a Kentucky Mule, which is just a Moscow Mule with bourbon. If you're at home, pour a whiskey lemonade for summer — one part whiskey to two parts normal store-bought yellow lemonade, and you can make that by the pitcher for friends.
If you already like whiskey and want a neat pour, I love anything by Heaven Hill or Evan Williams, a huge company that is still truly family-owned and operated, founded and run by a Jewish family. Or try the 1884 white label Uncle Nearest, founded by Fawn Weaver, and check out their story to see how the history of distilling in this country has been very literally white-washed and how folks are starting to tell more open, honest stories that acknowledge where we came from and can give us new ways forward.
If you want small, craft, family-owned — and I mean small small — but impressive quality, and you want to look like you know your whiskey, order something made by Willett, a distillery I love that is becoming better known every day but is still a deep cut for the moment. Massachusetts has Rowan's Creek and Noah's Mill from Willett at many stores and bars, and I'll usually order that on the rocks when I'm home.