Alumnae/i Feature
The Makerspace as the Go-To Place for Mental Health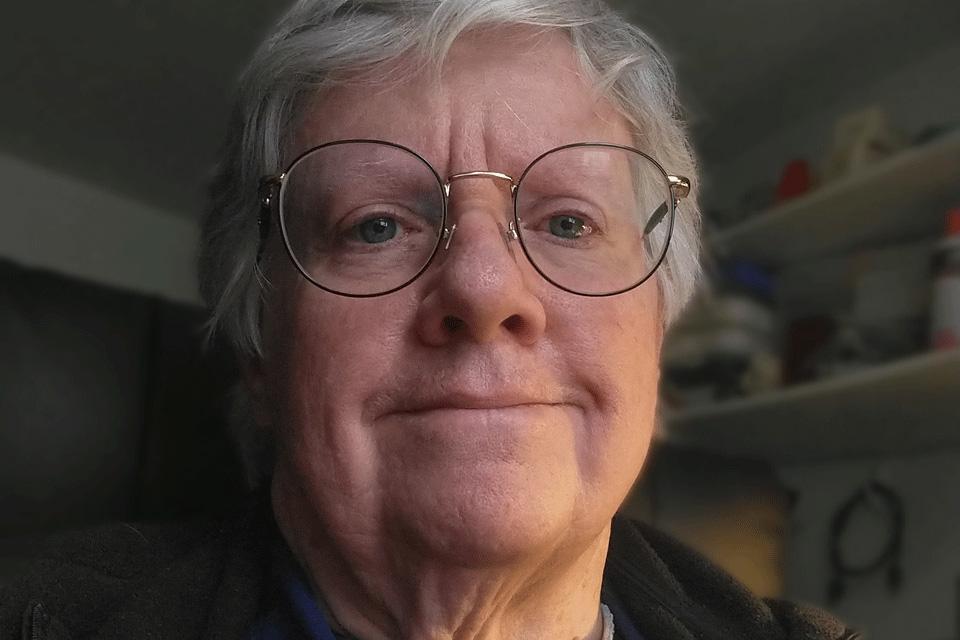 Mare Parker-O'Toole '88MS established her first makerspace at the Medfield Public Library, where she was Head of Reference in 2009. "We were exploring the idea, so I turned my office into a makerspace," she recalls. "I love building community. The library is a community space, so it's perfect for a makerspace."
Parker-O'Toole, a member of the COCIS Dean's Advisory Council, has set up three makerspaces in her career, and is excited about the Simmons University Makerspace in Palace Road. In 2013, she became Assistant Director for the Earl Center for Learning and Innovation at Wheelock (now part of Boston University). "It was a great space, with giant sliding glass walls and a screen the length of the room for showing PowerPoint presentations. I thought, what a great makerspace this would be!" She was influenced by the 2010 Soul of the Community study done by the Knight Foundation, which studied what brings communities together and cited the need for welcoming cultural interactions. "I kept that in my mind as I structured the makerspace. That helped make it a go-to place on campus, which is my goal whenever I start these things." 
Parker-O'Tool has trained librarians at other libraries on how to set-up a makerspace, offering guidance on how to stock the space, and how to hire and train employees to support it. "It's more the mental construct of giving people permission to come and create and fail and try again. Play is enormously important for everyone — it's the first way we learn." Play, she says, should be non-judgmental and not time-sensitive. "We learn by messing around. At Wheelock, I promoted play in every possible way. We had a ball pit and everyone ended up in that pit: from the college president, to soccer teams, to visiting scholars from other colleges. It took the edge off of things and gave people permission to do things alternatively."
In 2018, she became the Public Services STEAM/Makerspace Librarian at Newton Free Library, where she facilitated the librarians to build the tables used in the makerspace. "I love teaching things, like woodworking. So many people have never touched a powertool. It's very empowering." At its core, the message of the makerspace is learning by doing. "I'm a realist, looking at the way the world is going. If we lost electricity tomorrow, how would we live with no computers, no Netflix? If you know how to do things with your hands, you can grow food, sew clothes. These skills are important."
The emergence of makerspaces in public libraries and universities coincided with a focus on STEAM activities. "I always loved science," says Parker O'Toole, "I used to blow stuff up in my basement all the time. Suddenly, in the makerspace, I had all these playmates!" She cites Citizen Science and Scistarter as valuable resources. "Everyone can be a scientist," she says. "You can find 1,000 different projects to get involved in, and the science that you're observing is actually being used by scientists." 
She finds that handcrafts can bring the wider community together, noting that while kids are eager to learn, adults are often afraid of making mistakes. "At the Newton Free Library, we had a group that ranged from 8 to 98 years old, and they all worked together. Nobody felt threatened or left out." Parker-O'Toole taught them needle felting, and participants built a kit with colored fiber and needles. "You teach them just enough, and then it's on them to learn and fail and ask questions. Send them home with the materials so they don't have to stop working on their project." And there is room for everyone at the table. "Homeless people came in and learned how to do things and were great contributors. They loved being able to come and be part of something like that." 
Makerspaces can offer the community vital support, especially in times of ongoing stress. "Studies have been done on knitting [and other handicrafts], showing how the brain advances and how calming it can be. Any routine can be calming." She's also been exploring the role of trauma-informed libraries. "The makerspace engages the right side of your brain. That's where trauma is stored, without words. Talking it out may not change post-traumatic stress, but I found that you can do a lot of self-healing through drawing, and other things with your hands."
When the pandemic hit in March 2020, she had to rethink her approach. "How do you have a makerspace when you don't have your community in person?" They offered Zoom classes to participants, teaching gardening in containers and drawing classes. "I demonstrated to everyone how terrible I am at drawing," she recalls. She continued offering online classes when she became Director of the Annenberg Library at Pine Manor College, later in 2020. Unfortunately, the pandemic interrupted the funding from on-site events that the College depended on. They have made an agreement with Boston College to teach out the current students. "These students are losing their school. My solution was to create a makerspace, because there is nothing better for your mental health than using your hands, creating something beautiful, and experimenting." 
As a Polio survivor, Parker-O'Toole has used a scooter or crutches to get around. "I've made a point of hiring disabled students on campus," she says. "If they've made it that far, then they are rock stars in terms of problem solving." She gives students ownership of the makerspace and autonomy to create devices to solve problems on campus, such as 3D printed objects to help students who lack manual dexterity to accomplish tasks on their own, like clipping their nails or opening a water bottle. One student created a special cover to make the automatic door buttons easier for service dogs to push. "A student created this design using Tinkercad, a free 3d design program, and printed it on the 3D printer," she says of the plastic button, embossed with a paw print. Anyone with a 3D printer can support the needs of disabled students by visiting Makers Making Change, which offers downloadable 3D printing files. 
"Running a makerspace is a new part of the library field, a whole new avenue for librarians," says Parker-O'Toole, "I love helping people, and this is a wonderful way to do it."