Alumnae/i Feature
The Accidental Librarian: Lina Osho-Williams '21MS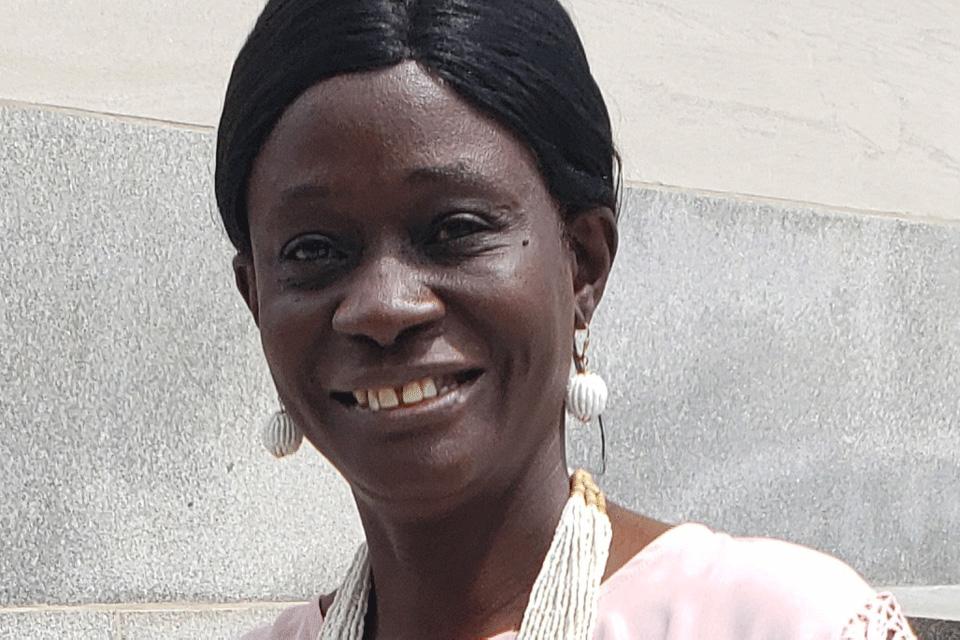 How does your experience of immigrating to this country impact your career choices?
Immigrating to the US provided a landscape of opportunities for me. First, it gave me my very first job as a cashier at TJMAXX. Three months later it landed me on the education pathway that I had envisioned for myself.
I was hired as a preschool teacher at the Community Renewal Team (CRT) Locust Street Early Childhood Education Program in 1999. I believe my middle school teaching background from The Gambia may have contributed largely to getting me hired for this position, even though I lacked the required preschool experience at that time. With the advice of the director, I took the Child Development Associate course to provide me with the knowledge and skills needed to work effectively with children and families in an early childhood setting. This course sowed a deep passion for working with young children, which led me to obtain a master's degree in early childhood education in 2006 from the University of Phoenix.
It was while completing this program that I saw a job opportunity to become an Assistant Youth Services Librarian at the Hartford Public Library in 2005. The Associate Librarian for Youth and Family Services, Debra Perry, took a chance on me — I will forever be grateful for this career opportunity. Within two years of being the Assistant Youth Services Librarian at the Blue Hills Branch Library, I was promoted to Youth and Family Services Manager in 2007, the position I currently hold.
What made you choose to study library and information science at Simmons?
I believe my training from Simmons will not only put me on the same pedestal as my contemporaries, but also equip me with tangible and marketable skills that will deepen my growth and strength in the library profession and nurture a deep understanding of an institution that is revolutionizing today's society. Simmons has provided me with the tools to expand my professional horizon to become a strong Information advocate for children, families, and the community at large.
Tell us about your role as Youth and Family Services Manager at Hartford Public Library.
I am responsible for the delivery of services and programs to children and families from birth to 12 in the downtown Children's Library. I hire, train, evaluate, supervise, and manage youth services staff in the Children's Room. I have five direct reports: two full time library assistants, a part time library assistant, and two part time School Choice Coordinators. I also supervise all library volunteers in the Children's Room. I also serve as a manager-in-Charge within the library system whenever the need arises. Last but not the least, I respond daily to the needs of library customers and resolve customer issues on a regular basis.
What do you find most rewarding about this work? The most challenging?
My work with children and families is the most rewarding for me. It is always a joy for me to witness the trajectory of children's literacy and overall development within the library system. I've seen the growth of young people who have been nurtured within our library walls grow up to become productive library employees. This is a true testament to the power of libraries in changing lives!
Also rewarding is my work with immigrant families. I take this as an opportunity to give back in my public service to the community, paying forward all the help and support that my family received from the Interfaith Refugee Ministry and our Hartford sponsor, the Warburton Community Congregational church, when we resettled in Hartford, CT. Welcoming new immigrant families in the Children's Library is always a joyous opportunity for me to offer my assistance, because I understand what it means to start life all over again in a foreign land.
Navigating my professional journey as a librarian of color hasn't been easy. I remember being asked "How did you get this job?" in a very condescending tone. Through it all I remained steadfast and persevered.
What advice do you have for others who are starting over in a new country, or a new career?
Dream big, set academic and career goals, and be ready to take advantage of career opportunities that may come your way. I made the decision to make a career switch from working in the schools to working in the library and that made all the difference for me!
For many years I saw myself as the accidental librarian who stumbled into the library world as an educator. Now, after working for seventeen years in the library, I can now call myself a professional librarian!
America is a land of opportunity. Work hard, remain focused, find your passion and invest in it. It is never too late to go back to school!