Alumnae/i Feature
A Tale of Two Librarians: SLIS alumnae/i at Cambridge Public Library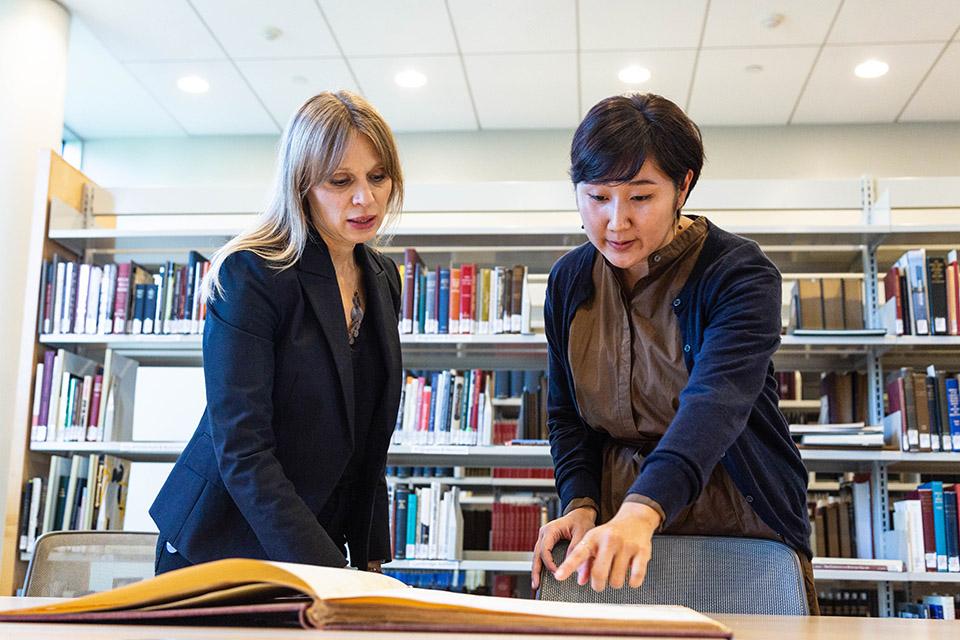 Librarian Sarah Yasuda '20MS and Archivist Alyssa Pacy '06MS, '07MA reflect on how their studies at Simmons SLIS impacted their careers, the unique rewards of public library work, and the coolest items you can find in the Cambridge Public Library Archive.
Alyssa Pacy '06MS, '07MA, Archivist at Cambridge Public Library, studied humanities, literature, religion and creative writing before embarking on graduate work in LIS. "I saw that Simmons had a dual degree in Archives and History," recalls Pacy. "I thought I could study humanities and have a practical application for it. Simmons had everything I wanted."
Pacy has been at the library for twelve years, and helped establish the collection, including materials that are over 130 years old. "When the collection was founded in 1889, there were different ideas about what was considered important to collect," she says. "I've developed policies and procedures over the years, curating the collection and filling in gaps." Those gaps have included documenting the history of the African American community in Cambridge. "It's taken many years to build a network, make connections, and to gain trust within the community," says Pacy, "but after all of these years, I've built amazing relationships with individuals, organizations, and families. We've had conversations about why the Black community has been under documented, and how to remedy the situation. We've created partnerships and programming to increase the awareness of the importance of this history." Pacy is partnering with the Cambridge Black History Project, training them to collect oral histories which will then have a home at the library.
"LIS (Library and Information Science) encompasses a big field of different professions with a collective goal of making information accessible for everyone," says Sarah Yasuda '20MS, Librarian at Cambridge Public Library. "I was really drawn to the service aspect of the field. LIS is exciting because there are many options that align with my values and the work I want to do."
As the Adult Services Librarian, Yasuda is at the reference desk to help anyone who walks in the door. "I field reference questions, offer research guidance, give book recommendations, and play a part in collection development - what items should join the collection and what we should weed out." Yasuda also leads programming for adults. "I co-lead a beginner-level computer class for adults, partnering with a nonprofit to provide free Chromebooks and hotspots to students once they complete the class." The course attracts patrons who are new to the city, job-searchers in need of computer skills, and older patrons in need of instruction. "Being able to directly answer patron and community needs through our programs is powerful," says Yasuda. "I love public libraries and I'm happy to be a part of that."
Though the two work in separate departments, they work together on online collections and archival displays. Yasuda finds this element of her work particularly rewarding. "We all have different skills and backgrounds, so it makes it interesting to collaborate," she says. Which of course leads to the question, what can patrons find in the archive? The two talk with enthusiasm about a recent acquisition: a quilted map of Cambridge by artist Jennifer Regan, an expert in the field of quiltmaking, who uses the medium to explore themes of feminism and gun violence through themes common in traditional quiltmaking.
Though they are each at different stages in their careers, they both frequently recall lessons learned at SLIS. "One of my favorite courses was a database management course with Assistant Professor Rachel Williams," says Yasuda, who cites the background knowledge of database creation as helpful in her current role. "I also took an introductory course in coding with Assistant Professor Catherine Dumas. I was pretty nervous about it, but now I use Python, html, and css as part of launching a new website, so it has been directly applicable to my work."
For Pacy, taking an oral histories course with the late Allen Smith has been a huge influence on her career. "That course inspired me to conduct oral histories. I did a substantial oral history project while an archivist at Lesley, and now I teach workshops to disseminate those skills to a very enthusiastic public," says Pacy. "I learned it at an academic level, but being able to share it with patrons has been really fun and valuable for me and for the community." In addition to her work with the Cambridge Black History Project, she has done collaborations with community television on genealogy research. "To do an oral history, you conduct three interviews, one hour each. That was terrifying to me, as a student! I was a lot younger and less experienced in the world, but I went out and did it and I never looked back. That class forced me out of my comfort zone and helped build my confidence. I realized that I can do a lot of things, including managing an archival collection."
While at Simmons, Yasuda was awarded a Spectrum scholarship, which included a leadership conference with other BIPOC scholars, and was involved in the Asian Pacific American Library Association. Since graduation, Pacy served as president of New England Archivists. She encourages Simmons students to keep in touch with their peers.
"The colleagues that I have that are from Simmons are amazing. Librarians in general are amazing, but I'm biased. I love to work with Sarah! She has these valuable, cross-departmental skills she learned at Simmons. It's wonderful to share that Simmons connection with her."