Alumnae/i Feature
Susan Rich '93MA on the "Creative Collaborative Chemistry" of Children's Book Publishing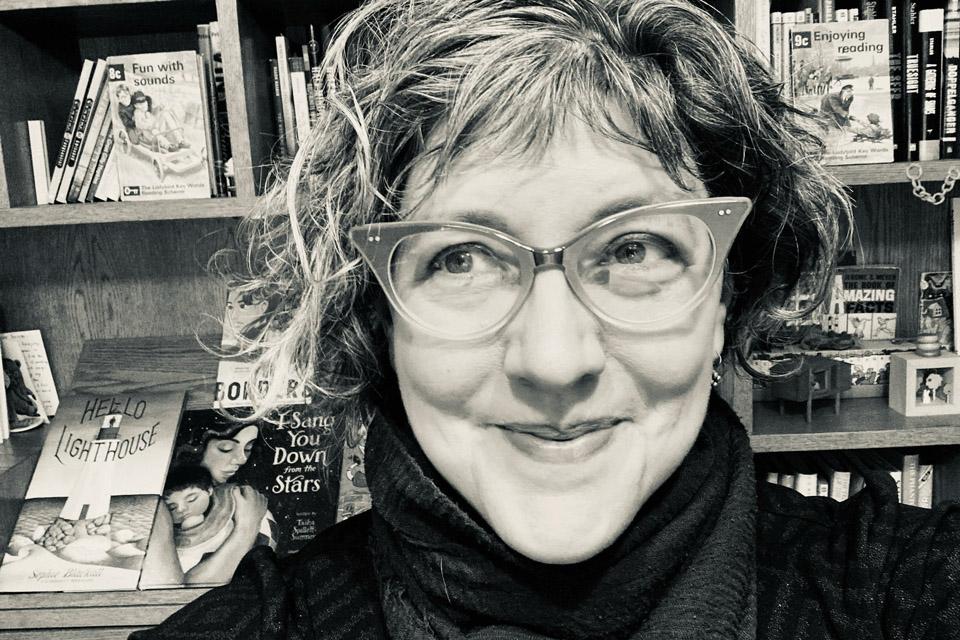 Little, Brown Editor Susan Rich '93MA will be presenting with illustrator Michaela Goade at the Summer Institute in Children's Literature in July 2022.
What led you to Simmons?
I wasn't really enjoying my political science major at McGill University in Montreal when, as an elective, I took a children's literature survey course. I was instantly all in. I took every children's literature course offered at McGill, anything that would get me closer to this world of literature that I was discovering. It became clear that there was a whole field out there, filled with critics, academics, reviewers, creators, and publishers. I was convinced this was the field for me, and the teacher of that survey course pointed me toward the program at Simmons.
Tell us about your current role: Editor-at-Large at Little, Brown
At Little, Brown I acquire, edit, and publish picture books as well as middle grade and young adult novels. I am based in Toronto, Canada, but my books are published out of Little, Brown in New York City. I became a remote editor while at HarperCollins in 2001, after the success of Lemony Snicket's A Series of Unfortunate Events.
What are the criteria you bring to the books you acquire?
I'm very invested in the creative collaborative chemistry of making books. Beyond the appeal of a particular book, I'm drawn to the creators, their goals, and their creative brains. My work with Sophie Blackall comes to mind – we've been working joyously together for many years now and have a new book coming out this fall, Farmhouse. I would like to make books with her forever! I've also become more aware over my career of what voices I'm amplifying and what books are missing from the shelves that children might want or need.
For example, at a conference called Nerd Camp, a few years ago, I heard from educators and librarians that immigrant families weren't seeing themselves portrayed in picture books. So, in 2021 I published Strollercoaster by Matt Ringler with art by Raul the Third and Elaine Bay, which features a Latino dad — it's joyous and exuberant, and celebrates the ingenuity of this wonderful parent.
I also have a number of books on my list from Indigenous creators. This year we published I Sang You Down from the Stars written by Tasha Spillett-Sumner, which strikes a universal chord in the joy and expectation of welcoming a new baby, grounded in a native tradition of creating a medicine bundle as a gift for the child. The book is illustrated by Michaela Goade, the first Indigenous creator to win a Caldecott. She and I will be visiting Simmons this summer as presenters at the Summer Institute in Children's Literature!
Another recent book, penned by Indigineous author Thomas King [author of The Inconvenient Indian: A Curious Account of Native People in North America] and illustrated by Metis artist Natasha Donovan, Borders, has been finding a wide audience. It's a graphic novel about a boy and his mother who run into trouble at the border when the mother will not claim her nationhood beyond Blackfoot. They find themselves stuck in an arbitrary limbo between the U.S. and Canada.
I am also interested in trying new ways of storytelling. Last year I published Kathleen Lane's Pity Party, a book that tackles issues around anxiety for the middle grade set through all sorts of forms; short stories, a fortune-telling machine, a chart of relative calamity, a letter from the Department of Insecurity, a couple of quizzes and an interactive choose-your-own-catastrophe.
What do you find most rewarding about this work?
There's so much about my work that feels like a good use of my time. I hope I'm doing some repairing of the world. Books have the potential to make a truly positive, lasting impact. Getting the right book in a kid's hand at the right time can be such a game changer. And I had such book-love as a kid! To think that I continue to have some relevance in that relationship, the one between a child and a book, is a great privilege. It's also very rewarding to feel that I'm helping to elevate the work that people are doing; that collaboration can be so magical.
How did Simmons prepare you to become a leader in your field?
I draw on the knowledge I gained at Simmons every day. Just yesterday I was deep in the Bank Street College of Education Archive, trying to follow up on a thread of something I learned while I was at Simmons. And there's a Horn Book article that I first read while at Simmons that I have quoted back to 90% of the authors I work with. The critical eye that I gained, the breadth of reading, and the joy of being in a community of people loving children's books together — all of it prepared me for this work.
Advice for students who want to get into publishing?
Make decisions based on what you're good at and what you enjoy. I was saved from a life of political science because children's literature came along and I had the wherewithal to lean into that interest, even as family members asked, "what can you do with a master's in children's literature?" I didn't know at the time, but I wanted to find out!
If you are interested in publishing, as an author or agent or editor, engage with the field. Publisher's Weekly has a free newsletter, which will show you endless insights about what and who is being published. Hang out in bookstores, notice what's selling and what's getting good placement. Read one million books and notice what you think is good and what is terrible, and who published what you love. Read the acknowledgements of the books you love and note the agents and editors of those books.
Illustration from Berry Song by Michaela Goade, (c) 2022