Faculty Spotlight
SLIS Faculty and Students Aid in Development of Data Management Program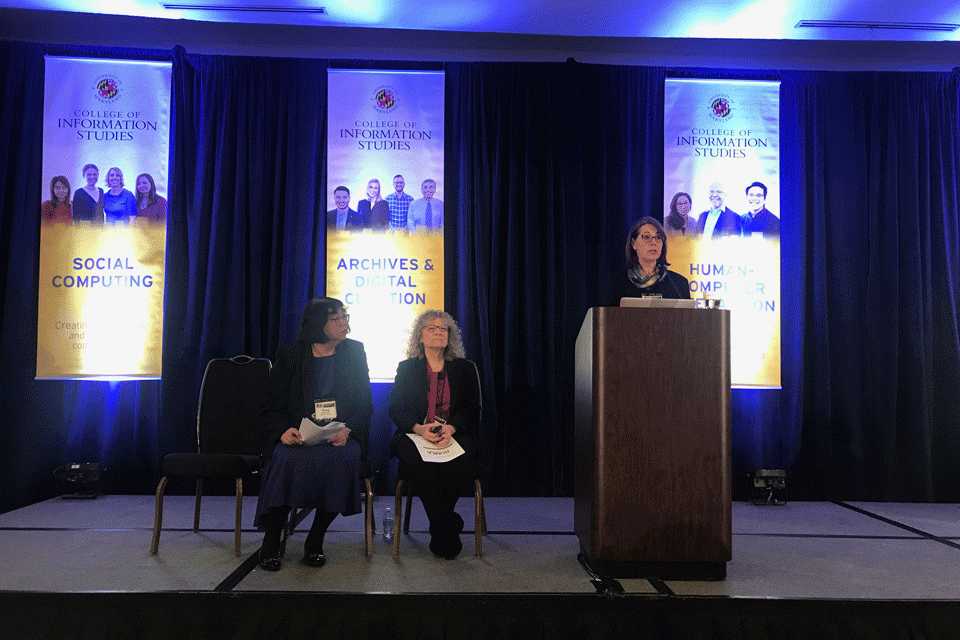 RDMLA fills an identified need for continuing education resources for information professionals who want to learn more about research data management or who may already be in the process of offering research data services to their communities.
- Professor Danielle Pollock
The "Research Data Management Librarian Academy" (RDMLA) is a professional development program for librarians, information professionals, or other professionals who work in research data-intensive environments throughout the world. As a community-built learning program, RDMLA addresses the gap experienced by practicing professionals who want to learn more about how to provide RDM services in libraries or other information settings.
The RDMLA differs from other RDM service-learning programs in that it is completely online and can be taken at the learner's convenience for no charge. Launched in October 2019, RDMLA contains eight units focused on RDM. This month, the team launched a continuing education certificate for RDMLA, which will be available internationally with more than 2,100 potential learners so far.
RDMLA is a unique partnership between academic health sciences and research libraries, Simmons Online, Simmons SLIS, and Elsevier. Partner institutions include: Harvard University, Simmons University, Boston University, Tufts University, MCPHS University, Northeastern University, Brown University, and Elsevier, which financially supported the program. More than 15 academic librarians and Library Information Science faculty members have been involved in developing the Academy courses.
The RDMLA team presented their project progress at the iConference 2019 in April 2019 during the lunch hour, and gave a "Product Theater" presentation and demonstration about RDMLA during ASIS&T (Association for Information Science and Technology) Annual Meeting in October 2019 at Melbourne, Australia. 
The RDMLA curriculum focuses on the essential knowledge and skills needed to collaborate effectively with researchers on data management, including in institutions of higher learning. Librarians working in academic settings who complete this program will be able to address the growing research data management needs of their higher learning institutions, and to train faculty and researchers on best practices.
The RDMLA curriculum consists of eight units: Foundations of Research Data Management (RDM); Navigating Research Data Culture; Advocating and Marketing the Value of RDM in Libraries; Case Studies in Establishing Data Services in Libraries; Project Management and Assessment; Overview of Data Analysis and Visualization Tools; Python and Jupyter Notebook; and an Overview of Platform Tools. 
Just five months after it was officially launched, RDMLA has over 2,100 active students from 115 countries around the world. This project is co-led by Elaine Martin, MLS, DA, Director and Chief Administrative Officer, Countway Medical Library, Harvard Medical School; Rong Tang, PhD, Associate Professor, School of Library and Information Science, Simmons University; and Jean P. Shipman, MSLS, recently retired VP, Global Library Relations, Elsevier.
"It was an absolute pleasure to sponsor the development of the RDMLA via Elsevier and to work as part of the faculty creating the programs' units," says Shipman. "The expertise of the faculty is transferred to others via this online curriculum."
SLIS Doctoral Student Zhan Hu served as the project coordinator for RDMLA, and will continue to work on the development of new units and implementing improvements in future iterations of the RDMLA course site. SLIS Assistant Professor Danielle Pollock and doctoral student Ceilyn Boyd are among the more than 15 faculty of RDMLA.
"RDMLA fills an identified need for continuing education resources for information professionals who want to learn more about research data management or who may already be in the process of offering research data services to their communities," says Pollock. "The eight units cover a wide range of topics from research culture, to project management, to the use of specific tools, and more, and the flexibility of the program can make it ideal for busy practitioners. I look forward to its continued growth and development."
Rong and Zhan have been doing usability testing sessions, and have included students in Professor Tang's "Usability and User Experience Research" class. The results of the usability testing will provide recommendations for quick fixes as well as some longer term revisions. The future development of RDMLA includes adding additional units in areas of data ethics, data copyright, and more. The RDMLA is also exploring international partnerships by providing a multilingual version of RDMLA.
SLIS Director Sanda Erdelez is leading the SLIS CE effort in conjunction with RDMLA. "RDMLA is an innovative collaborative effort among library professionals, information industry and LIS education that provides essential training in research data management in a novel, accessible format," says Erdelez. "Simmons SLIS is honored to be part of this initiative by contributing faculty and student expertise in all phases of RDMLA development and by offering continuing education credits to all those interested in pursuing this opportunity."