Alumnae/i Feature
SLIS Alum Finds the Right Fit in Leadership Role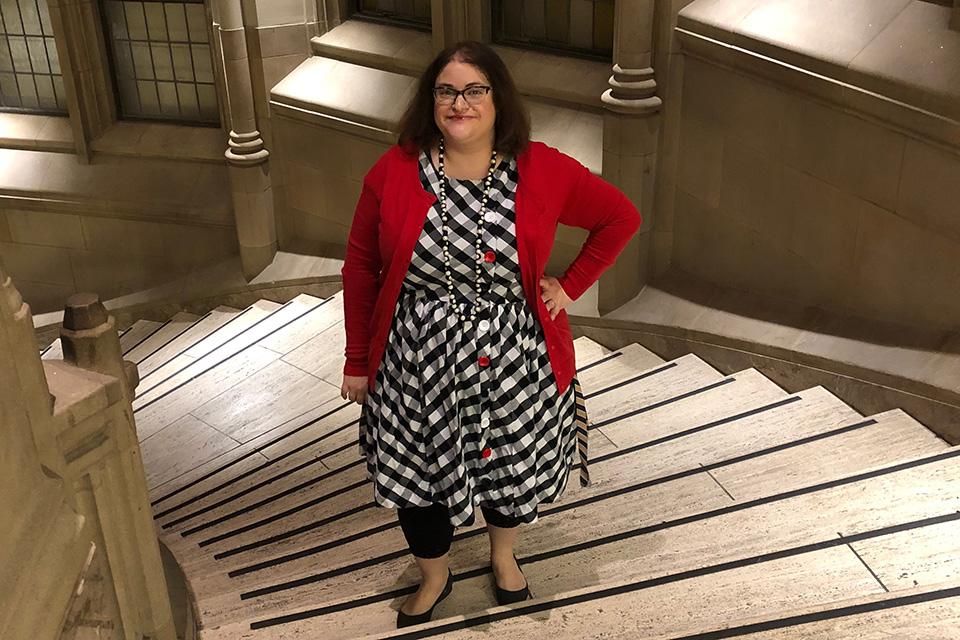 Anne Pepitone '15MS is the Resource Discovery and Library Management Systems Coordinator for the University of Washington Libraries.

What was your favorite course at SLIS?
It's a tie between Candy Schwartz's "Digital Libraries" course and Rong Tang's "Usability and User Experience Research" course. Both courses allowed me to be in the driver's seat as a student and guided my experience while I gained knowledge. You couldn't ask for better mentors than Rong and Candy—to this day, both professors still give me advice and provide encouragement. 
Tell us about your current position. 
I'm currently the University of Washington Libraries Resource Discovery and Library Management Systems Coordinator. 
The University of Washington is part of a consortial environment called the Orbis Cascade Alliance, which consists of 39 institutions across Oregon, Washington and Idaho. We have a Shared Integrated Library System (SILS) between all 39 institutions. I coordinate and manage all the work around our portion of the SILS at the University of Washington. Specifically, my position comes down to three major themes:
Coordination: Coordinating library-wide efforts surrounding the operating of our Library Management System (LMS). We use the products Alma and Primo.  
Technical Support and System Development: Training, troubleshooting and supporting users with Alma and Primo systems. In addition to the technical maintenance of Alma and Primo, I work with HTML, CSS, JavaScript, and other code to improve the user interface of Primo.
Institutional Representative: Ensuring that the University of Washington has a voice and is represented with Ex Libris Users of North America (ELUNA), Ex Libris as a vendor, and with our consortial environment Orbis Cascade Alliance.
How did SLIS prepare you for your career/current position?
The courses that best prepared me for my position were "Management, Usability and User Experience Research," "Digital Libraries, Evaluation," and "Digital Information Services and Providers." I still refer to my coursework binders and textbooks, especially with Usability and Management. The Usability course gave me experience working with an actual client, managing expectations and providing professional level deliverables. All of which relates to my work with stakeholders at my institution. Digital Libraries had the biggest impact on my career, because Candy assigned me the role of project manager of my digital libraries class. She saw leadership potential in me that I hadn't seen in myself. Without Candy pushing me, I wouldn't be in the position I am today.   
My fellowship as a Dean's Fellow for Instructional Technologies allowed me to grow as a manager, and provided me with experience in public speaking to large groups and on focused topics in technology. I also had an internship in Beatley Library which was incredibly helpful. If you're ever curious about Academic Librarianship and systems, you can't get better experience than working one-on-one with a Systems Librarian. This experience gave me a better idea of my future career path and allowed me to focus my coursework on the skills I needed to succeed. 
Advice for current students?
Take additional cataloging courses, they will come in handy no matter what library specialty you decide to do. I definitely regret not taking more cataloging—it would have given me a better understanding of our resource management system and the librarians that work with it.
Copy job ads for positions that you find interesting. Knowing what skills you need to reach your goal will help you decide which courses and internships you should target. I did this throughout my time at SLIS and felt well prepared for the jobs I wanted. 
Don't be afraid to apply for a position, even if you don't check all the boxes on a job description. Do your research about the place you're applying to and make a case for yourself. You never know what might catch the eye of a hiring committee.
Never underestimate the importance of phone interviews. If you don't do well on the phone, you may not get another chance to impress the committee. 
Don't get discouraged. Job hunting can be difficult and can cause you to doubt yourself. Engage in an activity that feeds your professional confidence: start a blog, go to networking events, volunteer at your public library, or take advantage of free workshops.