Alumnae/i Feature
Siobhan McDonold '21MSW: Increasing Access to Therapy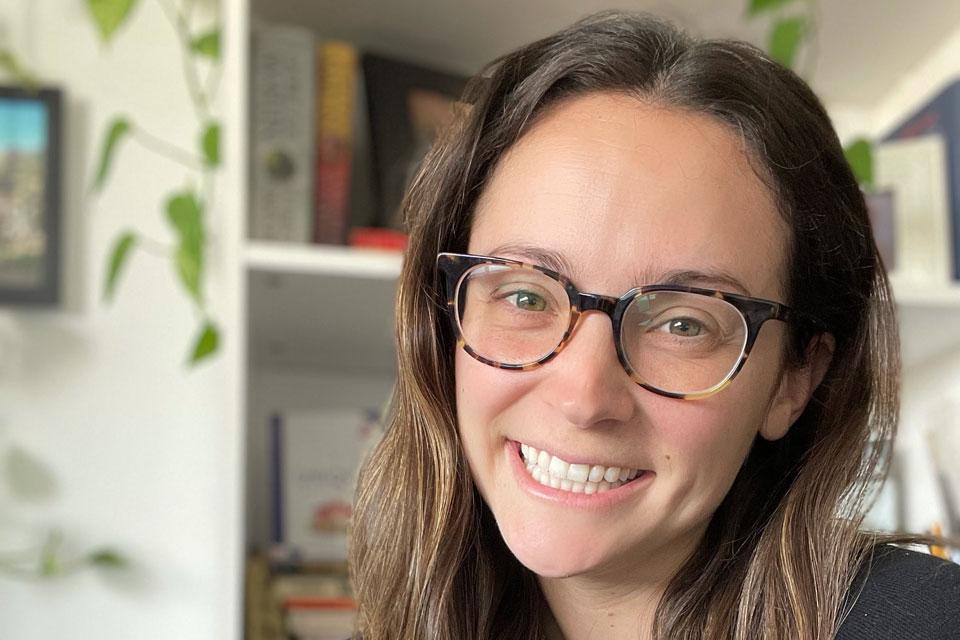 I absolutely love providing a safe space where patients can explore their feelings without judgment. I've been able to study what I'm passionate about, then apply that knowledge to help people function better in the world. That is so fulfilling to me.
What the job entails
Siobhan is the clinical director for the Division of Digital Psychiatry at Beth Israel Deaconess Medical Center in Boston. Collaborating with a psychiatrist and research team, she conducts weekly virtual therapy sessions with a wide range of patients enrolled in an eight-week research study. The participants augment the one-on-one counseling with an app that teaches cognitive behavioral therapy techniques and uses personal data to set health-related goals. The aim of the research, says Siobhan, is to improve the quality and availability of treatment, as well as to help patients understand the connections between their behaviors and mental health. "Increasing access to therapy is so important right now," she explains. "We're helping people across the country find the coping skills that work for them." In addition, Siobhan assists the Ambulatory Psychiatry Service with new patient enrollment and hospitalizations.
What brought her to Simmons
A graduate of Connecticut College with a degree in psychology, Siobhan had worked in qualitative health care research before deciding to pursue her MSW. She was drawn to Simmons, she reports, for its long-established reputation as a clinical leader. She also appreciated the opportunity to complete a Health Care & Social Work Certificate. "I knew I wanted to work in health care, possibly a hospital," she says, "and I liked that I would graduate with specialized training."
How Simmons prepared her
Siobhan praises Simmons for supporting her goals, while also broadening her knowledge, skills, and interests. One of her most influential courses, she says, was Dynamics of Racism and Oppression. "It has made a huge impact on my work and my life," she says. For her first placement, Siobhan interned in the Division of Infectious Diseases at Massachusetts General Hospital, providing outpatient therapy and resources to patients with HIV/AIDS. In her second year, Siobhan was accepted into the federally funded Simmons Integrated Mental Health Primary Care and Clinical Training (SIMPACT) program. Through this initiative, she counseled patients at Healthcare Associates Primary Care at Beth Israel Deaconess Medical Center. In addition, Siobhan was chosen as a Dean's Research Fellow at Simmons—an opportunity that helped pave the way for her current position. "I had a wonderful experience in the program," she says. "The professors made sure that we thrived academically and personally."
Why it's rewarding
"I absolutely love providing a safe space where patients can explore their feelings without judgment," says Siobhan. "I've been able to study what I'm passionate about, then apply that knowledge to help people function better in the world. That is so fulfilling to me."