Campus & Community
Simmons Welcomes Applicants to New Psychiatric Mental Health Nurse Practitioner Program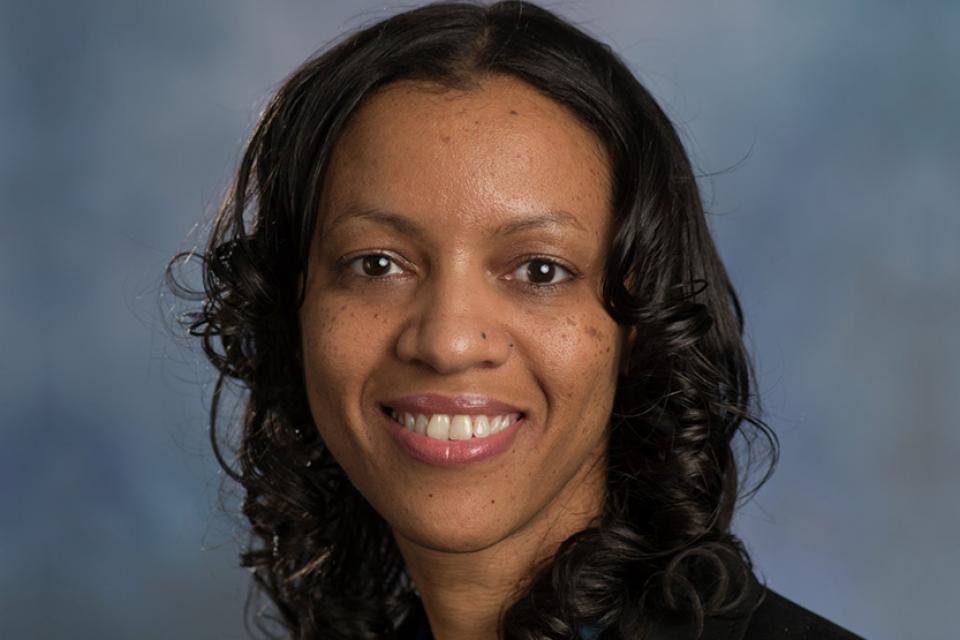 Working with administrators at Simmons and specialized course developers from all over the country, Dr. Sonya Cox has been instrumental in shaping and implementing the University's new Psychiatric Mental Health Nurse Practitioner (PMHNP) Program. The first cohort of students began their foundational coursework in the fall of 2022, and the program is now accepting applications every January, May, and September. Cox explains the uniqueness of Simmons' curriculum and expresses the crucial need for Psychiatric NPs.
"I think that John Simmons was an amazing individual. I would have loved to have a conversation with him because he was so forward-thinking for his time," says School of Nursing Associate Professor of Practice Sonya Cox. "Today there is a spotlight on diversity, equity, and inclusion (DEI), but supporting marginalized individuals is really where Simmons began." DEI has continued to be the transformative nature of Simmons with accepting all individuals, who meet eligibility criteria, into our graduate programs.
Indeed, Simmons' sustained commitment to equity and serving minority populations was one of the reasons Cox was drawn to the institution. As inaugural Director of the Psychiatric Mental Health Nurse Practitioner (PMHNP) Program, Cox is spearheading this graduate-level online program, designed for students with a BSN and nursing experience, preferably in the behavioral health/mental health arena.
"One overarching commonality among our prospective students is that they have given a lot of thought as to how this program would work with their lives, in terms of time, resources, and building a village around them," says Cox. "When they matriculate into the program, students feel that our support structures — which include faculty mentoring, academic advising, Student Support Specialists, Clinical Placement Specialists, Peer Tutoring, the Writing Center, the Career Center, Financial Aid, the University Library, Accessibility Services, and the Student Advisory Committee (SAC) — encourage them to be better professionals and better people."
Embracing a holistic approach to health care, the program explores the physical, mental, social, emotional, and financial aspects related to patients' health. For instance, Simmons students will become acutely attuned to the social determinants of health. Even if an NP diagnoses a condition and develops a treatment plan, not all patients may be able to afford the prescription medications and comply with recommendations. "If not, what else can we do?" asks Cox. "From an NP perspective, we must practice patient-centered care and help connect patients to resources. And for psychiatric health, it is even more important, as resources can be few and far between."
The Psych NP program is entirely online. "As we know, nurses have a lot of responsibilities in their lives, so we have been very thoughtful about the structure of the program," explains Cox. "We are honoring adult learners and the multiple professional and personal obligations that they may have." Coursework will include a limited number of value added, live sessions (typically two hours each), during which students engage with faculty and peers. Even though the program is virtual and remote, students will get to know their faculty and become a part of the Simmons community.
Most students will complete the degree in seven terms. They begin with foundational course sequences, including the "three P's": Advanced Pathophysiology, Advanced Physical Assessment, and Advanced Pharmacology. In addition, students take courses in health promotion, role of the advanced practice nurse, health care system: interdisciplinary perspectives, informatics, and research methods.
There are several unique aspects to the Psych NP program that may not be offered at other universities. "We have a specific course that focuses on serious mental illnesses and addictions," says Cox. "Other programs might include this kind of content within a more generalized course, but to have an entire course dedicated to this subject matter is uncommon." The curriculum also includes a pediatric and perinatal course, which will address perinatal substance abuse.
Another unique facet of Simmons' program is its focus on self-care. "As an NP, you take care of so many people," explains Cox. "Therefore, we are intentional about supporting students to practice their own self-care and make it a priority in their lives. In order to give your best self in a clinical setting, self-care is vital."
The emphasis on wellness and resilience is visible on the libguide built for the Psych NP program by Simmons Curriculum & Research Librarian Matthew Quilitzsch. As Cox explains, the official color of nursing is apricot, and it appears on the website's various banners and backdrops. There is also an image of the Simmons University seal (first designed in 1904), which pictures an oak tree, a symbol of wisdom. "I like the tree imagery because I see the richness of its roots," says Cox. "Trees can grow extraordinarily tall and wide if they have strong roots that intertwine and support one another, protecting them from severe storms. Likewise, I want students to know that systems of support and self-care will sustain their own lives and wellness."
"This is a program of rigor and excellence, aligned with Simmons' own standard of excellence," says Cox. "Our curriculum is steeped in evidence-based practice and evidence-based outcomes. Beyond the practicalities of treating patients and prescribing them medications, we want students to be able to establish trust with the people they serve. Moreover, it is important to support a diverse population of students who will become advanced practitioners serving culturally, ethnically, and racially diverse patients in their communities."
With a Psychiatric Mental Health Nurse Practitioner credential in hand, Simmons graduates will be prepared for a wide variety of positions, including psychiatric inpatient and outpatient clinic settings, research hospitals, private practices, and community health centers. Depending on their state, NPs can exercise different degrees of autonomy, either working alongside psychiatrists or having their own independent practice.
For Cox, NPs who specialize in mental health are essential. Students drawn to the Psych NP program at Simmons are motivated to address the ongoing mental health crisis. "Mental health can be a stigmatized area," says Cox. "The nurses in our profession are so compassionate and experienced, and they truly advocate for patients. At Simmons, we are shaping nurse leaders who recognize their responsibilities to their profession and their community. Following in the footsteps of John Simmons, they will be leaders committed to excellence, inclusion, and social justice."