Alumnae/i Feature
Simmons University Class of 1967 Creates First-Generation Scholarship Fund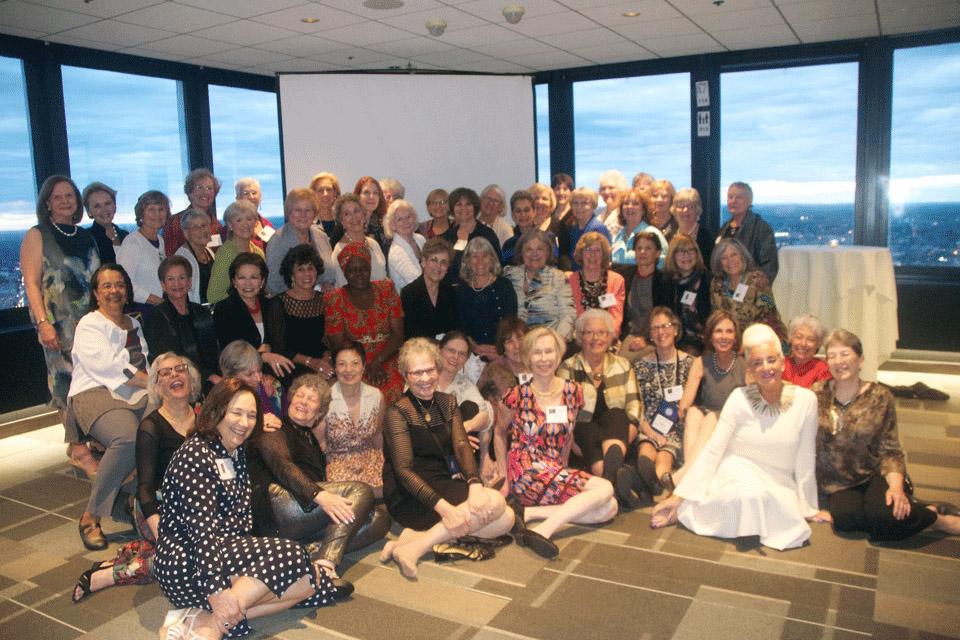 It began as a conversation over Zoom between Class officers Judith Chused Siegel, Janet Trafton Tobin, Frankie Liebermann Busch, Lynne Devnew, and Sandra (Sandy) Lief Garrett, and developed into a special scholarship for first-generation students at Simmons University.
Sandy Garrett's husband, an alumnus of Columbia University, had been involved several years earlier in starting a class scholarship fund supported by his classmates. "Every year, they would have an opportunity to meet the student they were supporting," says Sandy. "I thought that made a wonderful statement about graduates supporting incoming students. So that was the seed of an idea."
When Sandy shared her idea over Zoom with her fellow class officers, she received an excited response. "I was really enthusiastic about the idea because I went to Simmons on a scholarship, and I'm leaving a fair portion of my assets to Simmons," says Lynne Devnew. "The scholarship to Simmons changed my life."
The class officers were adamant that they did not want the scholarship funds to go into a general coffer. "We wanted this to be a substantial and meaningful scholarship. I knew that a scholarship from our classmates would be a special way to contribute. It's ours and it's special," says Lynne. The group agreed that it would be more appealing to have a specific designation for their class's philanthropic funds rather than to provide general support. They wanted to pay it forward with an endowed scholarship fund that would exist in perpetuity, thereby helping generations of future Simmons students.
After the initial conversation in the Fall of 2020 about starting a scholarship fund, the team immediately took action to realize their vision. In January of 2021, they met with staff members from Simmons' Office of Advancement. "We agreed that we needed to do a survey. We wanted everyone in our class to buy into it," explains Janet Trafton Tobin.
The survey distributed to their classmates asked, first of all, if the Class of 1967 would be in favor of starting a scholarship. Nearly everyone who submitted the survey was in favor of the scholarship. The survey also asked class members that, if a scholarship were to be established, what kind of Simmons students should be supported. The majority of the survey participants chose to create a scholarship for a first-generation student.
Once the results of the survey were in, the class officers strategically planned their forthcoming newsletters. The newsletters included stories of three Class of 1967 alumnae who received scholarships while they were at Simmons. The fall 2021 newsletter also requested gifts to the scholarship fund. (The first gift the team received for the fund came in February 2021, before the results of the survey were known.)
The class officers did encounter some challenges when trying to communicate with their class members. As many members of the Class of 1967 do not correspond via email, these individuals can only be reached by traditional mail. For this reason, the officers created digital and print newsletters to disseminate the message.
Judy Siegel, immediate past Class President, noted that one of their class meetings revealed a number of classmates who were scholarship students. "The scholarship students were never identified," recalls Judy. "Most of us didn't know who they were during our undergraduate years, and we were quite moved to hear their stories."
"The newsletters bring our class together in an important way," says Frankie Busch, who works directly with creating the class newsletters. "The newsletter educates, engages, and keeps us informed about Simmons, our common home for four years. We all knew each other as teenagers and we are still on life's path together. We've been successful partly because of Simmons and now we are making sure Simmons keeps being a success."
By December 31, 2021, the class reached their goal of $100,000, the minimum amount that Simmons requires to establish a scholarship fund. For Janet, the scholarship idea "was incredibly well-received from the outset, so it was not surprising that we did reach the $100,000 goal in record time."
By the middle of June 2022, the fund exceeded $150,000. At their 55th class reunion, held virtually that month, it was announced that the Class of 1967 had donated the most money to Simmons for the fiscal year, totaling more than $1.3 million. The class also had the highest participation rate of donors (33%) for the year.
The class officers believe that the scholarship fund will grow exponentially over time. "I said that I envision this scholarship fund growing to $1 million," says Lynne. "I think there's a real chance that this will become a very significant scholarship fund as time goes on."
The class officers are thrilled with their success, and believe that much of it can be attributed to their methodical process, through the survey and newsletters.
One of the key points of this unique scholarship is its duration. "This isn't just 'welcome to Simmons, it's your first year, you're going to get some scholarship aid,'" says Sandy. "We decided that we wanted to support that student throughout her/their four years at Simmons. This means that there will be a new scholarship recipient every four years. And we hope to keep growing this scholarship fund so that it becomes a more meaningful amount annually, based on the earnings of the endowment."
The class officers expressed a desire to connect with the scholarship recipients, as personalized interactions create a more close-knit alumni community. For Frankie, "we also hope that one day students will share their personal story with us. It's important to give them a voice to tell us how important this was."
Initiating and formalizing the scholarship fund also brought the Class of 1967 closer together. The class officers consider it a bonding experience. "This class has been incredibly helpful and supportive and involved every single step of the way through this process, which has been such a blessing," says Janet.
The officers encourage other alumni to consider establishing similar funds. "Get reacquainted with your classmates," Judy suggests. "Create a sense of purpose and connection. Keep in good communication with one another. If you've got that glue, then the next step of working together on a meaningful and substantive project is easy."