Campus & Community
Simmons Summer Teaching Institute Inspires Excellent Pedagogy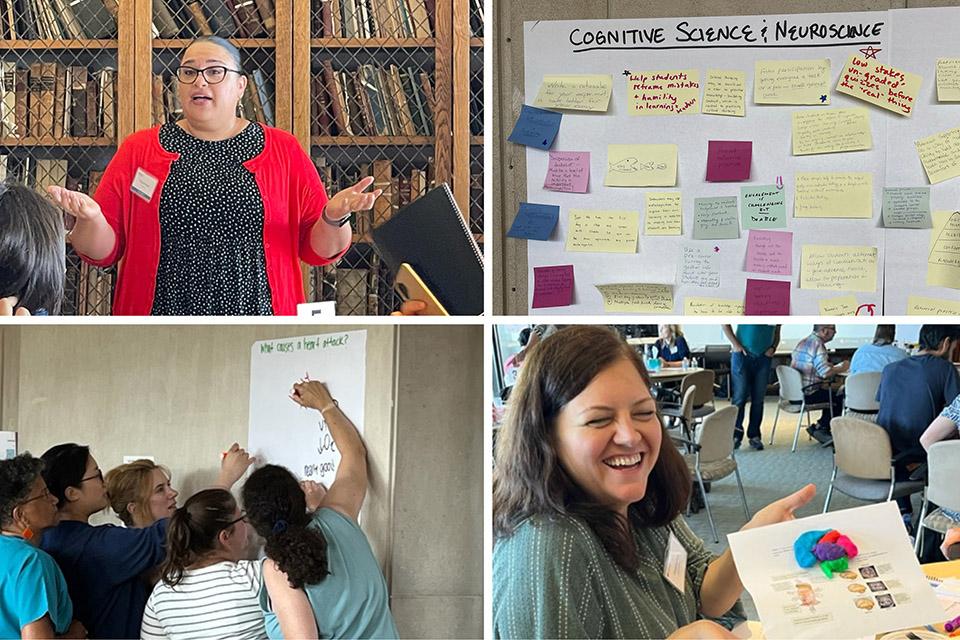 This summer marked the eighth year of the Simmons/HMS Summer Teaching Institute, where Simmons faculty and Harvard Medical School Postdoctoral Fellows came together for a bootcamp experience of pedagogical theory and practice.
The Summer Teaching Institute began in 2015 through a partnership between several STEM faculty members at Simmons and Harvard Medical School/Harvard School of Dental Medicine's Office of Postdoctoral Fellows. The Center for Faculty Excellence (CFE) – then the Center for Excellence in Teaching – worked with Simmons STEM faculty and HMS staff to design and facilitate the program. While the design of the Institute has changed over the years, this partnership between Simmons and HMS has remained consistent.
Originally, the participants were all post-doctoral fellows from HMS; after two years' of support from the Burroughs-Wellcome Foundation, the program was expanded in 2018 to include twenty Simmons faculty each year as well. Now, Simmons faculty, regardless of discipline, may participate, though it may be most fruitful for early-career scholars.
In addition to disciplinary diversity, many of the HMS participants are international scholars. "The more diversity, the better," says Dr. Jennifer Herman, Executive Director of the Center for Faculty Excellence. "We have folks from all over the world."
The short but rigorous Institute is a 4-day intensive program designed to help faculty and postdocs who are early in a teaching career or aspiring to work at a teaching-focused institution gain a foothold in a wide array of approaches to and perspectives on excellent pedagogy. "We hope to equip them with the tools they need to get off to a good start, even if we can't cover everything in the scholarship of teaching and learning in four days," says Dr. Herman. Moreover, participants leave with a robust "teaching toolkit" that comprises practical ideas, teaching methods and tools, and insights.
Each day of the Institute has a different emphasis. Day one focuses on learning theories and research practices, giving participants a foundation in the research and literature. The next day focuses on pedagogical strategies for the classroom, followed by course and lesson design. On the fourth day, participants work in small groups to create a short teaching demonstration that is appropriate for a first-year course in the scholars' disciplines. This final practice allows them to apply the lessons from the first three days.
Other important sessions over the four days included a workshop on diversity, equity, and inclusion led by Simmons faculty member and CFE's Faculty Fellow for Teaching and Learning Eugenia Knight, a session on universal design for learning by Simmons Director of Accessibility Services Lucy Bayard, and a presentation on active learning by CFE doctoral intern Lily Sosa.
Another unique element of the Institute is the presence of table facilitators. Both Dr. Sarah Rose Cavanagh, Senior Associate Director for Teaching and Learning, and Kristi Mukk, Projects and Events Coordinator and Instructional Design Specialist, served as table facilitators this summer. "We all sit in roundtables, and each has a mix of Simmons faculty and HMS postdocs," explains Dr. Cavanagh. "The table facilitator guides the discussion and answers questions. The facilitators are all teaching and learning-oriented professionals and faculty members, which enriches and enlivens the discussion. I was really impressed by that element of the design."
Other table facilitators this year included Knight, Lily Sosa, Simmons faculty members Dr. Lisa Brown and Dr. Cherie Ramirez, and Harvard Medical School's Director of the Office for Postdoctoral Fellows Dr. Jim Gould.
Participants who completed the program found it substantially impactful and generative. "We got a lot of feedback afterwards that the experience of going through the Institute was really invigorating," says Mukk. "Many participants thought it was a good mix between theory and practice. They encountered a lot of new learning theories. The value of being able to exchange ideas with peers or someone in a different discipline were important takeaways from the program."
Participants learned about metacognition, or thinking about our thinking. "Metacognition is how we plan, organize, and approach information in an intentional way," explains Dr. Cavanagh. "We try to help students do this in the classroom, for instance, considering how to study to develop the skills you need when you take an exam or go into the field. Just taking notes or highlighting might not be the best strategies. From an instructor's point of view, we can think about how our students think, and how we approach the material in order to better plan our lessons, assignments, and assessments. This is more effective than just throwing a bunch of content at the students and asking them to memorize and regurgitate it."
The Institute fosters a proactive approach to pedagogy that helps distinguish it from other teaching and learning training sessions. "The Simmons/HMS Summer Teaching Institute is not a passive experience," says Dr. Cavanagh. "It's a hands-on model that is very interactive." Dr. Herman adds that "the Institute also involves a lot of modeling. We not only talked about teaching, but we modeled best practices."
In addition to the partnership with HMS, this year the Institute was supported by generous donations from individual Simmons alumnae.