Announcement
Simmons Recognizes Outstanding Students in Honor of National Student Employment Week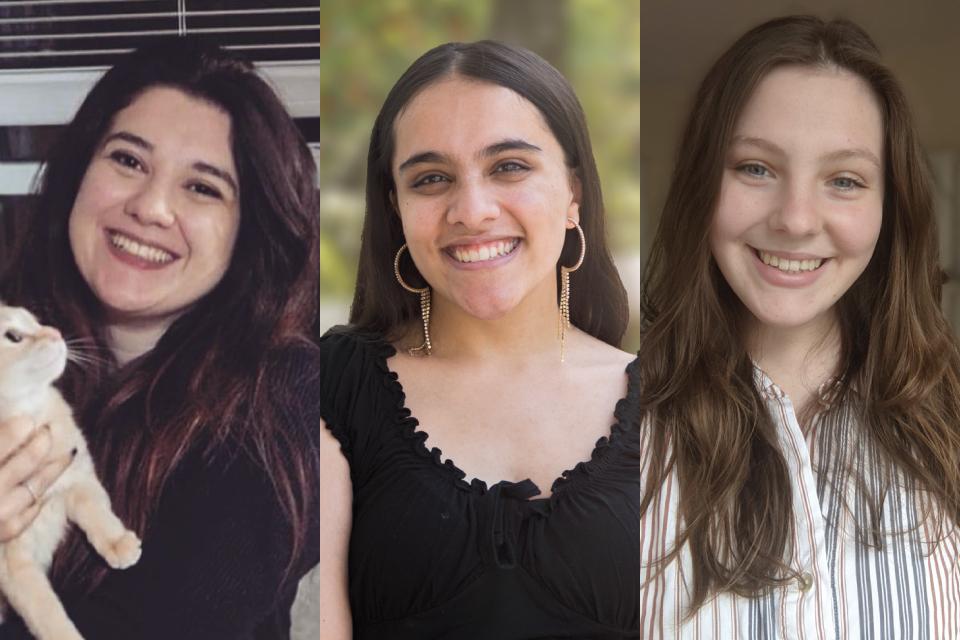 National Student Employment Week is celebrated each year during the second week of April. This year, Simmons joined colleges across the country to celebrate and recognize the value of our student employees.
Through a nomination process, we reached out to managers on campus and received so many wonderful applications that we decided to name three "Student Employees of the Year" and included a list of additional outstanding students. 
We would also like to recognize the hard work of the student employees who have played a crucial role in the success of Simmons' COVID-19 on-campus testing throughout Academic Year 2020/2021.
Student Employees of the Year
Makayla Martorana '21: Registrar Intern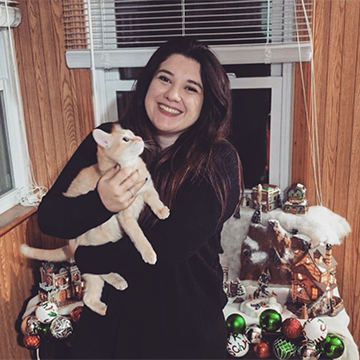 Nominated by: Kasha Williams, Registrar's Assistant, Registrar's Office
"Since the start of her hire, Makayla has always had a positive, 'can-do' attitude when it comes to her work in the RO. Her reliability is manifested by our staff's confidence that she can take on any task and see to it that it gets done well, no matter how tedious or time-consuming.
Makayla has gracefully and quite efficiently taken on helping our office with classroom bookings, due to our staff shortage, along with other special projects. She is bright and resourceful and can take on a problem and complete it with confidence and competence.
Makayla only produces the highest quality of work for our own office needs, as well as the customer service she offers to our students, staff, and faculty. She takes her work seriously and has always shown commitment to offering her help whenever and wherever she can.
While she is a hard worker and will do what is asked of her, Makayla is not afraid to share her ideas and express concern when we could do something more efficiently. This is particularly valued in the Registrar's Office, where there is always room for improved processes. Her dedication to sharing ideas shows her devotion to the RO and investment in our success.
Through thick and thin, Makayla maintains her office professionalism and respect towards students, no matter how challenging things can be, and she maintains a positive attitude during the challenges that the RO has faced in the last year with staffing changes (and even with the most recent challenge—COVID-19).
In addition to processing the regular RO tasks and procedures correctly and efficiently, Makayla is also keen on organization and cleanliness. She makes sure to prioritize our office's organization to help with our own efficiency and workflow, and also maintaining professional optics for our patrons that come through the office.
Makayla is helpful to our new staff and interns that we hire, and someone that they can turn to with questions. She is an overall pleasure to work with and we are so grateful for all the work she has done for us!"
Saloni Kumar '23: Woman on Campus
Nominated by: Kate Smith, Senior Multimedia Producer, University Communications
"Saloni Kumar is an incredible employee, student, and person. In everything she does, she strives for consistent technical and personal growth. Over the last year, while being a remote student, Saloni has learned to use a professional video camera and audio recorder, to edit short form videos using Adobe Premiere, as well as build graphics for video and social media using Photoshop. She has learned all of this at home through Zoom.
In addition to creating short form video content, Saloni learned to create content for social media, using her position as Woman on Campus to highlight underrepresented groups and diverse opportunities on/off campus. She wrote several blog posts, sharing her personal perspective on the importance of knowing your own history and weaving ones way through self-exploration.
Saloni continually finds inspiration and perseveres through technical and personal challenges, working so hard to showcase the Simmons student experience in the most professional of ways with so few resources. She has done all of this during one of the most difficult years the world has seen in a century.
To you, Saloni, I want to thank you for the heart you put into every thing that you do, the talent you bring to every project (and the talents you continue to build), and to your dedication to following your own personal compass as you work to carve out your own path in life."
Hannah Bishop '22: Undergraduate Admission Operations Intern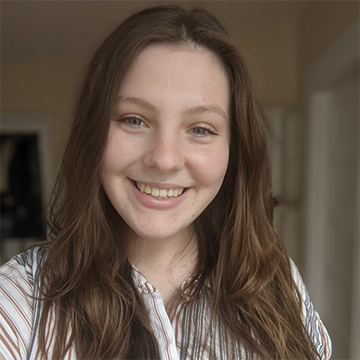 Nominated by: Aliciamarie Roberts, Assistant Director Admission Operations, Undergraduate Admission
"Hannah is a full time Nursing student who already has much on her plate but currently holds two very important jobs within the Office of Admission, Operations Intern, and Ambassador. As the intern for the last two years, and over the last year in particular, she has gone above and beyond to take on duties never previously assigned to help the team ensure that we're delivering the most comprehensive Simmons experience we can given the current situation. She helps answer our main phone line remotely, she emails with prospective students and families to answer questions and is extremely knowledgeable and articulate in her answers. She works remote with us to assist in administrative duties big and small and can be trusted with any high level task we may need accomplished. In addition to all that, she truly has a passion for spreading Simmons-ness to anyone who asks her about what it's like to be a Shark."
COVID-19 Testing Center Students
Simmons had such a successful Testing Site because of our hard-working students. Student workers courageously stepped up, putting themselves at personal risk to assist in staffing the site. These eight dedicated students mastered all aspects of the COVID-19 testing process and have been instrumental in keeping our campus safe and nearly COVID-free all year! We want to recognize and thank this dedicated team for performing an essential service to the Simmons community:
Allison Camboulives
Cassie England
Crystal Huang
Kristen Carroll
Luorong Lamu
MK Goodwin
Sara Manjikian
Tabitha Miles
Additional Outstanding Students
Alyssa Cameron, CSSPP Academic Support Assistant
Manager: Valerie Leiter
"Alyssa is amazing! She is the student assistant for the Public Health and Sociology departments. Alyssa manages our listservs, organizes and takes notes at department meetings, and shares out important items with faculty via email. She's the glue that helps to hold us together while we're not able to be on campus. This year, she's doing an important project for Public Health, looking at the "hidden curriculum" related to structural racism and other inequities in materials used in our required courses. When we were in person, she was also the calm and cheerful person who greeted people in our suite, and helped students find whatever they needed. I look forward to being able to work with her in person again next year, when we hope to be back on campus. Alyssa brings so much intelligence, thoughtfulness, and integrity to everything that she does, and we're grateful to have the opportunity to work with her!"
Ivan Taurisano: Dean's Fellow – Children's Literature
Manager: Cathryn Mercier
"Ivan is extraordinary in every one of these categories. In the time of COVID, he's been a very strong advocate for student engagement. His leadership in the Children's Literature graduate programs means that he organized four weeks of "coffee breaks" over January to keep students engaged (he even wrote trivia questions for our children's lit/trivia/bingo event). He regularly sponsors and attends the weekly "BookNook" social hour every Friday where grad students from across the program (country and world) can gather to talk about their studies or to just hang out. He chairs the Chlit Advisory Council to oversee programming ideas and he serves as a vital peer mentor to first-year students in the program. He never says 'no' to any request for a student's "insider perspective" when a prospective student wants to talk. He works efficiently and regularly tracks responses to his work; he seeks feedback and he engages in meaningful thought partnership with me (as his supervisor and program director) as well as with students. He's a careful listener, a creative person (some great flyer designs), organized, and thorough on all counts."
Kanisha Louis-Jean: Teaching Assistant
Manager: LaDonna Christian
"Kanisha will do anything that I ask her to do to help the students experience success in their courses. She meets with the students who do not presently have mentors to fill that gap between need and the availability of the mentors working in the Dotson program. Kanisha has weekly groups and drop-in sessions that encourage the students to critically think and seek help when needed. She is a leader and a self-motivated organizer. Kanisha empowers the students with problem-solving skills that they will take with them after graduation. We know that students who leave Simmons with a feeling that someone cared will tell others about Simmons and give back in some way. Kanisha brings students of color together from different backgrounds and helps them find their space at Simmons. I will miss her when she graduates."
Genevieve Schortz: American Learns Student Leader
Manager: Amanda Moser
"Genevieve has worked with the America Learns program through Simmons Community Engagement since her first year at Simmons. She is an outstanding team member who leads her peers and community members by example. Her attention to the needs of individuals as well as the broader community, robust creative problem-solving and critical thinking abilities, and strong communication skills have made her an invaluable member of the Simmons and Boston communities. Genevieve has a passion for creating engaging activities for young people that she brings to her role every day. It's that energy and passion that she generously shares with her teammates."
Maya Sungold: COCIS Dean's Fellowship and Shawnee Sloop: Dean's Fellow for Social Media
Manager: Joe Braitsch
"The entire COCIS Leadership seeks to recognize Maya Sungold and Shawnee Rose Sloop for exemplary service and leadership. Maya is the Dean's Fellow for Marketing & Events and Shawnee is the Dean's Fellow for Social Media & Communications. Both of these student workers have demonstrated outstanding performance in the areas of: Customer Service, Self Improvement, Problem Solving and Teamwork. Below is a short summary for each which I would be happy to expand on if needed:
Maya Sungold (they/them): Maya joined COCIS in August of 2020 during a large staff transition in the student support team and the need to move all events to be virtual due to COVID. They were charged with the formidable tasks of centralizing all of COCIS events support and to engage COCIS students in virtual events to recreate the "on-campus" event feel. From the outset, Maya worked hard at learning how each of the three COCIS divisions worked and what each required for support. During the fall term, Maya piloted several virtual event ideas, set up communication channels for reaching students and learned what types of events students would attend. Working closely with the Division Directors, Maya drafted event plans for the spring term and has experienced many successes in the form of well attended events. Following these successes, Maya has expanded the reach of the Events Fellow by working with COCIS Tech to support learning workshops and will be organizing workshops for the new CompleteDegree Program this summer.
Shawnee Rose Sloop (she/hers): Shawnee worked with Simmons central communications team until last July when she transitioned to supporting COCIS as the Dean's Fellow for Social Media & Communications. In this role, she was tasked with identifying and then managing all of the COCIS and COCIS Divisions social media accounts which include multiple Twitter, Facebook, LinkedIn and Instagram accounts. To be successful here, Shawnee has partnered with COCIS Directors to identify target audiences, she generates new content for the various division platforms in partnership with Simmons Communications, runs real time social media takeovers during events, and uses the platforms to amplify event outreach and COCIS faculty/student successes. In addition to these important efforts, every week Shawnee sends out a social media post summary to all of COCIS. Shawnee has done deep dives into, and applied her learnings, as to how to use social media analytics to refine and time posts."
Brianna Desharnais: Research Assistant
Manager: Cherie Ramirez
"Ms. Desharnais has been deeply involved in pushing forward a variety of science and public health research projects since high school. I have been working closely with her since she first started at Simmons University in her capacity as my research assistant on three major research projects related to promoting healthy workplaces, expanding access to medicines, and investigating the toxicity of the herbicide glyphosate. We have co-authored a number of publications, the most recent of which have been accepted and are being published in the Journal of Global Health and the Lancet journal EClinicalMedicine. We have been meeting regularly to discuss various research projects for years at this point, and she always comes prepared, is ready to ask insightful questions and think of creative answers, and follows up to keep team projects moving forward. She has also been a wonderful mentor to other students engaged in research and as a teaching assistant. If I had to choose among her strengths that truly set her apart from her peers, one would be her remarkable ability to listen closely to both positive and critical feedback and to make the most of it, which she puts into practice all the time to great effect. Another amazing asset that stands out is her compassion for others, which will serve her well in the fields of medicine, science, and public health. Ms. Desharnais has always exhibited incredible humility on par with her outstanding intellect. Her brilliant mind, extraordinary courage to address injustice, and heart of gold will take her far."
Natalie Olbrych: Research Assistant
Manager: Felipe Agudelo Acevedo
"Natalie's leadership skills and abilities to take the initiative and to propose new approaches to our work is incredible. She brings to our little team of two an incredible positive energy and professionalism in which she brights as a future leader in her area. Her ability to solve problems and how she seeks and finds resources to improve her work make working with her a mutual learning process."
Lindsay Berube: Laboratory Research Assistant
Manager: Julie Jurgens
"Lindsay has been with the lab for nearly three years now, and her contributions have been integral to our team's success. She has contributed to diverse projects and learned techniques ranging from cell culture to zebrafish husbandry to genotyping, and picked up these new skills with ease. In the past year, she has made leaps in efficiency, independence, and time management, which have expedited our studies. She operates seamlessly as a part of our team, communicates promptly and effectively, and jumps in whenever help is needed. We are very grateful to have her as a part of our team in the lab."
Esha Shafiq – Research Study Assistant
Manager: Caroline Andrews
"Esha Shafiq has worked with us at the Dana-Cancer Research Institute, in the Rebbeck Lab, for all four years of her Simmons college experience. Esha has helped to develop a Redcap database, performed SAS data cleaning scripts and generated reports, as well as performing numerous other tasks over the years. Esha is hard working, capable, and motivated and is able to work under minimal supervision at any of the tasks set. One of her skills is her ability to encourage and motivate others and she was instrumental in helping a high school student who worked with us last year through the workforce development program. She is responsive and a good problem solver and good at networking. We are hoping that after graduation Esha will be able to continue working with us as a project manager and I look forward to hearing about all the future successes that will no doubt come her way."
Dymond Bush: IMLS Grant Student Worker
Manager: Rebecca Davis
"Dymond is working with me on my grant project. She is motivated, organized, and makes suggestions to keep all of the content in order. Additionally, Dymond is approachable, has a positive attitude, and always responds enthusiastically to completing any work task. She completes work in a timely manner and always sends updates when a task is completed. Dymond is also interested in the grant project and asks questions to learn more about the research process. Overall, Dymond is an excellent student to work with and goes above and beyond what is asked of her!"
Taylor Adams: SCE Office Assistant – Service Learning
Manager: Meghan Doran
"Taylor has worked with Simmons Community Engagement as a service-learning assistant and office assistant for several years. They are flexible and hardworking, always ready to jump into projects assigned to them, and to try out new skills as needed. They have shown a clear dedication and commitment to the Community Engagement mission, participating in our programs as a leader in Strong Women Strong Girls and through taking service-learning courses. Through this experience, they have been invaluable in helping us to understand the perspective on the work we do, and they won't hesitate to challenge us to improve the student experience. Finally, they have demonstrated growth and professionalism in communicating with students, faculty, and staff as needed."