Campus & Community
Simmons Radio Nominated for Six Intercollegiate Broadcasting System Media Awards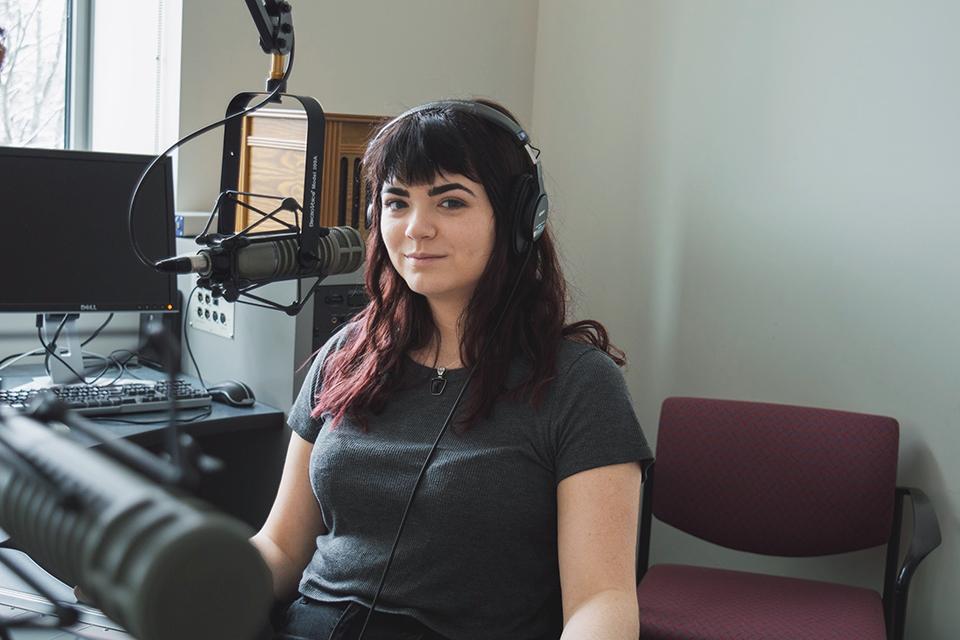 As we all know, 2020 was an incredibly difficult year, and I'm so grateful that our tiny little station was able to achieve so much despite it all... I'm so grateful to have found such comfort in college radio and to be able to work alongside so many amazing people.
—Simmons Radio General Manager Iz Indelicato '21
Simmons University's student-run radio station, The Shark, has received six nominations for the annual Intercollegiate Broadcasting System Media Awards, including Best Streaming-Only Station Under 10,000 students.
"As we all know, 2020 was an incredibly difficult year, and I'm so grateful that our tiny little station was able to achieve so much despite it all," wrote Simmons Radio General Manager Iz Indelicato '21 when sharing the news of their nominations on LinkedIn. "I'm so grateful to have found such comfort in college radio and to be able to work alongside so many amazing people."
Other nominations include:
Before Simmons went remote last spring, Simmons Radio and the University's student-run newspaper, The Simmons Voice, had the goal of partnering and producing more student-driven media. Although the COVID-19 pandemic briefly put this goal on hold, Idelicato believes it actually encouraged their collaboration to be more effective.
In one of their first remote lessons on Zoom, Indelicato met in a breakout room with The Shark's Assistant General Manager, Katie Cole '22, and The Voice's Editor-in-Chief, Sarah Carlon '21, and Managing Editor, Abby Vervaeke '21.
"We talked about covering how the Simmons community was being impacted by the pandemic and threw ourselves into writing about what was taking place," explains Indelicato. "The main goal in teaming up with The Voice was to create a sense of community for students, faculty, and staff while away from campus. To me, the nominations are just a small example of the time, effort, talent and dedication that everyone involved put towards that goal."
As Indelicato, Cole, Carlon and Vervaeke planned content for a remote fall semester, they also had the idea to create a podcast. Although Indelicato is incredibly proud of everything The Shark produced throughout 2020, they find that the creation of this podcast, entitled "Welcome Home," was particularly rewarding.
"Something special about this podcast is that every story from every person involved comes together beautifully to tell the story of Simmons during an incredibly turbulent year," says Indelicato. "Even the listeners help to tell the story."
Indelicato also expressed gratitude to Simmons Radio advisor, Professor Erica Moura, who was invested in the individual and collective successes of students, as well as Digital Labs Manager Luke Romanak, who helped students get the equipment they needed to continue producing content.
"The nomination feels a bit bittersweet since we weren't in the physical station," says Indelicato. "That being said, one of our mottos is 'We Are Where You Are,' and despite all of the roadblocks, we were still able to connect and engage with our listeners, which is more important than any nomination."
---
Interested in getting involved?
Whether writing an article once in a while, drawing a comic, curating a playlist, or recording a segment, Indelicato says that they are always looking for more students to contribute. For those who can commit more time, they also have open positions, including co-host for "Welcome Home" and operations manager for The Shark. Applications will be going live soon!
Follow The Shark on Instagram and Twitter, and The Voice on Instagram and Twitter. You can also reach The Shark at [email protected] and The Voice at [email protected].