Campus & Community
Simmons Entrepreneurship Class Wins Business Feasibility Competition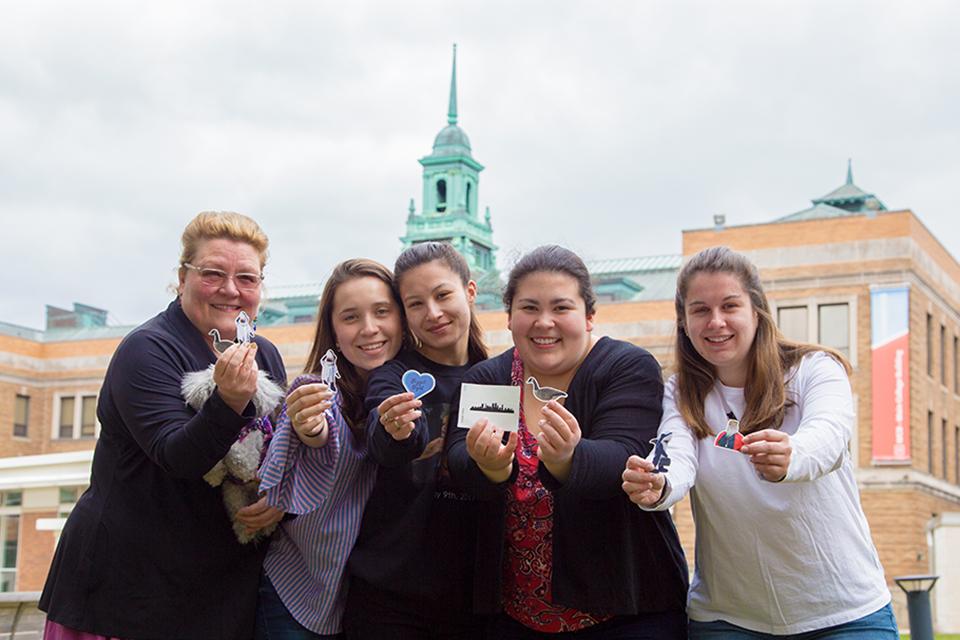 Professor Teresa Nelson's entrepreneurship class seeks to build unity on campus with their company, SimScenes Stickers.
Simmons students won the Colleges of the Fenway (COF) Entrepreneurship Competition in the first COF "Feasibility Faceoff." Eight teams from Emmanuel, Wentworth, MassArt and Simmons competed in the final round.
Led by Professor Teresa Nelson, Elizabeth Eddy '18, Tristen Howell '18, Ana Maher '20 and Charlotte Dyer '19 (pictured above) took first place for their project "SimScenes Stickers," a company they developed for the entrepreneurship class, "Let's Start a Business on Campus Right Now!"
"We're following the process that any of these students would use if they were establishing a business themselves," said Professor Nelson. "We're able to do it together and practice as we go along. It's really about starting with 'what is their passion and interest?' and understanding how this connects with who the customers are and how they create value."
With $500 of seed money from the entrepreneurship program, the class set out to discover what products students were likely to buy. After meticulous research, planning and surveys, the group opted to create stickers depicting campus life and college experiences that people can relate to—specifically images significant to Simmons.
"We went through an entire design and brainstorming process and ultimately wanted to increase positivity and community on the Simmons campus," said Ana Maher. "We thought that there are some things everyone can relate to as a Simmons student—if we created stickers that represented those things, people can put them on laptops, phones or anywhere. Then they can create a sense of community while also reminding you of these positive experiences." 
They designed several Simmons-specific stickers including Bartol Hall's chicken nugget night, Stormy the shark, the Boston skyline and the Canadian geese that frequent campus grounds. They even decided to honor one iconic Simmons professor: Bob White. 
As the purpose of the venture was to promote unity on campus, the students felt that Professor White exemplified that spirit. "Even if you've never taken a class with him, you still know who he is," said Charlotte Dyer. "He's always around, very enthusiastic, people love his classes and we feel like he's just what Simmons is about."
When asked if he was interested in contributing to the project, Professor White was "delighted" and immediately agreed to participate in the project. "I am humbled," he explained, "but having been around Simmons for nearly fifty years, I must accept the appellation."
Similar to Professor White, Professor Nelson is delighted with the course and wants all students to know that this class isn't just for business majors. "Entrepreneurship is for everyone," she stated. "All students today need to understand what makes something innovative and how to take responsibility for a project—essentially learn by doing. This is an enjoyable way to learn about business." 
Professor Nelson's students echo her enthusiasm for the course. Its nontraditional approach makes every class unpredictable yet exciting. "We didn't come in here knowing we were going start a sticker business and sell Bob White stickers," explained Ana Maher. "It was our ideas—and we got to bring them to life."