Alumnae/i Feature
Shealynn Hendry '21MS Wins Gates Cambridge Scholarship for PhD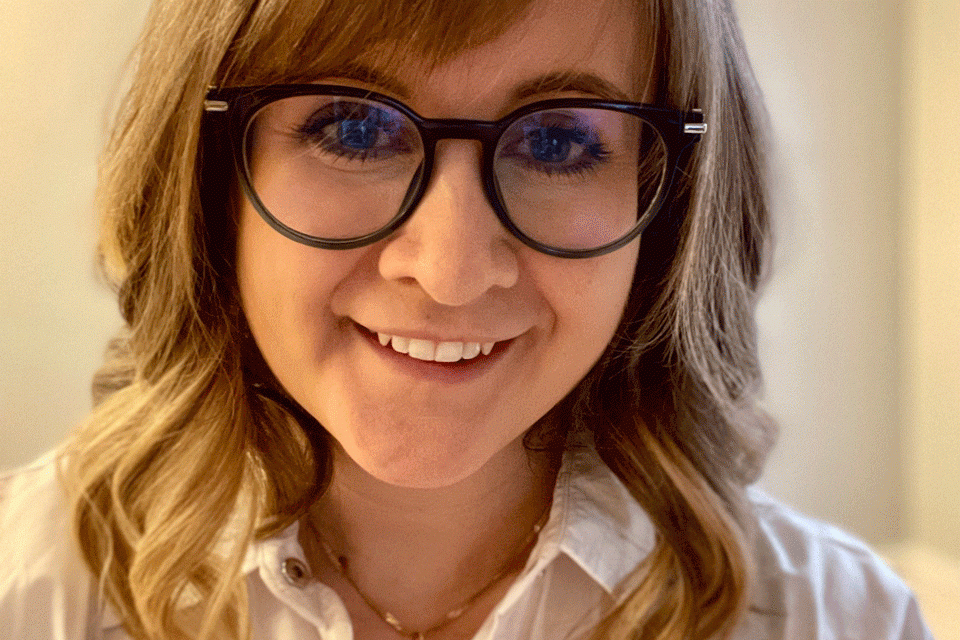 Shealynn Hendry '21MS, a graduate of the dual degree in Archives Management and History (MS/MA) at Simmons, has won the Gates Cambridge Scholarship to attend the University of Cambridge, UK, for her PhD in History.
Tell us about your studies.
At Simmons, I did a dual degree in Archives Management and History (MS/MA). While at Simmons I worked as a tour guide for Historic New England and as the Collections Assistant at the John G. Wolbach Library (Harvard College Astrophysics Research Library).
I will be getting my PhD in history at the University of Cambridge. The plan is to study early American history from a transnational perspective, including loyalist resettlement in India after the revolution. Coming from an archives background, this period really appeals to me, and I'm curious about collecting practice and imperial records management relating to that set of historical subjects.
I am really interested in Libraries, Archives and Museums, in general, and will probably go the professional route instead of strictly academia. I'm interested in cooperative projects between libraries, archives, and scholars. That's what I want to work with: how information sciences can inform scholarship and historians, specifically.
How has Simmons prepared you to be a leader in your field?
I was a research assistant for Professor and Dean Emerita Michèle Cloonan and Associate Professor Peter Botticelli, and it was a great experience to see how research within archives and information science can be applied more broadly by seeing the questions they were asking as scholars. It enabled me to take in the wider field by thinking specifically about institutions that contain history but are not strictly history classrooms.
The professional opportunities through SLIS, and being in the Boston area, have been great. Working at the Wolbach, I worked with a lot of historical material which I hadn't anticipated someone giving me access to three years ago. I've been able to directly apply what I learned in the classroom.
How did you land on Gates?
I knew I wanted to apply to programs in the UK based on program structure and what I was interested in researching. I was already planning to apply to Cambridge, so why not try for the scholarship? If you want something and you feel passionate about it, you should never be the one saying no to yourself. If you self-reject, you'll stop yourself from even trying.
When I first started talking to different potential supervisors and people I would work with in the different programs in the UK, I didn't know if my background would be an advantage or a disadvantage. I was told that it's all about how you use your strengths. It turns out that having a background in library and information science was seen as a huge asset. Not only do I know how to approach historical research as a historian, but as an archivist.
How did you research and narrow down the awards to apply for?
To start, I narrowed down my search to the academic programs that I felt would be a good fit with my research interests in terms of potential supervisors and departmental strengths. Funding opportunities were a part of the process. It didn't matter if the program was a perfect fit if I could never afford to attend. All that to say, I narrowed down the awards based on the fit of the academic program. Once I had a short-list of schools, I spent time reviewing all the funding information and scholarship search options on each university website. With scholarships like the Gates Cambridge, where there is a separate application process, I read everything on the GC website (more than once) and looked for personal blogs or articles written by past applicants about their experience.
Did you use any resources/support (Center for Student Success)?
For my program-specific materials, primarily the Research Proposal, I emailed one (or more) potential supervisors at each institution prior to submitting my application and many were willing to give me specific feedback on that document. Dr. Jessica Parr in the Simmons History Department read a draft of my writing sample and offered her advice.
As for funding, I had a meeting with Nakeisha Cody and Rachel Oshinsky to discuss a few different opportunities early on. I also reached out to my undergraduate institution and connected with a professor there who had more experience with the Gates Cambridge application process, specifically.