Alumnae/i Feature
Shake Up the System: Advocating for Disability-Consciousness in Public Libraries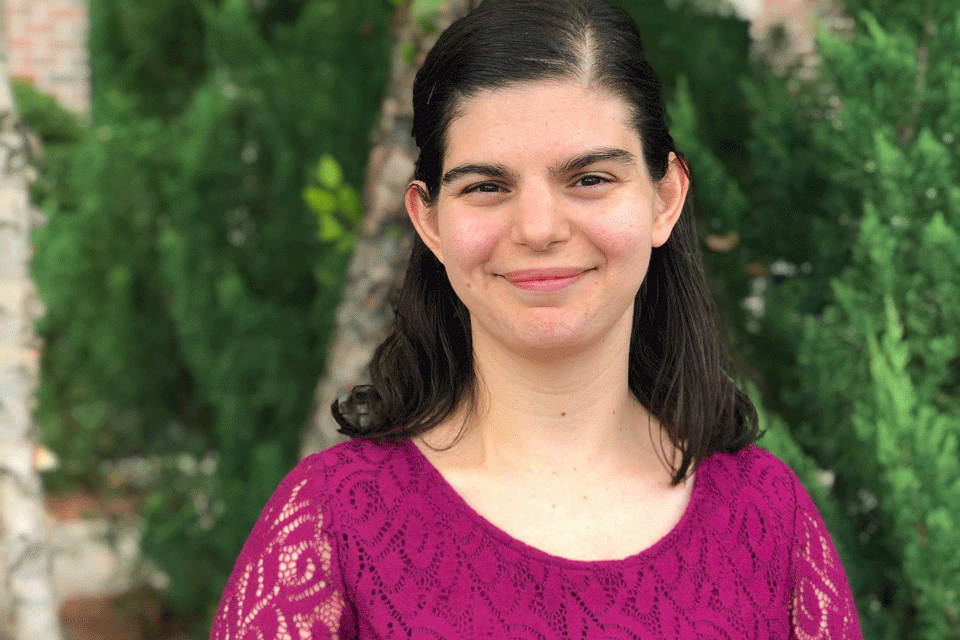 Having disabled librarians shows disabled patrons that we see them... The level of trust on both sides of the desk increases and reminds us that we're not on this journey alone.
"Disabled librarians were patrons at one time," says Nicole Cunha '13, '16MA, '16MS. "We have to represent those who may not have felt seen before this." 
As a child, Cunha struggled to find a place to belong. "Growing up, I didn't have a fleshed-out understanding of disability," Cunha says, who goes by the pronouns they and theirs. "I found refuge in books with disabled and non-disabled characters alike."
Born three months prematurely, Cunha has a mild form of Cerebral Palsy and a learning disability. "I was taught to act 'normally,'" they recall, "while the characters in the books I read could live their lives."
While attending the School of Library and Information Science, Cunha presented their perspective on disability in coursework and student presentations, including DERAIL 2017 and 2018. "Much of the class discussions around diversity either glazed over disability or ignored it entirely. Though I always feared sounding like a broken record, I brought up disability every chance I had."
 
Now the Public Services Librarian at the Newton Free Public Library, Cunha gave a five-minute presentation at the Massachusetts Library System Annual Meeting as part of the 2019 Project SET Cohort. Their presentation addressed the importance of disability representation within the library profession.
Cunha's work — disability-consciousness building — educates others on the concept of disability and gives librarians the tools to evaluate how their institutions are engaging this patron group. Cunha emphasizes practical considerations for visual and hearing impairments, limited mobility, and disparities between developmental and physical age.
Their advice for engaging patrons with disabilities: "When in doubt, ask. They are the experts on what they need, as any patrons are!" A welcoming atmosphere is also key. "Some patrons may have verbal ticks, or not hear how loud they are. Remind patrons who express discomfort that the library is open to all patrons, regardless of ability or neurodiversity. If you feel uncomfortable, try to sit with the discomfort and dig to the root of it."
Representation among the library staff also makes a huge difference. "Having disabled librarians shows disabled patrons that we see them. Once I embraced my disabled identity within the professional sphere, I've had friends and patrons open up to me about their experiences. The level of trust on both sides of the desk increases and reminds us that we're not on this journey alone."
"We are problem solvers by nature," Cunha adds, noting the additional benefits of hiring librarians with disabilities. "We notice things that enabled folks may not notice, like the intensity of computer screens, or ease of access into and out of a building — particularly for anyone on wheels. Noticing physical barriers are important, but so are the less concrete ones, such as changes in a person's energy levels and how it impacts one's mental or physical stamina to navigating the job market as a disabled individual."
Cunha has words of advice for current or prospective students with disabilities: "Question society's perception of you, and your perception of yourself and the community. Internalized ableism stinks, and I'm still working through the layers of it."
And don't forget the power of speaking up. "Live your truth, and shake up the system. Are you not talking about self-care as a professional, or serving your community in class? Act like a broken record and bring it up. Join library organizations like the Association of Specialized, Government, and Cooperative Library Agencies (ASGCLA) that promote overlap of disability and libraries. Find your allies, inside and outside your program, and start conversations. Find a mentor or become one!"
Some resources to learn more about the experiences of people with disabilities:
El Deafo by CeCe Bell — Living with a disability from a child's point of view.
The Absolutely True Diary of a Part-Time Indian by Sherman Alexie — This book isn't disability-centric, but Alexie includes some of his own experiences with Hydrocephalus, a fluid build-up in the brain into his character, as well as passing/straddling the line between social spheres (socioeconomically and racially).
Care Work: Dreaming Disability Justice by Leah Lakshmi Piepzna-Samarasinha — A series of essays focusing on queer/trans/PoC disabled people and caring for the community and oneself while engaging in justice work.
Cunha also notes that Twitter serves as a hub for the wider disability community, including disability at the intersections. They recommend hashtags like #CripTheVote, #DisabilitySoWhite, #DisabledAndCute, and #DisabilityRights for the wider community discussions.
Numerous folks in the community have hashtags for specific disabilities or organizations that they want the community to know about. Lydia X. Y. Brown, Esq. (follow them at @autistichoya) was the first person Nicole knew advocating for disability rights and who introduced them to the community.