Alumnae/i Feature
Serving in the Heart of the City: Angelica Baez-Vazquez '21MSW Works with High Risk Patients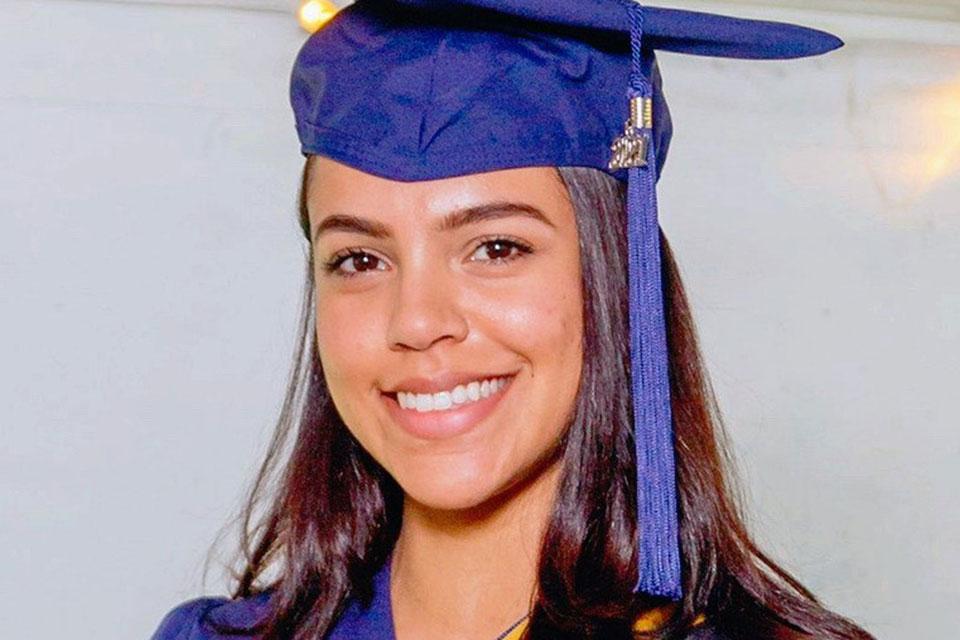 But what I really love is the population. Boston Medical Center is in the heart of the city, and a lot of our patients are from underserved communities. Having the opportunity to work where I grew up really drew me to this position.
What the job entails
Angelica is a clinical social worker in the pediatric clinic at the Center of Excellence in Sickle Cell Disease at Boston Medical Center. She provides assessments and diagnoses, brief interventions, treatment planning, and case management to families of children dealing with this complex disorder. Angelica also communicates and collaborates with outside agencies, schools, courts, and other clinics to support the overall wellbeing of her patients.
"We're working with the family as a whole," she says. "Part of my role is intervening with high-risk patients and their caregivers to reduce any social and emotional impacts they're experiencing."
What brought her to Simmons
After graduating from UMass Dartmouth with a degree in psychology, Angelica worked as a social worker for the Department of Children and Families in Boston. Two colleagues were graduates of the School of Social Work and encouraged her to pursue her MSW at Simmons. Angelica reports that the flexibility of the Extended Program and strong alumnae/i network were big draws.
"I met so many people who spoke highly of Simmons," she says.
I met so many people who spoke highly of Simmons.
How Simmons prepared her
Angelica, who enrolled in the social work + trauma practice certificate program, describes the learning environment as "welcoming and positive" and cites students' varied professional backgrounds as a major strength in the classroom. The faculty, she adds, "took a genuine interest in our goals and success."
In her first internship, Angelica served in the Critical Care Anesthesia, Perioperative, Extension (CAPE) and Home Ventilation Program at Boston Children's Hospital. Working both in-home and outpatient, she collaborated with an interdisciplinary team to coordinate care and resources for infants and children in need of long-term ventilator support.
For her second placement at Brookside Community Health Center in Jamaica Plain, she provided rapid assessments and outpatient therapy in English and Spanish to children and adults. Coursework in crisis intervention and understanding suicide, as well as rigorous in-class simulations with actors, she reports, equipped her "to talk about uncomfortable topics with a solutions-focused approach."
Why it's rewarding
"I enjoy the hospital environment, the fast pace, and the ability to practice within an interdisciplinary team," says Angelica, who hails from Boston's Dorchester neighborhood. "But what I really love is the population. Boston Medical Center is in the heart of the city, and a lot of our patients are from underserved communities. Having the opportunity to work where I grew up really drew me to this position."