Alumnae/i Feature
Senator Harriette L. Chandler '83MBA Made a Career of Protecting Women's Rights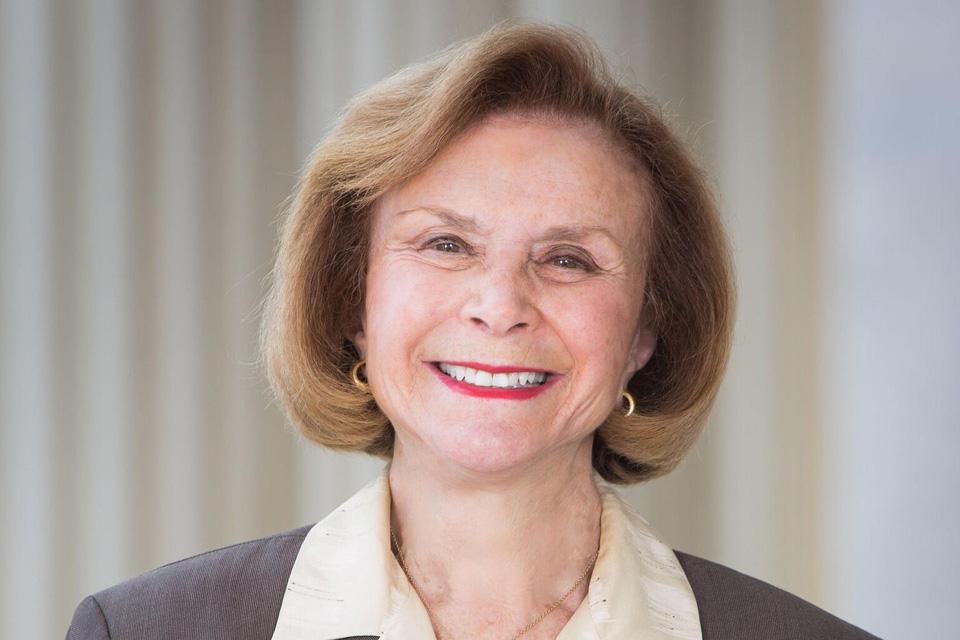 I think being in an all-women's environment encourages women to be strong, bold, and forthright. Simmons did all of that for me.
Tell me about the work you do.
I am a state senator and I have been in the legislature for 28 years. I am retiring at the end of this year, after spending 22 years in the Senate and six years in the House. I have done almost every job you can do in the Senate, including Senate President. I was only the second woman to have that honor.
I write legislation. I was the sponsor of the Roe Act, which enshrined abortion rights into Massachusetts state law.
How did you become involved in politics?
I was a political science major in college, but at that time I had no idea of running for office. In my day, women did not run for office.
I started reading the newspaper every day and I thought to myself, life is very short. I started to think about how I could best serve the Worcester community. I had an incredible education, which included an MBA from Simmons and a Ph.D. from Clark University. At that time, the school system in Worcester was not very good. I had an idea to run for the school committee. One of the things I learned at Simmons was to make up your mind and just do it, so I did. I ran for the school committee and won an outstanding victory. They had not had a woman on the committee in a number of years.
After spending three years on the school committee, there was an opening in the House of Representatives in my district. I realized there would be more of an opportunity for impact if I worked statewide, so I ran for the House, and won resoundingly. I have now been involved in eleven Senate races, three House races, and two school committee races, and I've never lost. I also have been granted four honorary degrees. I realize how fortunate I have been.
What is some of the most important legislation in which you have been involved?
I have done many things over 28 years. My first bill was called the 48-Hour Delivery Bill. This said that a woman who had a baby should be able to spend more than one night in the hospital. That was my first big bill.
I became the Chair of the Healthcare Committee in the House. As a result, I helped bring together two hospitals. One was the university hospital and the other was a private hospital, and I was responsible for seeing that they merged. If they did not merge with each other, then they would have had to merge with another hospital in Boston. Now, UMass Memorial Health is the largest employer in the county.
I have a slew of interesting women's bills, too. I wrote the Buffer Zone Bill, which proposed putting a buffer zone in place at abortion clinics so that the young women going into the clinic would not be harassed. About eight years later, the Supreme Court threw it out, so we wrote another bill to replace it which still stands today.
We also made bills that tackled archaic laws regarding women. For example, even after 1965, you had to be married in order to get an abortion or contraceptives. As far as I was concerned, these laws had to be removed.
We also worked on the Roe Act. When Justice Ruth Fader Ginsburg died, we knew there wasn't much time left to protect the women of Massachusetts. The main point of the bill was to enshrine into law the right to an abortion for the women of Massachusetts. It also enabled 16 and 17-year-olds to get abortions without their parent's consent, and it provided an option for late-term abortions.
How did Simmons prepare you to become a leader?
I think being in an all-women's environment encourages women to be strong, bold, and forthright. Simmons did all of that for me.
One of the bills I am most proud of deals with civic education, which is now law. It says that every student in the Massachusetts school system has to take a course in civic education. We found that most young people do not know who is governing their state and cities. It is crucial for people, and especially our immigrants, to know what democracy is about. I am very proud of Massachusetts history because this is the birth place of democracy, and students should know this as they develop critical thinking skills.
We also need to understand the importance of working in a group, which is something I learned at Simmons. When I was in my MBA program, we took a problem and, working as a unit, we analyzed and resolved the problem.
Do you have any advice for current students with similar interests?
Get involved. If there is something that you really want to do, do it. Now more than ever, we need people to get involved and to understand the political process. That's what democracy is all about. Currently, democracy is under threat, so we need people, especially people with a Simmons education.