Student Story
Sarah Shepherd '23MAMS Receives Ham Scholarship from the Society of American Archivists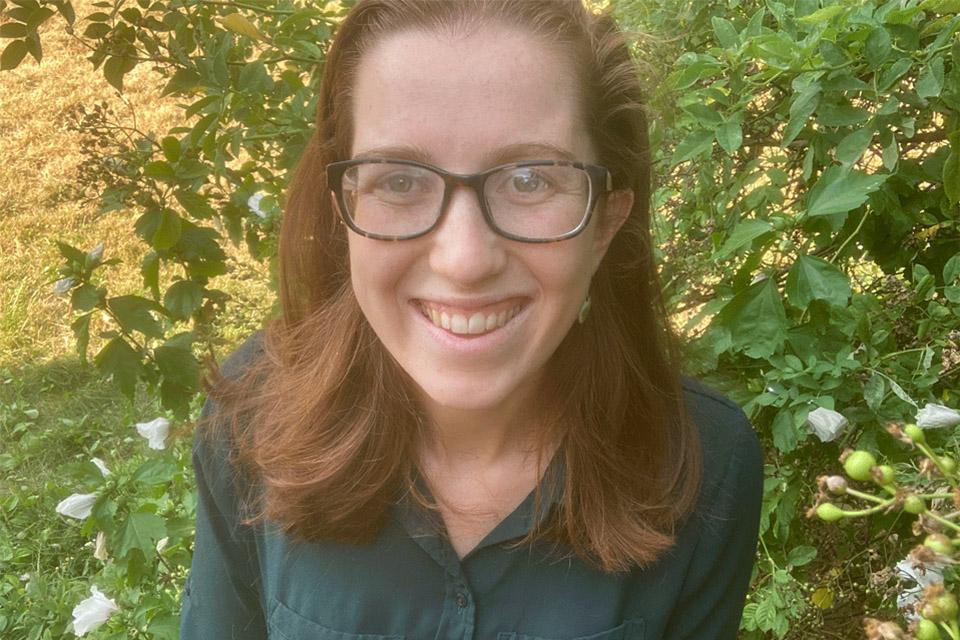 Simmons has challenged me to think more deeply about my field and its history. My professors have given me tools to form a strong archival ethic and sense of justice.
The F. Gerald Ham and Elsie Ham Scholarship Fund was established by F. Gerald Ham, past president of the Society of American Archivists (SAA), and his wife, Elsie Ham, in 1998. The fund, endowed in 2008, provides financial support to promising graduate students in professional archival studies programs. The scholarship awards $10,000 and complimentary registration to the SAA Annual meeting. We spoke to Sarah Shepherd '23MS who received the Ham scholarship to fund her final year in the Library and Information Science program.
Why did you decide to attend Simmons?
I was attracted to Simmons because of their dual history/archives master's degree. I am able to train formally as an archivist while pursuing a deeper understanding of history. I was also drawn to Simmons' flexibility with the course load, allowing students to pursue practical experience working at world class institutions in Boston. Also, Boston was much closer to my grandparents!
What convinced you to apply for the Ham scholarship?
I stumbled upon the F. Gerald Ham and Elsie Ham scholarship when I was looking for scholarships to help pay for my last year of graduate school. I was unsure about applying for this highly competitive national scholarship. It felt like a long shot with a significant amount of work required! Thankfully, my family and friends encouraged me to continue even when I wanted to give up. With my two Segal Education Awards for my AmeriCorps service, a scholarship for Simmons, and my savings from living cheap in West Virginia, I was able to pay two years of tuition. This scholarship allows me to reach the finish line without adding to my undergraduate student debt.
How did Simmons prepare you for the competitive application process?
Simmons has challenged me to think more deeply about my field and its history. My professors have given me tools to form a strong archival ethic and sense of justice. I'm also grateful to Professor Katherine Wisser for writing me a wonderful letter of recommendation! She immediately and graciously agreed to write one for me even though I had doubts about whether I should apply.
When did you first develop an interest for archives?
I worked briefly in archives in college, but initially I wanted to pursue history and work in a museum. After I graduated Goucher College, I served as an AmeriCorps member at the Greenbrier Historical Society in Lewisburg, West Virginia. The position was to assist with the museum collections, but instead I worked in the archives. It was wonderful to provide access to historical records for serious researchers, genealogists, students, and the casual wanderer. The archives were very hands-on and it was a treasure hunt every day assisting patrons in their search for a grandparent's marriage certificate, an old picture of a house or a business, or whatever stoked someone's fancy.
What has shaped your approach to archival work?
For my application essay, I wrote about an experience that helped formulate my identity and ethics as an archivist. Archivists have a great responsibility to the public and a dark history acting as gatekeepers. I wrote about my time at the Greenbrier Historical Society and our reckoning with the institution's racist past. I worked with the museum director Nora Venezky, Board Member Janice Cooley, and an advisory council of local Black residents to present an exhibition on Black history in Greenbrier County. Vital to this project was reworking the archival collections to highlight Black and other minorities' experiences in the Greenbrier Valley.
What are your future plans after graduating from Simmons?
I want to work as an archivist, preferably at a smaller institution where I can pursue all aspects of archival work. I plan to continue to engage with the larger field and volunteer my time with New England Archivists. Also, I will adopt a cat and buy more books than my bookshelves can handle.
What do you find most rewarding about this work?
I love the moments of discovery — when people feel the magic of historical records. I take great pleasure in revealing how history is a lot weirder, crazier, and gayer than it was taught in high school history class.