Alumnae/i Feature
Richelle Smith '21MSW Urban Leadership Certificate Uses Social Work Skills as Director of METCO at Arlington Public Schools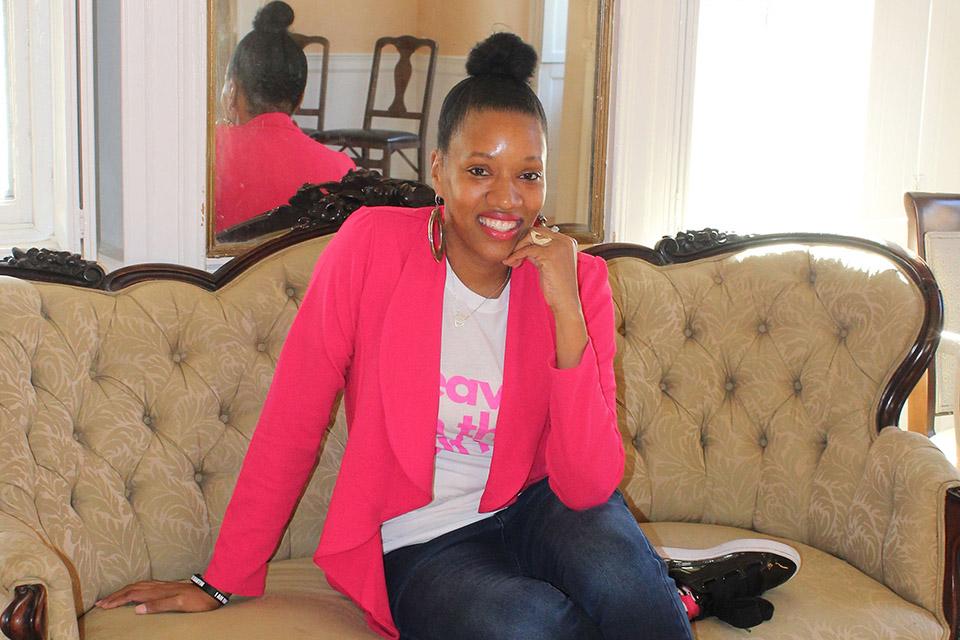 What led you to Simmons for your Master's in Social Work?
My last position was in homeless services, and I was working alongside program social workers. Clients would be inclined to speak with me, and I'm great with people and problem-solving, so I decided to go back to school for social work! When I visited an open house event at Simmons, every question that I had in my head was being answered during the session. I thought, this is where I'm supposed to be. I'm an adult learner with experience, and there was an adult learner sitting in the session to talk about her experience at Simmons. I submitted my application immediately, because I instantly felt at home at Simmons.
Tell us about the SIMPACT Scholars Program, which aims to increase the number of social workers in urban and rural medically underserved areas.
It was a scholarship for students who fit certain demographics. I received a stipend and training in Mental Health Primary Care and Clinical Care. There were required courses, such as Healthcare for Social Workers. I came in with experience in public health and gained experience in clinical healthcare. I was able to experience a different aspect of social work. I learned about integrated behavioral health in primary care, which now helps me support students through a holistic and clinical standpoint. It has helped me understand integrated care settings and community-based settings, and now I'm comfortable navigating systems for the students and families I serve.
Tell us about your current role as Director of METCO at Arlington Public Schools.
My first year at Simmons I had an internship at Arlington Metropolitan Council for Educational Opportunity (METCO). METCO is a school integration program that brings students from Boston to towns like Arlington. When the pandemic shut everything down in March 2020, we pivoted to remote work, and I stayed very active with district programs, students, and families. The Director of METCO at the time was a Simmons alum who was impressed with my work and asked me to come back the next school year. This led to further opportunities in the district — I was hired as a community partner outreach coordinator to gauge anxiety in students grades five through twelve. I did my year two internship at TechBoston Academy, which led to them offering me a position as a School social worker. However, when the Director of METCO position opened up at Arlington METCO, I was encouraged by my supervisor to apply for the job.
My current role in METCO encompasses the wearing of many hats! I'm a METCO alum and a METCO parent, as well. I don't have a set building; I consider my role a principal on wheels. I have 73 students, K-12, in the program, with six schools in the district and over 60 families I communicate with on a regular basis. On any given day something can happen and my schedule will shift. My focus is to make sure the students and families get the best experience from the program, have a sense of belonging, and integrate the Arlington Public School community by bridging it with the Boston community while upholding the educational mission of METCO and Arlington Public Schools
One of my duties is collaborating with administration and faculty to develop programs that support the progress of our students. We partnered with Kurt Faustin of Dropout Academy, who did a young men's wellness workshop for middle school students. We've also partnered with Arlington EATS, which addresses food insecurity in the community, and the Arlington Youth Counseling Center. I coordinate activities, like family art night at METCO headquarters in Boston for all METCO families. We partner with other community organizations to arrange tutoring for our students, to make sure they're on target for academic achievement, and I meet with families about Individualized Education Plans and Programs. On a daily basis, I'm collaborating with faculty to ensure best outcomes for our students by increasing cultural proficiency and uplifting the voices of BIPOC affinity groups. I am a part of building-based teams including a high school based Emergency Response Team (ERT), districtwide Curriculum Leaders and Instructional Leadership Team. I also use the skills developed in social work to help my students and families address mental health issues.
As the primary representative for the district, I go to partnering schools and talk about what METCO means for the students, the community, and the teachers, and host info sessions during the school year. I also work closely with the METCO CFO, grants director, and DEI director to manage and monitor the annual state-funded budget. I work closely with the director of transportation of two companies to manage all transportation logistics. I serve on hiring committees, as we're looking to grow our staff this year. Using current data to track achievement and social involvement, I prepare an annual evaluation of the program which I present to the school committee and share with METCO headquarters. I also work with the Diversity Equity and Inclusion department helping to facilitate professional development for faculty and other special projects as assigned.
What do you find most rewarding about this work?
The most rewarding part of my work is coming to work and facing new challenges and discoveries every day. I enjoy working with my team and other APS colleagues, the students give me life and implementing programming is my passion. I'm happy that this program still exists and sad that it has to exist. Communities are still very much segregated. The demographics in Boston are shifting. Families are finding more affordable living in other Massachusetts towns. How much integration can really happen this way if we are not able to recruit Boston-based families? METCO students are an asset to both communities. They are gaining experiences and learning to navigate two communities. I'm proud to be a METCO alum, and I share with teachers what the experience is like for the students. I share the pros and cons of life as a METCO student and provide educators with instructional practice strategies to ensure students have a sense of belonging in their learning community.
Last year, I was instrumental in helping students organize a school-based Flag Day. The students came up with the idea to wear anything that represented their culture and their ethnicity. Students were wearing flags from Ireland, Puerto Rico, along with traditional African garments. We make sure that cultural proficiency is incorporated into the curriculum and provide books that represent our students' backgrounds and experience. We also listen to student voices — what do we need to change and what is going well? We are dedicated to creating a safe space for students and advocate for students and family's needs. The district is listening, and progress is being made.
How did Simmons prepare you to become a leader in your field?
Along with Social Work I was also in the Urban Leadership Certificate Program and served as a Dean's Fellow for the Dean of Social Justice and Community Engagement. I was afforded many leadership opportunities, including leading a student-based panel discussion on Institutional Racism. I was also the Vice President for the University Chapter for Black Social Workers (BSW). I served as a student ambassador and shared my Simmons experiences with prospective students and was instrumental in organizing a meet and greet with President Wooten and the BSW. Being an effective leader is something I value, so I never let the opportunity go by to connect with admired professors and faculty. I listened to their advice, asked many questions, and implemented the changes necessary to refine my leadership qualities and ability. I currently serve as the Vice President for the Simmons African American Alumnae/i Association and am a subcommittee member for the Simmons Alumni Association DEI network. This is proof that Simmons has an ongoing network of opportunities.
Today, I'm intentional about reaching out to Simmons alumnae/i to say hello and share tips. The professional network that comes with a Simmons education is amazing. When I interview a Simmons graduate, I know they are coming from good stock, that they are equipped to do the job. Simmons creates relationships and partnerships. If I had gone anywhere else, I don't think I would be where I am right now. When you have that Simmons name behind you, folks know that they are gaining an asset.
I also considered myself as a "macro-level" social worker. After completing courses in Assessment and Diagnosis and Human Behavior & Social Environment, and with gentle reminders from faculty, I began to understand I cannot truly understand the macro level without knowing how to process the micro. I've gained listening and communication skills and have deepened my work commitment. The work isn't about me, it's about the students, families, and community.
Any advice for prospective students considering the MSW program?
Be sure to create a support system, even if it includes just one person! The work is rigorous, and you will be challenged. Make sure to ask for help if you need it. It's a strength to ask for help. No one will know you are struggling unless you speak up. Take risks, get comfortable being uncomfortable and be open to challenging everything you thought you knew.
Photo credit: Chanel Thervil