Alumnae/i Feature
Reflecting on Women's History: Ashleigh Coren '14MS on her Work at the National Portrait Gallery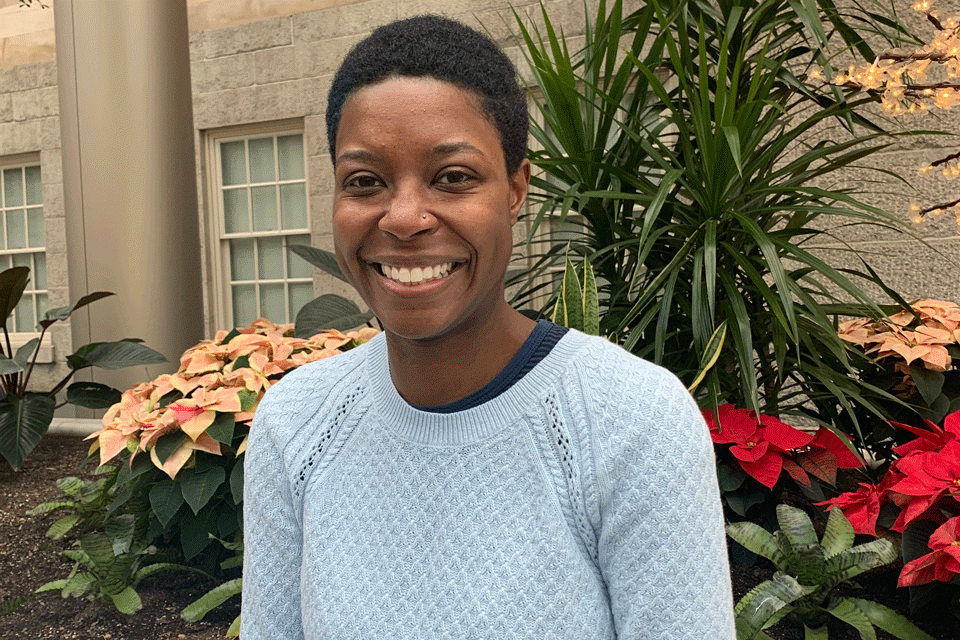 Ashleigh Coren '14MS is the Women's History Content and Interpretation Curator at the National Portrait Gallery. And history is important to her. "I just learned an incredibly interesting fact about one of our portraits of Sojourner Truth," she enthuses. "The yarn on the skirt of her dress is an outline of the east coast of the United States!"
Coren was hired as a part of the Smithsonian American Women's History Initiative: a pan-Smithsonian multi-year effort to promote, collect, document, and teach the stories of women in America. Coren's work focuses on research, public programs, and education. For the next few years, she will be developing and assisting with research projects that focus on the history of women in portraiture; creating public programs related to the collections and exhibitions that focus on female artists and sitters (the subjects of a portrait), and designing educational programs and teaching materials related to sharing the history of women in America.
While at Simmons, Coren took LIS 446 "Art Documentation for Museums, Archives & Libraries," then taught by Prof. Martha Mahard. "It was a great glimpse into the culture of museums and the work I'm doing now at the National Portrait Gallery," she says. "I remember having robust discussions about repatriation, the whiteness of museums, and the importance of conducting outreach to welcome more underrepresented visitors to our spaces."
In 2019, Coren joined the roster of facilitators for the ACRL Information Literacy Immersion Program. "I'm excited to see how the program's new focus on social justice will complement my work with teachers and students at the museum." She's also an online adjunct instructor at the University of Maryland's iSchool, where she teaches "Special Collections" and "Literature and Materials for Young Adults." "Teaching has been a fantastic learning experience and has definitely improved my practice."
Her role as a faculty member gives her a new perspective on her experience at SLIS. "Students have a lot more agency than they realize to make the most of their experience," she says. "I regret not asking more questions about funding assistance — I had no idea about the ALA Spectrum program until the second year of my program —  and waiting until my second year to start networking through various mentoring programs offered by library and archival associations."
In spite of these regrets, she is inspired by her current work environment. "A striking portrait of Toni Morrison is currently on display in our 20th Century Americans: 2000 to Present Gallery," she says. "I try to stop by and do a bit of self-reflection whenever I happen to be in the museum before opening. The National Portrait Gallery hosts a book club with the DC Public Library, and in May we read Morrison's Paradise. The librarians lead the book discussion, and I facilitated a 'close looking' activity with Morrison's portrait. This is a learning technique to help participants understand how to evaluate art." The Art AfterWords, May 18 book discussion was moved online.
In light of the current pandemic, Coren's work now focuses on creating resources for distance learning for k-12 teachers and their students. She has developed subject-based digital teaching collections through the Smithsonian Learning Lab and is working with Smithsonian Education and guest-facilitating webinars that encourage the use of art to learn global history.
"I'm also guest hosting NPG's storytime for kids once a month!" she says. "On May 13, I read Bruce Lee in honor of Asian Pacific Heritage Month on Facebook live." Coren also hopes that there will be a new exhibit on the Smithsonian's National Portrait Gallery - Google Arts & Culture page within the next month.