Alumnae/i Feature
Rebecca Crosswaith '10 Navigates the Ever-Evolving World of Immigration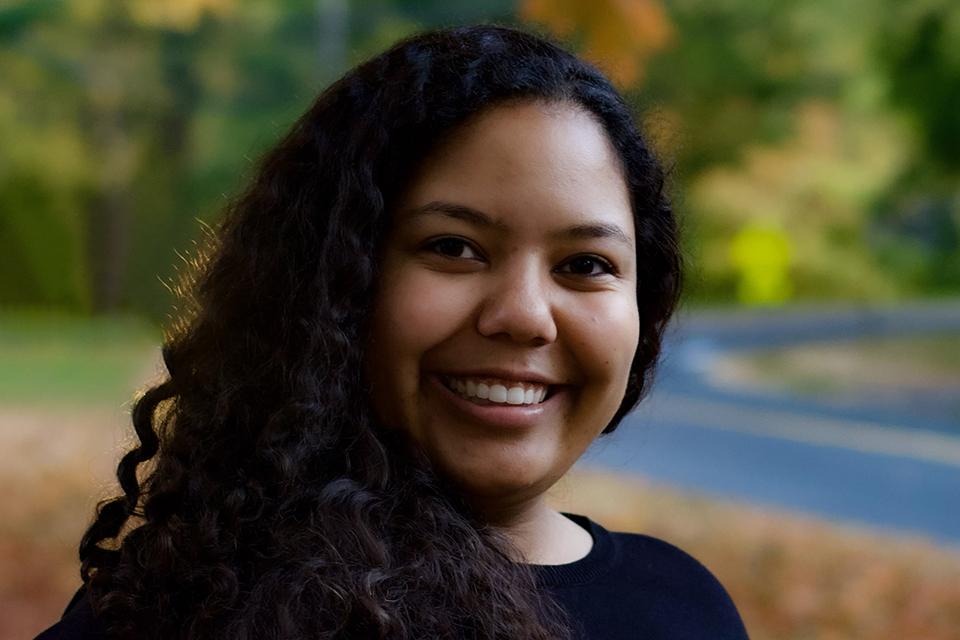 I know people often become apathetic around politics, but I know my ancestors fought for the right to vote, the right to matter and be considered a whole person in the eyes of the law — I will not let them down.
What made you choose to pursue international relations at Simmons?
In high school, when George W. Bush was president, I had a coworker from abroad who asked why I didn't wear a cowboy hat and speak with a Southern accent. He had been under the impression that "all Americans" were like the man they saw on TV declaring "mission accomplished." At that moment, I knew I wanted to change how Americans were perceived abroad. I recognized the US holds a privileged place in the world order. Therefore, we had a responsibility to lead in with a responsible, global vision to bring people together.
Being multiracial and raised in a primarily white Connecticut suburb, many people over my lifetime have guessed "where I'm from" because of how I look and let me tell you, the list of countries is long! I've chosen to look at it from a positive angle. It has granted me the ability to be a bridge between people of different backgrounds, cultures, and races. It naturally made me want to learn about other cultures and how nations relate to one another.
Tell us about your journey from Simmons to working for Senator Blumenthal's office.
Like the Class of 2020, the Class of 2010 graduated into a recession — albeit on a different scale than we see today. This meant my path to Senator Blumenthal's office was far from linear. After graduating, I was an AmeriCorps volunteer in Washington, DC, worked as a camp counselor at Seeds of Peace International Camp, where teens from conflict regions around the world go camping in Maine in an effort to break down stereotypes that have been passed down through generations, and learn to live with fellow teenagers they had been taught to hate. I then moved to Spain to teach English and American culture.
When I returned home to Connecticut, I worked in retail and facilitated teaching kids about diversity and inclusion. Through networking, I found my way into insurance, where I worked in claims for several years and earned my Master of Arts in diplomacy from Norwich University.
After the 2016 election and understanding the gravity of the situation for so many groups of people, I knew I had to do more. Through networking again, I became the Immigration Constituent Liaison for Senator Blumenthal in February 2017 and have had the honor of helping the people of Connecticut with their immigration issues ever since.
Tell us about your current position as an Immigration Constituent Liaison.
I get to do the behind-the-scenes work for the Senator to help the constituents who elected him into office. From helping American constituents obtain passports to following up on immigrant or non-immigrant visas for family members abroad, every case is different, which is an aspect of my job I truly love.
When I first started in my role, there was a significant uptick in deportations of undocumented immigrants, so I worked to liaise between those impacted, their attorneys, and Immigration and Customs Enforcement (ICE). For each case we work on, we act as liaisons between the federal agency and the constituent, trying to cut through red tape and get an answer or an update on an existing case.
What do you find most rewarding about your work?
The most rewarding part is making sure the constituents know that we hear them and that we are here to advocate on their behalf. For many, it's their first foray into the confusing and stressful world of immigration. I try to reassure those I work with that while there are limitations on what every Congressional office can do, we will advocate on their behalf, and they don't have to navigate it alone.
One of my favorite parts of the job is attending naturalizations for constituents the Senator has been able to assist. Knowing so many of the stories that immigrants have endured and the time, effort and amount of money they've poured into the entire process, watching them take the oath to become a US citizen is an incredible feeling — I tear up every time!
In the world of immigration — especially with ever-evolving laws, proclamations and travel bans — there is never a dull moment and there is always more to learn.
What was the most daring move you've made in your career?
The most daring move I've made in my career was leaving my comfortable job in insurance and taking a leap of faith into politics. I've always tried to work towards a career in my field of international relations, and I genuinely thought I would have to move to New York or Washington, DC in order to pursue it. To be able to help people every day in a field I'm passionate about, while still living close enough to my parents in their retirement years, is truly the best of both worlds.
Senator Blumenthal has been a force in Connecticut for decades, from our Attorney General fighting for consumer rights to advocating for Connecticut down in DC, so I knew I would be proud of the work. The daring part was leaving a role in insurance where there was great potential to make a career and earn a comfortable living — something younger generations know is certainly not a guarantee. My friends, family and coworkers at the insurance company convinced me that I could help more people by pursuing what I loved, even if there wasn't a clear ladder to climb at the congressional office. In the world of immigration — especially with ever-evolving laws, proclamations and travel bans — there is never a dull moment and there is always more to learn.
How did Simmons prepare you for what you're doing now?
The Department of Political Science and International Relations at Simmons is incredible. I often felt nervous and out of my element when attending the lectures and networking opportunities, but I learned to push through that discomfort in order to participate in really fascinating events. You grow so much more when you take risks outside of your comfort zone. Without Simmons, I'm sure I wouldn't have moved to Washington, DC or Spain without knowing anyone.
It also taught me the importance of elevating women's voices. The "Simmons bubble" allowed for thoughtful, intelligent discussions among women and often like-minded liberal thinking for the most part. I knew it was important to embrace diverse perspectives, and to do this I chose Norwich University for grad school. As a military college, I knew I would be able to advocate for myself well, thanks to the Simmons experience. Still, I also knew I needed to be able to hear alternative perspectives and be able to have purposeful and productive debates.
In my current role, constituents often have a multitude of perspectives, and I can thoughtfully converse with them while still coming together to provide assistance to their issue. I also try to advocate for colleagues — for instance, if someone is being spoken over, I work to redirect the conversation to make sure female voices are heard. I'm lucky to work in an office with powerful women and many women of color. We protect and advocate for each other fiercely, support one another, and encourage each other, much like my experience with my Simmons girls. Having a strong group of women in your life is so important and will help you accomplish so much!
What is your favorite Simmons memory?
My favorite Simmons memories involve singing with the Simmons Sirens, chatting with the girls in our dorm room, and discussing everything from our future dreams to the difficulties my friends had studying for their nursing exams. Also, starting the Model United Nations club with some of my friends from the PoliSci/IR department. We saw a need to incorporate international relations into an extracurricular and work on our debate and research skills, so we presented it to the Student Government, got it approved, and showed Boston schools a new side of Simmons!
Why is voting important to you?
Voting is important to me because I believe nothing should be taken for granted. I was adopted into a wonderful family, and I know my life would've been vastly different had my family not chosen me. Likewise, I know people often become apathetic around politics, but I know my ancestors fought for the right to vote, the right to matter and be considered a whole person in the eyes of the law — I will not let them down.
For those who think their vote doesn't matter, so many politicians have won or lost races because of just a few votes. Here in Connecticut, Senator Chris Murphy won his first race by only 800 votes. Every vote matters and every election matters — down-ballot races impact our daily lives in so many ways. Even if you don't think there's an issue important enough to get you to the polls, there are people living in the United States who don't have the ability to vote, and others whose livelihoods, marriages, and constitutional rights are on the line. If you won't vote for yourself, vote for them.