Voices of Simmons
President Wooten's 5 Takeaways from the First-Year Read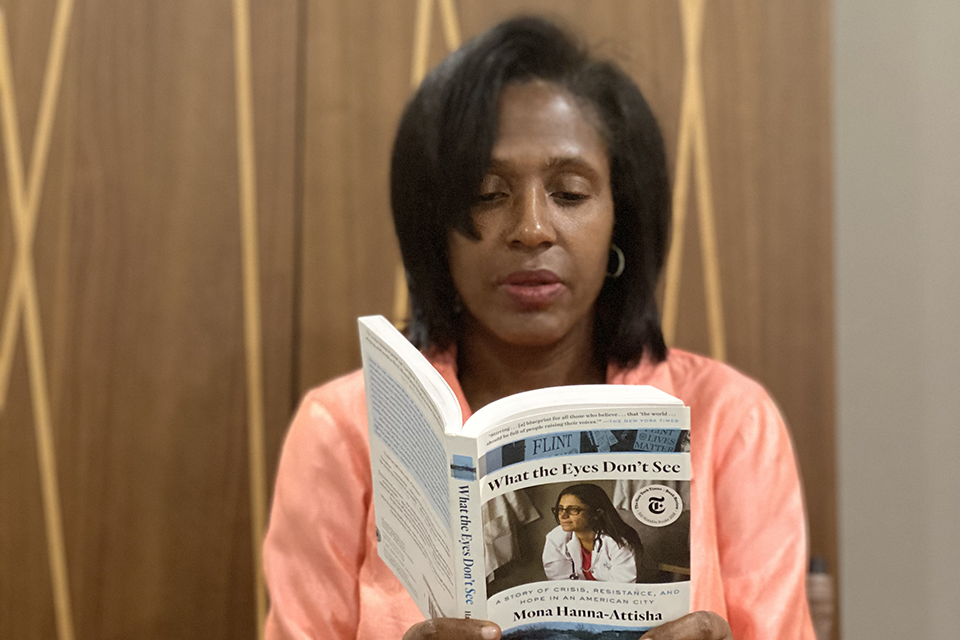 The 2020 First-Year Read selection is What the Eyes Don't See: A Story of Crisis, Resistance, and Hope in an American City by Dr. Mona Hanna-Attisha. Check out President Lynn Perry Wooten's favorite quotes and takeaways from this powerful first-hand account of the Flint water crisis.
---
1. Challenge the status quo.
"Challenging injustice means standing up for the weak, the vulnerable, the abused, and the forgotten—be it in health, employment, education, or the environment. It means being vigilant on behalf of people who are treated as pariahs and scapegoats, populations that are dehumanized, displaced, and treated as disposable. It means fighting oppression at every opportunity—no matter the place or country."
- Dr. Mona Hanna-Attisha
2. Get in "good trouble," as the late Congressman John Lewis said, and speak up.
"The world shouldn't be comprised of people in boxes. Minding their own business. It should be full of people raising their voices, using their power and presence, standing up for what's right."
- Dr. Mona Hanna-Attisha
3. Focus on community and positive social change.
"It was about people and community. That's what science is supposed to be about — not an academic exercise for the ivory tower, or racking up publications, grants, and offers of tenure. It's about using the tools and technology available to make lives better, no matter what articles of faith obstruct the path."
- Dr. Mona Hanna-Attisha
4. Emphasize public health.
"Public health surveillance programs are crucial. They regularly monitor population-wide trends that individual doctors can't detect on their own."
- Dr. Mona Hanna-Attisha
5. Develop resilience.
 "Resilience isn't something you are born with. It isn't a trait that you have or don't have. It's learned."
- Dr. Mona Hanna-Attisha