Campus & Community
President Wooten Shares her Holiday Favorites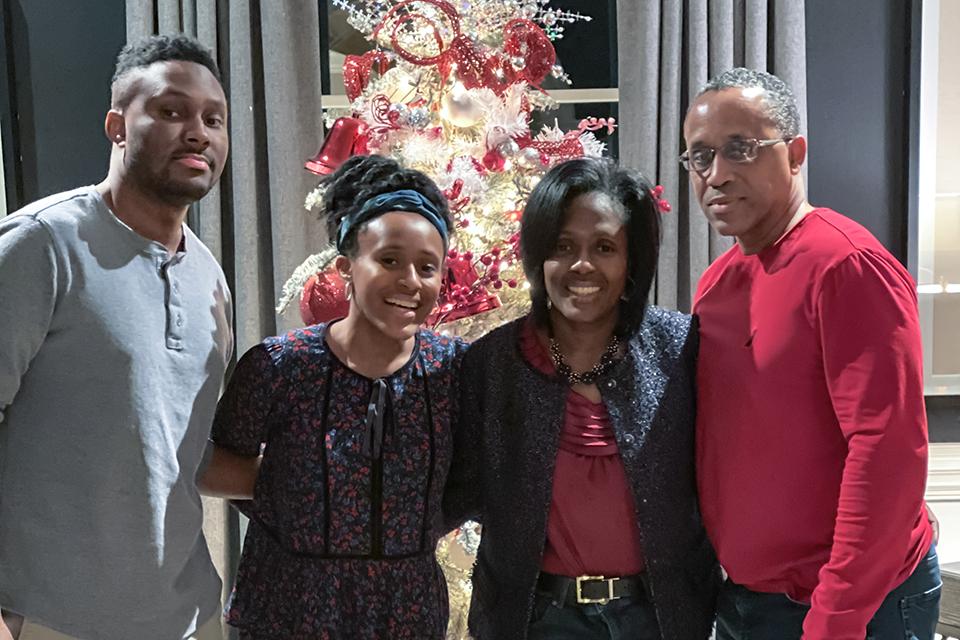 I hope you all have joy-filled holidays. My very best wishes for a safe, happy,
and healthy New Year.
As we enter a holiday season that is unlike any other, it's important to create special moments and take every opportunity to spread hope and joy. That's why I'm sharing what I'll be reading, watching, baking, and listening to over this winter break, as well some ideas on the many ways we can give back to our communities.
I hope you all have joy-filled holidays. My very best wishes for a safe, happy, and healthy New Year.
What I'm...reading
How to be an Antiracist by Ibram X. Kendi
Summary from ibramxkendi.com: "Ibram X. Kendi's concept of antiracism reenergizes and reshapes the conversation about racial justice in America--but even more fundamentally, points us toward liberating new ways of thinking about ourselves and each other. Instead of working with the policies and system we have in place, Kendi asks us to think about what an antiracist society might look like, and how we can play an active role in building it. 
In his memoir, Kendi weaves together an electrifying combination of ethics, history, law, and science--including the story of his own awakening to antiracism--bringing it all together in a cogent, accessible form. He begins by helping us rethink our most deeply held, if implicit, beliefs and our most intimate personal relationships (including beliefs about race and IQ and interracial social relations) and reexamines the policies and larger social arrangements we support. How to Be an Antiracist promises to become an essential book for anyone who wants to go beyond an awareness of racism to the next step of contributing to the formation of a truly just and equitable society."
Piecing me Together by Renée Watson
Summary from Barnes and Noble: "Jade believes she must get out of her poor neighborhood if she's ever going to succeed. Her mother tells her to take advantage of every opportunity that comes her way. And Jade has: every day she rides the bus away from her friends and to the private school where she feels like an outsider, but where she has plenty of opportunities. But some opportunities she doesn't really welcome, like an invitation to join Women to Women, a mentorship program for "at-risk" girls.
Just because her mentor is black and graduated from the same high school doesn't mean she understands where Jade is coming from. She's tired of being singled out as someone who needs help, someone people want to fix. Jade wants to speak, to create, to express her joys and sorrows, her pain and her hope. Maybe there are some things she could show other women about understanding the world and finding ways to be real, to make a difference."
Nothing Like I Imagined (Except for Sometimes) by Mindy Kaling
Summary from Amazon: "In this hilarious collection, Mindy Kaling considers her new role as single mom, the perks of not having a husband, and her struggle with social anxiety. In between, the beloved actress, writer, and Hollywood power-bruncher gets Kanye West'd at her best friend's birthday, thwarts an "only in LA" crime, and learns what it means to have it all."
 
What I'm...watching
Emily in Paris
Emily in Paris summary from Netflix: "After landing her dream job in Paris, Chicago marketing exec Emily Cooper embraces her adventurous new life while juggling work, friends and romance."
Jingle Jangle
Jingle Jangle summary from Netflix: "Decades after his trusted apprentice betrayed him, a once-joyful toymaker finds new hope when his kind and curious granddaughter comes into his life."
Queen Sugar
Queen Sugar summary from Hulu: "Produced by Oprah Winfrey, award-winning filmmaker Ava DuVernay (Selma), and Melissa Carter, Queen Sugar chronicles the lives and loves of the estranged Bordelon siblings in Saint Josephine, Louisiana. Reunited by a family tragedy, the Bordelons must navigate their complicated lives in order to run an ailing sugarcane farm."
Soul
Soul summary from Disney: "What is it that makes you...YOU? This December, Pixar Animation Studios' all-new feature film "Soul" introduces Joe Gardner (voice of Jamie Foxx) – a middle-school band teacher who gets the chance of a lifetime to play at the best jazz club in town. But one small misstep takes him from the streets of New York City to The Great Before – a fantastical place where new souls get their personalities, quirks and interests before they go to Earth."
This is Us
This is Us summary from NBC: "Everyone has a family. And every family has a story.  "This Is Us" chronicles the Pearson family across the decades: from Jack (Milo Ventimiglia) and Rebecca (Mandy Moore) as young parents in the 1980s to their 37-year-old kids, Kevin (Justin Hartley), Kate (Chrissy Metz) and Randall (Sterling K. Brown) searching for love and fulfillment in the present day."
TODAY Show
TODAY summary from NBC: "NBC's TODAY is the news program that informs, entertains, inspires and sets the agenda each morning for viewers across America."
What I'm...baking
Fluffy, homemade cinnamon rolls 
Cinnamon buns are one of the first recipes I learned to bake. Find my go to recipe at Divas Can Cook. 
Salted chocolate chunk shortbread cookies
This is a combination of my family's favorite cookie: chocolate chip, and my favorite cookie: shortbread. See my latest batch pictured and find the recipe in the New York Times.
What I'm...listening to
My family's Spotify playlist!
How I'm...giving back
Many of you have heard me talk about community as one of my personal values. I believe that community is who we are — it's about caring, bringing out our best self, and having fun. This time of year often prompts me to think about giving back to my communities, and I want to share some of the ways that all of us can help support those struggling and those who give of themselves all year.
Everyone's circumstances are different, but by looking at the five T's (as inspired by Paula A. Sneed '69, HT), we can all find a way to give back to causes close to our hearts and organizations or individuals doing good work.
Treasures - if you have it to spare, consider a monetary donation, but treasures can be anything. Consider a donation of food, clothing, housewares, toys, and valuable items for sale or auction.
Time - volunteer your time. An extra set of hands goes a long way in helping organizations get ahead.
Talents - share your talents and specialized skills with those who can benefit most from them.
Testimony - when you are out and about in your neighborhoods and communities, talk about the good things you're seeing - promote small businesses, get the word out.
Ties - fostering connections and introductions can be incredibly valuable.