Campus & Community
President Wooten Joins The Boston Globe's Inaugural Summit in "Reversing the She-cession" Panel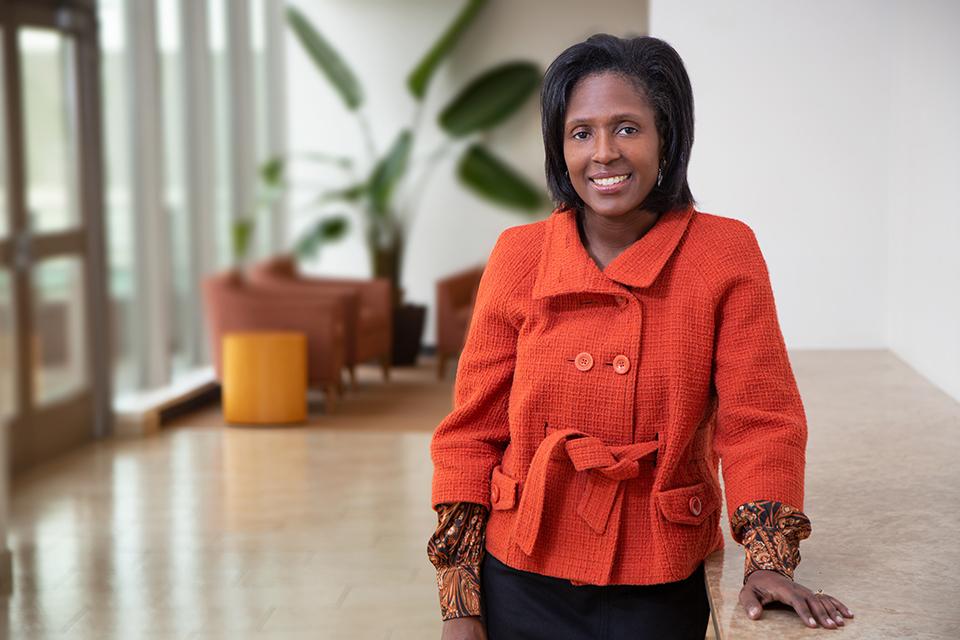 At Simmons, we say our mission is training people for their life's work. I'm very explicit: it's your professional, your personal, and your community work.
On Friday, Simmons University President Lynn Perry Wooten participated in The Boston Globe's inaugural Globe Summit. Described as a "festival of national thinkers, speakers, and local leaders in business, health, and technology," the three-day virtual gathering featured the nation's top minds including Dr. Anthony Fauci, former senator John Kerry, and Ibram X. Kendi, among many others.
President Wooten participated in the panel discussion "The Future of Work: Reversing the She-cession," alongside Sheila Lirio Marcelo, Executive Chairwoman, The Wing; Marianne Harrison, President & CEO, John Hancock; and moderator Shirley Leung, Columnist, The Boston Globe.
Leung led their conversation on the future of work. The discussion focused on remaking the workplace and eliminating inequities that created predominantly male management regimes.
President Wooten kicked off the panel, noting that she's studied women in the workforce for 25 years. She summarized that the "she-cession" has occurred due to a multitude of reasons, including the pandemic shutting down women-dominated industries, as well as women deciding to exit the workforce because they bore the brunt of the caring responsibilities.
Even as women return to the workplace, President Wooten warns that there are three "pain points" that must be addressed in our current system:
Women are still bearing the majority of all caring and household responsibilities.
The "she-cession" didn't do anything to improve the wage gap, possibly setting it back.
The "leaky pipeline" of women no longer moving into management and the c-suite.
I have the great honor of being around young women every day at Simmons University. I'm optimistic because we're modeling the way for them.
The theme of flexibility and empathy emerged throughout the panel. Harrison noted that employers need to "understand what women need" to be successful in the workplace. Marcelo doubled down on this point and emphasized that the issue of childcare "is not a women's issue. It is an economic imperative for the whole country."
Expanding on this idea, President Wooten explained that educators play a crucial role in preparing students for the workforce and beyond. In order for women to return to work, educators must help women think strategically about their careers and lives outside of the workplace.
"At Simmons, we say our mission is training people for their life's work. I'm very explicit: it's your professional, your personal, and your community work. It's also teaching our male students that they have a life outside of work and you have to learn how to balance this. If we all own this infrastructure for caring, we won't see a dramatic 'she-cession.'"
Looking forward, Leung asked panelists to share their feelings about the potential of a "she-covery."
"I'm optimistic," concluded President Wooten. "I have the great honor of being around young women every day at Simmons University. I'm optimistic because we're modeling the way for them. They are activists, they care about women's rights, so empowering our next generation of women is important."