Student Story
Piper Alyea-Herman '24 Presents Research at the American Society for Biochemistry and Molecular Biology Conference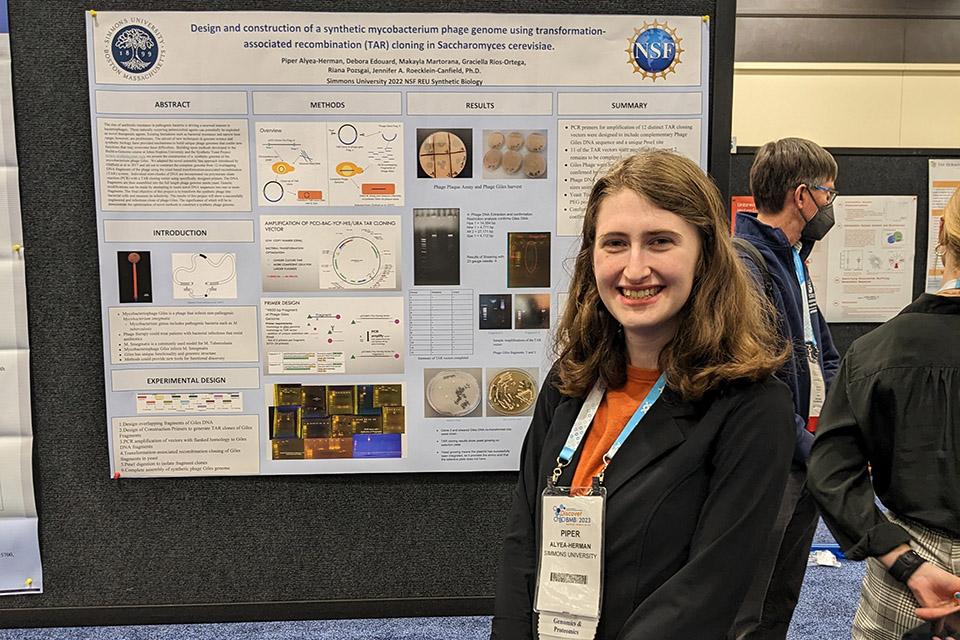 Biology major Piper Alyea-Herman has developed a deep interest in genetic research. In March, she gave a poster presentation at the American Society for Biochemistry and Molecular Biology Conference (ASBMB) in Seattle, for which she received a competitive travel award from the National Science Foundation. Alyea-Herman spoke to us about her research project and her conference experience.
Tell us about the research you presented at the ASBMB.
My presentation is entitled "Design and Construction of a Synthetic Mycobacterium Phage Genome Using Transformation-associated Recombination (TAR) Cloning in Saccharomyces Cerevisiae," and I have been supervised by Professor Jennifer Roecklein-Canfield. Essentially, this project revolves around phage, short for bacteriophage. A phage is a type of virus that infects bacteria. I am focusing on Phage Giles, which, although not pathogenic on its own, infects the bacteria Mycobacterium smegmatis. We can work with this substance in the lab and not get sick from it. I have been working on dividing the gene sequence and stitching fragments together into a single genome, which makes it easier for us to manipulate. I will likely expand this research project for my senior thesis.
What do you hope the impact of this research will be?
One of our hopes in working with this phage is to edit its genome so that it can directly infect Mycobacterium tuberculosis, a relative of the non-pathogenic M. smegmatis. There are still numerous cases of tuberculosis across the globe today, particularly in poorer communities and countries.
Tuberculosis can be treated with antibiotics, and the treatment typically lasts six months. Phage therapy has been theorized, but research fell by the wayside once antibiotics became popular and widely used. However, antibiotic resistance is very prevalent.
The great thing about phage therapy is that the phages can destroy bacteria in the body that are not supposed to be there. We have phage in our body all the time, and it keeps our microbiome in balance. This way, you don't have to worry about antibiotic resistance or damaging your microbiome.
Why were you motivated to attend the ASBMB conference?
The project began in the summer of 2022 as part of the Research Experience for Undergraduates (REU) program. Typically, students who perform research through REU end up presenting their research in the form of a poster presentation at the annual ASBMB conference the following spring. I was really eager to get my foot in the door and share my ideas with researchers from around the country.
Do you have any special memories or fruitful encounters from the conference?
I interacted with several professors who discussed with me their knowledge of phage research, and particularly the use of phage in Asia. I attended many interesting presentations on bacterial infections and the evolution of them.
What was even more meaningful was experiencing the community that the conference created. There were many women in STEM who talked about their journeys and gave advice. I attended an event based on speed-dating, at which I interacted with a wide variety of professors and professionals and asked them questions about the field. I posed questions about the variety of job opportunities available in unconventional settings. The element of human connection is where the conference really shined.
Why did you choose to be a Biology major?
I have always been interested in science and the body. When I was seven years old, I actually wanted to make dragons! That drive morphed into more academic interests in genetic engineering. It is fascinating to think about the possibilities concerning gene cloning and manipulation. Can genetic research help cure diseases? Can we regrow the limbs of amputees?
Moreover, I am interested in the ethical issues surrounding genetic research. I want to have some control over communicating the ethical implications of what we do.
What are your plans for after graduation?
I would like to work in a lab, most likely in the Boston area. I think it will be beneficial to focus on lab work experience without being burdened by homework and exams. Most likely, I will apply for graduate programs in Biology after acquiring more lab experience.
Why did you choose to attend Simmons?
I am from the Boston area and wanted to stay local. I really enjoyed the Simmons community and the professors that I met during open house events. I love that there are important research and medical centers here, and with a Simmons connection I have received great internship opportunities. It was also important for me to attend a women's college because I wanted to be around a lot of women in STEM. This environment has helped me speak up and sharpen my research skills more vigorously.