Alumnae/i Feature
The People Behind the Archives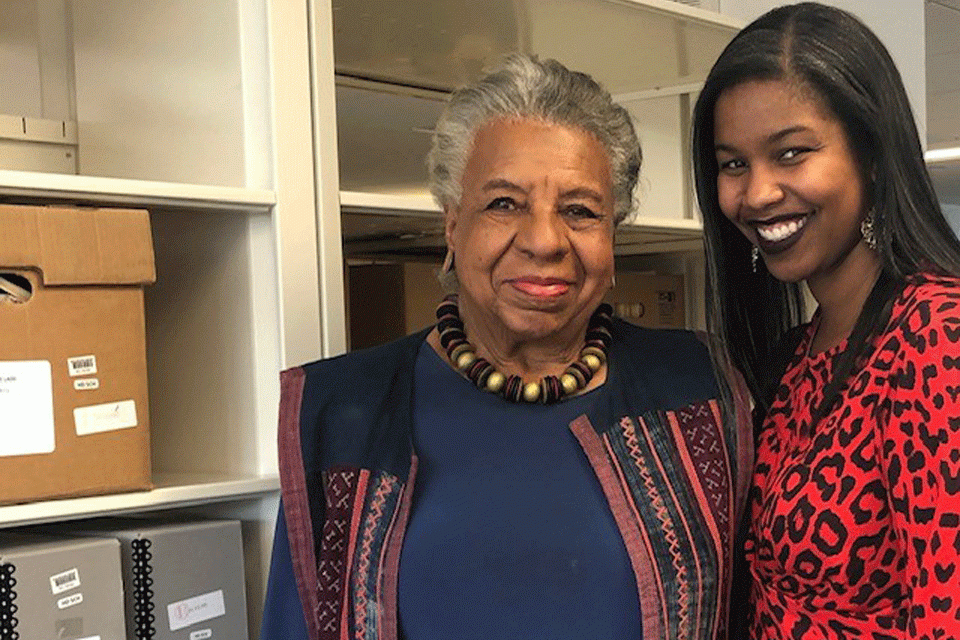 I didn't expect the emotional aspect of dealing with archives, but when you're processing a collection, you are learning as much as you can about someone. You develop a connection.
Amber Moore '08MS, Archivist at the Schlesinger Library, Radcliffe Study for Advanced Study at Harvard University, works with collections — and more importantly, with the people behind them. 
"I didn't realize I liked donor relations," says Moore, whose work at the Schlesinger has focused on the collections of African American women. Most recently, she processed the collection of Angela Y. Davis, which included traveling with Dr. Kenvi Phillips, curator of Race and Ethnicity, to Davis's house in California.
"We went to Angela's house to talk with her and see what she had," explains Moore. "We created an inventory based on what types of items she kept, to help with the acquisition process."
Once the contracts were signed, Moore, Phillips, and archivist, Jehan Sinclair '16MS, returned to Davis's house to pack up the collection, which was housed in a 30-year old storage unit, a crawl space under her house, her office, and a shed.
"It's rare for a processing archivist to build a relationship with a donor, and it gave us the context of the collection," says Moore. "She identified people in photographs. She was pulling out stuff she hadn't seen in 30 or 40 years saying, 'are you sure you guys want this?' And we said 'yes, we do!'" 
All of the items were boxed up and shipped to Boston, and it took 20 months for Moore, Sinclair and colleague, Jenny Gotwals, to process the entire collection. The Angela Y. Davis collection opened on Friday, November 1, 2019, with a conference in her honor. The finding aid is online, where you can explore organized folders to know which boxes you would like to request to view. An exhibition about Davis's life, which includes highlights from the collection, is on display in the library now through March 2020.
Moore's career trajectory into the personal papers of African Americans began during her course of study at SLIS. She interned at Boston University, where she and fellow student Steven Booth '09MS (archivist at the Obama Presidential Library) processed the papers of Dr. Martin Luther King, Jr.
"My passion is African American history, and that is where my career began," says Moore, who has been working on the collections of civil rights leaders since library school. The last two collections, of Angela Davis and feminist lesbian poet, Pat Parker, have been truly in line with her mission. "I'm passionate about making these materials accessible to researchers in the future." 
But the road to her current position hasn't been easy. After graduating, Moore held three different grant-funded positions over a seven-year period. She was project archivist at the Amistad Research Center in New Orleans, Louisiana, Syracuse University in Syracuse, New York, and Emory University in Atlanta, Georgia. Her current position at Harvard is her first permanent position.
Reflecting on her time as a contract employee, she says, "The work of a project archivist is so specialized. You're there to process a certain collection. But I should have asked for a shift on the reference desk, or maybe shadowed people in other departments. Otherwise, you have one specialized skill. You have to delve in and get other experiences, participate on committees or network with other people in the library, branch out and notice the different career paths within the library. I may have learned about donor relations sooner and sought it out as a career path."
She advises students and graduates to maintain relationships with former supervisors, even as you move from one contract position to another. "Check in with past supervisors annually," she suggests. "It makes it less awkward to ask for a recommendation down the line if you have an ongoing relationship with them." Students may consider this approach with faculty, as well. "If a position comes along, they may think of you."
That personal touch is now at the forefront of Moore's work, in ways she had never expected. Developing those "soft skills" — how to interact with people, build relationships and trust — has proved vital. She's now working on the collection of Dr. Florence Ladd, former director of the Mary Ingraham Bunting Institute at Radcliffe College from 1989-1997.
"I've developed a bond with her," says Moore. "Before, when she was donating to the library, she sent boxes over blindly and held stuff back. Now she's ready to consider giving her diaries because she knows that I care for her and want her stuff to be preserved properly."
Getting a donor's perspective can shed light on the entire collection. "I ask the donors about the most significant events in their lives, so I know what to look for and highlight in the collection."
Moore and her colleagues presented a panel discussion, "#ArchiveBlackWomen: Preservation and Access to Black Women's Stories," at the National Women's Studies Association Conference in San Francisco in November 2019. Moore's presentation, "Seen, Heard, and Preserved: Archivist and Donor Relationships," emphasized including the creator's perspective in the processing of a collection, the importance of building donor-archivist relationships, and how these relationships can impact your work. 
"I'm excited to come to work each day. I'm so glad to be in this position now to be doing something that I love and to make this history available to other people," says Moore. "I didn't expect the emotional aspect of dealing with archives, but when you're processing a collection, you are learning as much as you can about someone. You develop a connection."
---
Interested in more news about the College of Organizational, Computational, and Information Sciences? Subscribe to our newsletter!