Student Story
Nycole Beard Revives Student Group, Clinicians of Color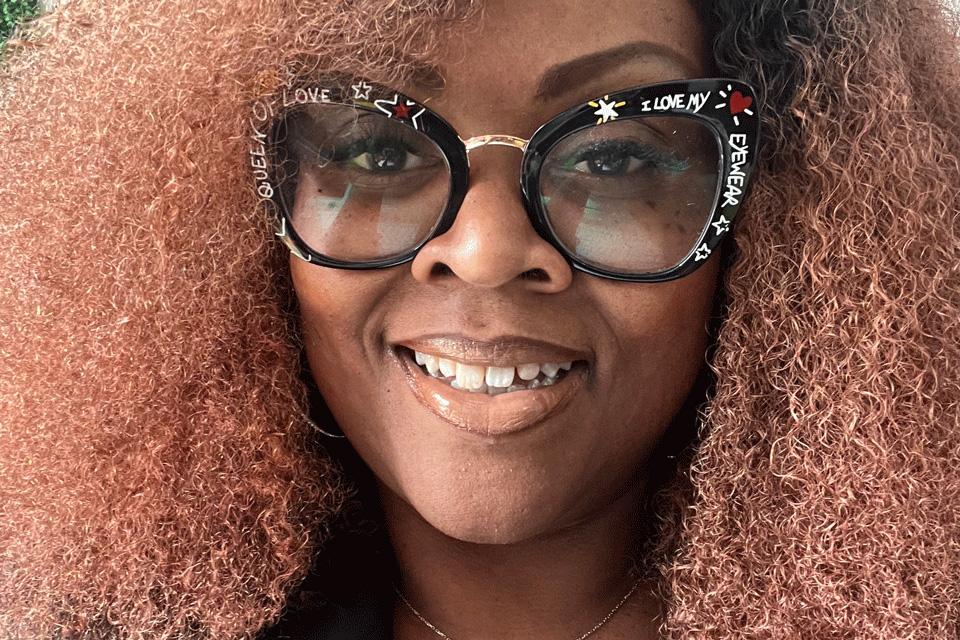 What brought you to Simmons?
It's reputation. I was considering schools for my Master's in Social Work when I ran into a random woman at the park who told me, if you want to go to a college that teaches you to be a leader in the field, you should go to Simmons. I did some research and saw the emphasis on leadership and thought, that sounds like my lane. That's what brought me to the online MSW program at Simmons.
Tell us about your online experience.
My main desire is to make the online platform feel like studying on campus. An online program can feel isolating, but we are not made to survive on earth alone! We work better with others and thrive when part of a community. I know that I do better when I log into class and see people who know me. When my classmates check in with me about procrastinating about writing my paper — just put pen to paper and start writing, Nycole! — it gives me the spunk to start working. I have another classmate who knows I can get caught up at work, so she texts me to remind me to get ready for class. We're a cohort, supporting each other, and it's a good feeling.
The difficulty is when you need help and you don't know how to access the resources your institution offers, or you may have difficulty accessing those resources. Clinicians of Color offers a place where you can say you need help, and get advice from your peers. There was an on the ground student struggling with a research project, and I introduced her to my online professor for guidance. Another time, I was at my wit's end, and members of the organization came to my aid. I wouldn't have made it if I didn't have people who offered to get on Zoom and talk about it. That's what online students need. This master's program is not a joke - it's a master's program for a reason! It's challenging, and we need to support each other.
What inspired you to lead Clinicians of Color?
I was taking the course Dynamics of Racism & Oppression with Adjunct Professor Tfawa Haynes. This course brought emotions to the surface that I hadn't realized I had, and anger that I had never felt before. Professor Haynes always invited us to participate in discussion but didn't push. He let us process our emotions. Eventually I felt safe enough to engage in open conversation — things I thought you could only say at the kitchen table. Now I can have a great dialogue and handle my emotions while respecting other opinions. Simmons has taught me a new way to present myself and my ideas.
In the course, there was information about student groups. I emailed to find out about Clinicians of Color and learned that it had disbanded when the students involved graduated. I was asked to take it on and said no, but Professor Haynes encouraged me. He said, this is an opportunity for you to go in and start something! I remembered that woman in the park, how she said that Simmons makes leaders, and I realized that I had to do it.
I created a vision and mission statement for the group with my classmate, Ash Francis. We focused on advocacy, safe space, and giving back to the community in Boston, to show the community the great work that Simmons has done to educate us. The experience has shaped me into a different type of leader, and I look at things in a whole new way, considering all possibilities. Now there are five of us in leadership roles:
Stanley Greene - Coordinates all Outreach and Community Events
Ash Francis - Coordinates with the office of Organizational Culture Inclusion and Equity (OCIE)
Latoya Swagerty - Coordinates New Members
Camille Bank-lee - Coordinates Social Media Outlets
Ash established and maintains communication with the OCIE (Office of Organizational Culture, Inclusion, and Equity) and the MCC (Multicultural Center). Latoya is responsible for new membership and engagement, and has created surveys, google docs, and flyers to keep all the connections together! Camille, a student in the DSW program and a a licensed therapist in New York, is responsible for launching our Facebook page and keeping the conversations going from the school to our page. She has also hosted amazing self-care workshops for our members.
Stanley's recent project involved uniting the residents of a local Boston neighborhood to attend a community meeting with a local politician and Parks & Recreation, where residents actively played a role in finalizing plans for a new park. The budget for this project is $2.3 million dollars, and because of the residents' input, this project will begin construction in July 2022. Stanley's leadership through COC has allowed residents to recognize that they are the experts in what's best for their community and that they are powerful, not powerless. We're bringing the University motto to life: "When Simmons leads, the world works better."
How can students get involved?
This group is for online and on the ground students of color, from all degrees. Online students can register via the 2sw platform, and on the ground students can register on our Facebook page. New students are welcome to join! We have a group of students graduating who will stay connected as mentors, and we are looking for the next leaders to present themselves. Our leadership team has done a lot of work in a short amount of time, but it's up to the future leaders to take over and shape their own mission and vision for the organization.