Alumnae/i Feature
Nikkola Carmichael '20PhD Finds Perfect Career as Senior Genetic Counselor at Boston Children's Hospital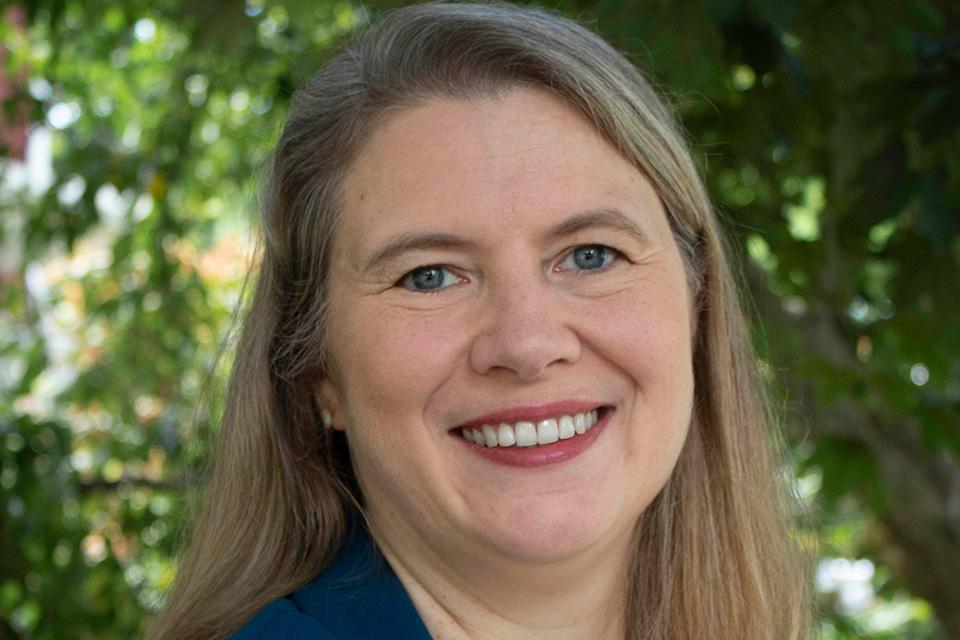 I usually say that I took the "scenic route" to genetic counseling.
Tell us about your current position with Boston Children's Hospital.
I am a Senior Genetic Counselor in the Division of Pulmonary Medicine.Genetic counselors are members of the healthcare team who have advanced training in both genetics and counseling and help patients understand and adapt to genetic diagnoses.  I see patients with genetic forms of lung disease at both Boston Children's and Brigham and Women's Hospital. I'm also involved with gene discovery initiatives and with research that focuses on the patient's personal or family history of pulmonary genetic disorders.
What do you find most rewarding about this work?
My best days in clinic are when a patient comes in who is really worried or stressed about their diagnosis, and they leave the genetic counseling session feeling more empowered and less anxious. I can't take away what they are going through, but I can provide them with tools to better navigate it. I also love interacting with students. Teaching them in the classroom, mentoring them in clinic, and being a part of their thesis committees are just a few examples of the experiences I find most rewarding.
Why did you choose to attend Simmons?
As much as I enjoy being a genetic counselor, I also love teaching and research. After a few years of working in clinic, I started to look for opportunities to develop my skills in those areas. The PhD in Health Professions Education (HPE) at Simmons provided exactly the coursework I was looking for – and it was also across the street from my office.
Tell us about your experience at Simmons.
The most impactful experience I had at Simmons was definitely my dissertation. I wanted to be sure that this big project would tackle a big problem. Given the lack of diversity in my profession (about 90% of genetic counselors are white), I conducted a qualitative study investigating the training experiences of genetic counseling students who identify with a racial or ethnic minority group.
The study could not have come at a better time. The articles resulting from my dissertation are being widely circulated (especially among our trainees). I've also been asked to speak at multiple conferences and workshops, and, as a result, the voices of my participants are educating the genetic counseling field and helping to shape graduate program policies.
In your opinion, what is the best feature of the Health Professions Education program?
The HPE program provides just the right combination of teaching and research expertise that is needed to transition from providing clinical care to educating the next generation of clinicians. I was able to step into a teaching role at Brandeis University confident that I knew how to design a class, educate students, assess their progress, and support them in their learning goals.
In addition, because my classmates at Simmons came from so many different healthcare professions (social work, nutrition, physical therapy, physician assistant, etc.), I can use my knowledge about how those professions train their students to critically assess our practices. Finally, as I mentor and advise our graduate students through their master's theses, I constantly hear the words of Dr. Daren Graves, Dr. Shira Birnbaum, Dr. Susan Duty, and my other professors coming out of my mouth!
Do you feel the PhD from Simmons helped advance your career?
For genetic counselors, a PhD is not required in order to teach our students or conduct research. However, obtaining my  PhD at Simmons has provided me with expertise that many genetic counselors lack, as well as an important credential in the eyes of academia. This has definitely opened up opportunities for me to shape my career moving forward. In addition, the three articles that I published in the Journal of Genetic Counseling based on my dissertation have resulted in opportunities to speak at local and national conferences in both the United States and Canada.
What inspired you to pursue a career in healthcare?
I usually say that I took the "scenic route" to genetic counseling. I started my undergraduate education planning to major in biology, but switched to a double major in music and math because I didn't see a career in research or the health professions that appealed to me. I then embarked on a PhD in Medieval Musicology, but left that program when I realized that spending years in dusty European archives might be fun for me, but was not a good choice for my family. It wasn't until one of our children was referred for a genetics evaluation that I discovered the field of genetic counseling. 
As a career, it's perfect for me: I have the intellectual challenge of keeping up with the constantly evolving field of genetics, and the satisfaction of helping patients make sense of what this information means for them and their families. While changing directions to pursue this career was not quick or easy, it was definitely the right choice for me. .