Alumnae/i Feature
Mindful Eating with Stephanie Meyers '03MS, author of 'End the Mealtime Meltdown'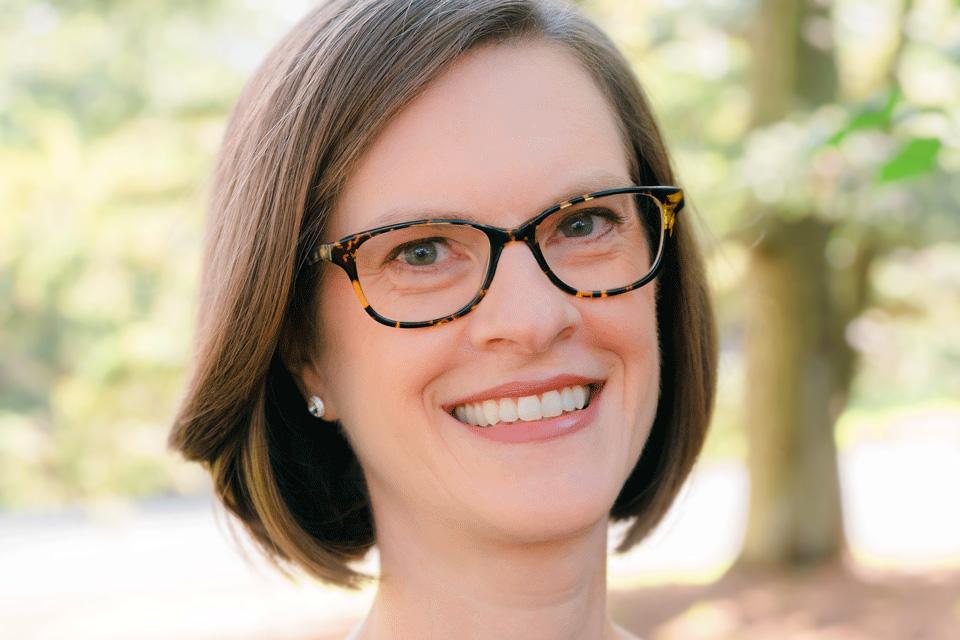 Stephanie Meyers '03MS is a Registered Dietitian Nutritionist, and the founder of Families Eating Well, a nutrition practice that coaches parents to encourage healthy eating habits in their children. A nutrition manager in The Zakim Center for Integrative Therapies and Healthy Living at Dana-Farber Cancer Institute, she wrote a book about her work with families and nutrition.
What made you choose to study Nutrition at Simmons?
My undergraduate majors were Nutrition and Communications, which is exactly what my work is now. I help parents understand how their interactions and behaviors around kids and food impact how their kids eat. I offer guidance about how you can change how you relate to your kid over food to make it less stressful for you and for them.
I was drawn to Simmons because of the reputation of the program and the small class size, which allows students and faculty to get to know each other. The flexibility was also a factor, as I was working full time while I got my master's degree. When I was looking at graduate programs, I spent time with the director of the program, Professor [now Emerita] Nancie Herbold, who asked me a lot of open-ended questions about why I was pursuing the degree and what I hoped to do in the field. Now, I can see that open-ended questions are the framework I use with kids and parents around food. I was comfortable with how faculty at Simmons approached students, with warmth and an open perspective; it was welcoming and felt really genuine.
Tell us about your work with Families Eating Well, and your book, End the Mealtime Meltdown.
The book has been a ten year project that started percolating when I became a parent. I was a dietitian before and after I had kids. At that time I was teaching a graduate nutrition class on how to conduct effective nutrition counseling sessions. I realized that the things I trained my students never to say to clients were often things that parents say to kids about food. As an instructor whose job it is to help people create healthy relationships with food, I saw that parents were unintentionally doing the opposite.
Now I help parents transform their approach to table talk — what we say to kids about their eating, while they're eating — to decrease the stress of everyone at the table. When we say things like "you're almost done," "you didn't eat much," "did you have enough?" or "let's be a good eater tonight," this doesn't teach children to believe in their own abilities with food. It's a learned skill. Instead, I recommend open-ended questions, like "what's helping you feel full?"
The book is organized by ten years worth of research on the eight types of table talk I've identified. It offers options for replacing those approaches with something more effective and less stressful. I don't want caregivers to feel guilty or ashamed about their caregiving skills. Every parent is using some type of table talk, but we can talk about food in a way that helps kids develop skills as eaters. My professional training and what I was observing as a parent led me to identify this new approach.
I love talking to parents and experiencing the relief they express when things start to change at the table. I'm able to feel a part of that relief, and that ability to contribute is why I do this work.
What is your top piece of advice for anyone struggling to eat healthier, and/or convincing their kid to eat healthier?
Ask more than you tell about your kid's eating habits and what they eat. Use open-ended questions and prioritize curiosity about food over how much they actually consume. Your kid needs to know that they are worthy as an eater regardless of what their opinions are. Then they will feel comfortable and interested in expanding their palate. Making a kid try a food does not correlate with them eating it later in life.
How did Simmons prepare you to become a leader in your field?
Every course I took in my graduate program was relevant to my actual work. I took a statistics class with Adjunct [now Emeritus] Robert Goldman, and he taught statistics in the context of something we would actually need to know for our profession. The assignments were built around literature I needed to comprehend and make relevant to a lay audience. You can't become a leader in your field if your graduate school isn't practice for your actual job. I still receive requests from colleagues for help interpreting studies.
I also took a course in complementary therapies while at Simmons. Students chose from a modality of complementary or integrative therapies, and received three treatments from providers in the Boston area at markedly reduced rates. My coursework included going to sessions for craniosacral therapy and writing papers about the experience. We shared our experiences with each other, and the professor taught us how to be health care providers who open the door to conversations about nontraditional therapies. What I learned at Simmons is very practically alive in my work today. Simmons definitely shaped who I am as a clinician.