Student Story
Michelle Laflamme '22MS Awarded 2021 Audrey Friend Scholarship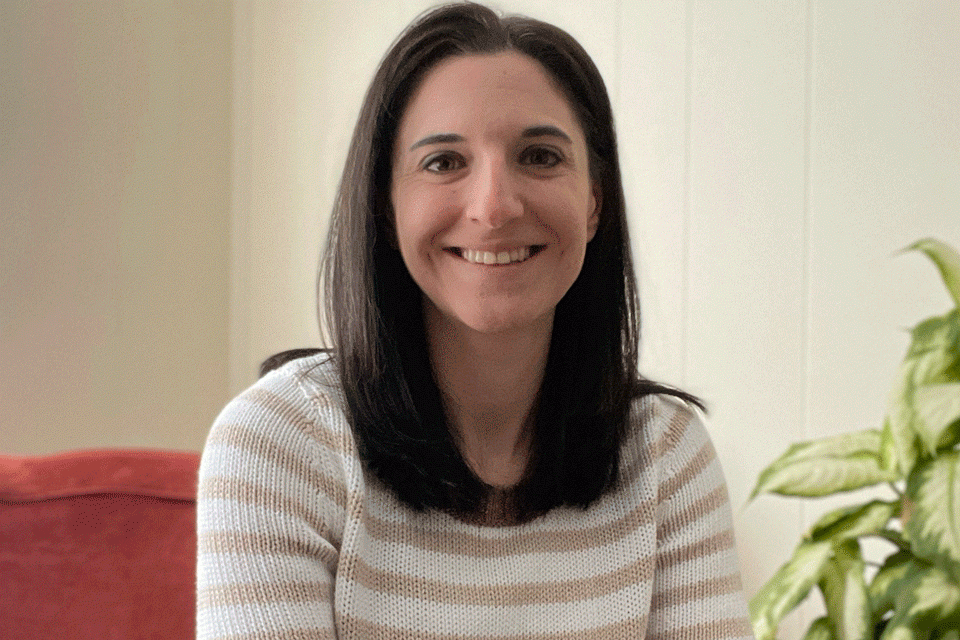 I love the environment of the library — people in the community, congregating for various purposes. It's inspiring and motivating.
"Libraries are holy houses of knowledge!" says Michelle Laflamme '22MS, a student in the School Library Teacher concentration. "I love the environment of the library — people in the community, congregating for various purposes. It's inspiring and motivating."
Laflamme is the Audrey Friend Scholarship recipient, awarded annually by the Massachusetts School Library Association to a student in a school library certification master's program. She was selected for her passion for education and her desire to model the tenets of social justice, nurture cultural appreciation, promote quality information-seeking behavior. Laflamme was also selected for creating a welcoming, safe place for children to broaden their experiences and develop their identities. She now channels these essential beliefs into her work on her local community's Diversity, Equity, and Inclusion Advisory Committee — a task force focused on the school committee's goal to create an environment that welcomes diversity in the public schools.
"Our community has had its share of issues relating to DEI," says Laflamme. "We are a diverse community, with 25% of our students identifying as non-white. However, that is not represented in our district personnel or in our school staff."
The first step in addressing DEI issues was to understand the experiences of members of the community. The committee offered presentations about identity, equity, privilege, bias, and social justice, then facilitated discussion among community members, "The community shared their fears, frustrations, and first-hand experiences to broaden understanding." She worked with a team researching professional development for the district and recommending surveys to students and parents to gauge their experiences of the school climate and culture.
"Anything we recommend to the school committee is required to be backed by evidence to support it," says Laflamme, "so I do a lot of research before we make any recommendations."
Laflamme's investment in the school district's culture and environment is both professional and personal. "My son is 18 months old, and I want to make sure he is brought up in an environment that welcomes diversity and offers equity and inclusion."
It's scary putting yourself out there, but that's what you need to do.
She is also integrating what she learns about DEI into her work in the LIS field. "Advocacy for DEI has been a recurring theme in every LIS class I've taken at Simmons — it's a fundamental value that I believe in." She references "Library Collections and Materials for Children," a course she took in 2019, taught by Associate Professor Melanie Kimball.
"I learned how reading achievement and reading motivation are affected by the availability of literature that reflects a reader's culture," explains Laflamme. "Books that transition a child from assisted reading to independent — around 2nd or 3rd grade — are critical to creating lifelong readers, but there is a lack of diverse books for this age range. Some school libraries are performing diversity audits of their collections, but there is still a lot more work we can do."
While she is gratified to see changes in the publishing industry, she knows that school libraries also need to invest in that change. "A lot of school libraries don't have MLS degree holders as teachers. We can perform diversity audits of the collection and build the collection to be more inclusive. There are grant programs available to help us fund this work. Other school libraries don't have a budget for books, they rely completely on PTO (Parent Teacher Organization) donations."
Relying on those donations can produce more bias, based on who is able to make those donations and how they want the funds to be used.
Laflamme plans to focus the remainder of her graduate studies on incorporating social justice standards and anti-bias education into school library programs and services. "I didn't really know anybody in my community when I attended that first meeting. But once you jump in, it becomes easier. You meet all these wonderful people, and you do really good work."
She cautions anyone eager to get involved with their school district to support their arguments with research and evidence. "Don't be afraid to get involved, be prepared for pushback. Reach out to the community to find out what they need. Sometimes social media can offer a glimpse of what is really going on in your community. As librarians, we have to put ourselves and our programming out there, but it also needs to meet the needs of the community. It's scary putting yourself out there, but that's what you need to do."