Alumnae/i Feature
Melding Art and Marketing with Michelle Musoké '19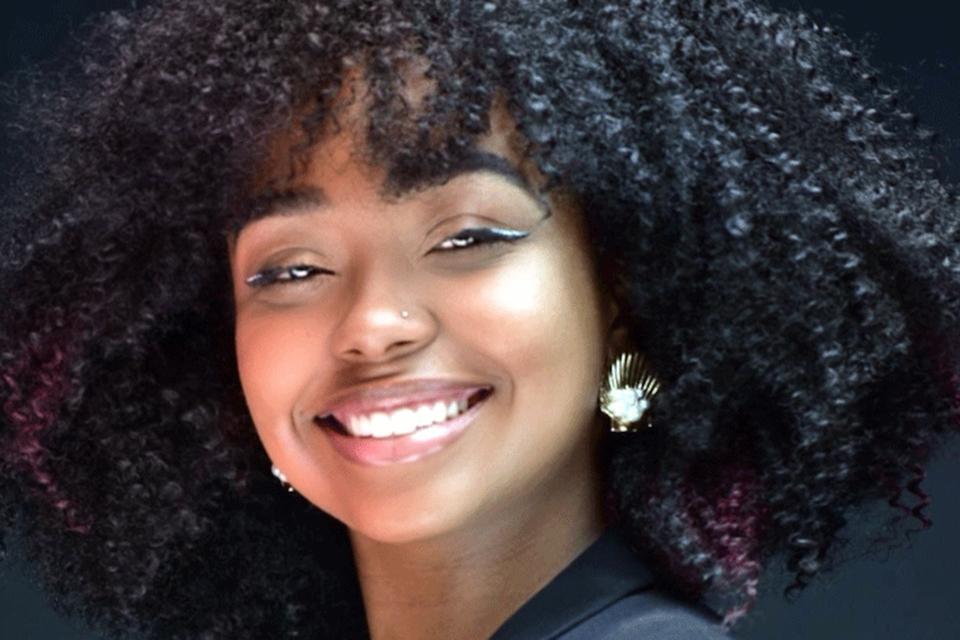 Doing internships that you love will connect you to your purpose — even if it's in a different industry than the one you are studying or requires different skills. It could lead to an evolution of your purpose and greater self-awareness.
The marketing field offers varied opportunities for creativity. "There are marketers who crunch numbers and work in strategy, while others spend their time in Adobe InDesign or Photoshop," says Michelle Musoké '19, "And others commit their efforts to market research."
Musoké is a marketing coordinator for SVN, a top-ranking commercial real estate firm based in Boston. "My focus is digital marketing so my role involves a lot of web design and graphic design. I'm also part of the strategy team. I love numbers, design, strategy, and critical thinking — it's a good blend for me."
She notes that commercial real estate is, demographically, "very old, and very white," and the marketing strategies are tailored towards that population. "A younger generation is now looking for careers in real estate," she notes. And opportunities exist as more members of that generation are interested in the real estate market. Her current position has afforded her the opportunity to get her license as a real estate agent. "I also host SVN's official real estate podcast. My role is very dynamic!"
As for the skills she honed while at Simmons? "Negotiating," she says, "strategy tactics, and effective communication skills. The School of Business does a great job of requiring students to get experiences outside of the lecture room. This was a huge benefit — that push to get out there and apply what I learned in class." Musoké completed four internships before graduating, which increased her post-grad employment marketability and helped her compete with more experienced applicants.
She advises current students to follow their interests when it comes to internships. "Doing internships that you love will connect you to your purpose — even if it's in a different industry than the one you are studying or requires different skills. It could lead to an evolution of your purpose and greater self-awareness." Awareness of your strengths and what you want to do can make you more marketable. "No one wants a cookie-cutter marketing coordinator. They want someone with a purpose, an investment in community and passion projects."
Though she enjoys her digital marketing role, she says, "I wasn't working with my hands as much as my head, so I launched my own visual art and marketing platform, Nsanji Art and Design, out of a need to create. We are all multifaceted. I operate as a marketing coordinator, but none of my branding efforts or art had a thriving platform."
Through her own brand, Musoké offers logo and website design, as well as portraits, digital illustrations, pencil and charcoal sketches, and live event media. "This is the perfect way to funnel my energy into passion projects that mean the most to me. Whether that's making a logo for a childhood friend or a watercolor painting a colleague could purchase for their home, Nsanji Art and Design could house all of my art." Balancing this with her day job is a challenge but worthwhile. "I always make time — even if it's just five minutes — to do the art I love."