Faculty Spotlight
Meet Your Professor: Aaron Rosenthal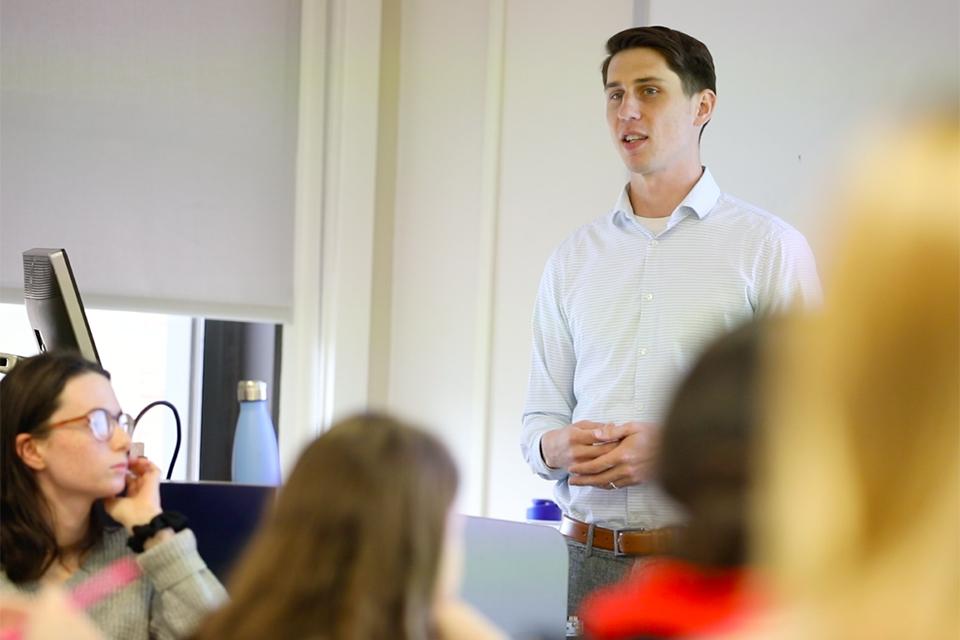 Like the students I teach, I'm also driven by addressing inequality in our society. I see political science as the best pathway for understanding how systemic inequality is created and perpetuated in the US.
Where did you go to college and what did you study?
I received my undergraduate degree in political science at Loyola University Chicago. While I think this is interesting, I have found that my students believe it is far more interesting that I also minored in theater as an undergraduate. After Loyola, I took a year off to work "in the real world" before going to the University of Minnesota, where I earned my PhD in political science.
Tell us about your role at Simmons.
I'm an Assistant Professor in the Department of Political Science and International Relations. In this role, I teach undergraduate courses that relate to American politics, race, and political inequality. These include classes like "State and Local Politics," "Introduction to American Politics," and the "War on Drugs." I also teach graduate courses in the Masters in Public Policy program at Simmons, focusing on policy analysis and social policy.
Do you have a favorite course you teach?
I love all of my courses because they each cover important perspectives and tend to reach students at different points in their time at Simmons.
With that said, one of the classes that I really enjoy teaching is my "Surveillance in Modern American Learning Community," which I co-teach with Professor Selod in sociology. Not only is it great to work with Professor Selod, but the class also allows us to focus on more specific aspects of politics and society that align with our research interests, including policing, race, and inequality.
The class also includes a service-learning component where the students partner with Project Place, a non-profit that provides assistance to formerly incarcerated individuals. I appreciate that this aspect of the course means it is especially focused on connecting to the Boston community around us and hopefully doing a small part to ameliorate inequalities perpetuated by the criminal legal system we are learning about in the classroom.
What's your favorite thing about Simmons?
I realize it's a bit cliché, but I have to say the students. They are so committed to social justice and making the world a better place. It's wonderful to be a part of helping them explore ways of applying that passion.
What inspired you to work in political science and academia?
Like the students I teach, I'm also driven by addressing inequality in our society. I see political science as the best pathway for understanding how systemic inequality is created and perpetuated in the US. It is from this knowledge that we can create policies capable of producing a more just and equitable country.
If we visited your home office, what would we see?
My laptop, my partner, and my dog (listed in no particular order). It's a pretty simple setup, but I like it.
What's the last book you read?
I don't get a ton of time to read purely for pleasure, but if we're talking about books for work, the most recent one I read is The Anger Gap: How Race Shapes Emotion and Politics by Davin Phoenix. Outside of an explicit academic focus, I recently got a chance to read the Simmons Community Spring Read: How to be an Anti-Racist by Ibram X. Kendi. I'm really looking forward to his visit!
Is there a TV show or podcast you're currently binging?
Of course (helping to explain my lack of time to read for pleasure, unfortunately). I recently finished the Queen's Gambit and am currently watching a show from Spain called Veneno. When trying to decompress (which is happening quite often these days), I frequently watch cooking shows like Great British Baking Show and Top Chef. For podcasts, I listen to The Daily from the New York Times most mornings. I'm also a big fan of Code Switch, Justice in America and This American Life.
Are there any social media accounts or blogs you've been following lately?
I try to avoid social media if I can because I find it a pretty awful place, but I make an exception and follow my dog on Instagram — @its.always.sonny.
I follow a couple of sites to try to stay current on what is happening with the criminal legal system, perhaps most notably The Appeal and The Marshall Project. Beyond that, it's mostly The New York Times, The Boston Globe, and NPR.
Do you have any fun facts about yourself?
I already mentioned that I minored in theater as an undergrad, which students seem to find quite fun. Beyond that, I recently got my first hole in one playing golf- given what a lot of 2020 looked like, that was a pretty big highlight.