Alumnae/i Feature
Meet Lindsey Fern '97, the Only Female Wine Director of a Three-Star Michelin Restaurant in the U.S.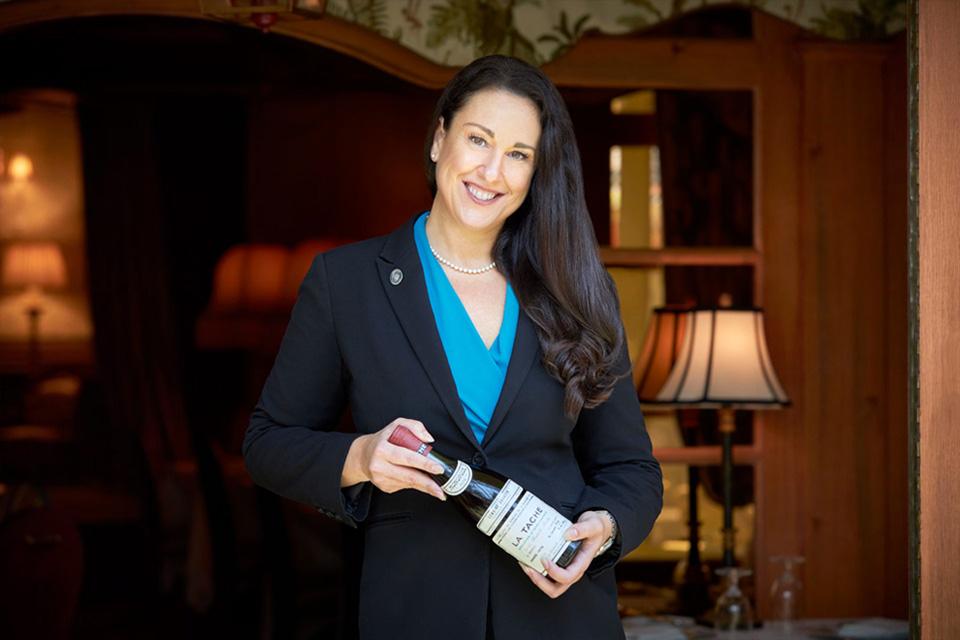 How did you get into the wine business initially?
I started bartending in college. It was easy money and I could work nights. After I graduated from Simmons with a degree in Psychology, I expected that I would come back from a Master's. I wanted to take a year off in between, so I started backpacking through Europe. At the time, I knew nothing about wine, but it's the most inexpensive thing you can drink in Europe. Once I tried it, I really enjoyed it. I also traveled to South Africa on a wine tour, and it was the coolest thing.
When I came back to the states, I was living in Palo Alto, not far from San Francisco in northern California. At that point I was managing restaurants and one of the owners asked me what I would like to do long-term. And I told him that I really like the wine side of it. That led me to become a sommelier (wine server), and here I am now. I thought this was a great career path — you're getting art, you're getting history, and you're getting agriculture and science, and all these things come together.
Can you tell me more about The Inn at Little Washington?
I've been at the Inn at Little Washington (a restaurant in Washington, Virginia) since 2014. George Washington surveyed the area when he was 17. He was a surveyor, and this was his first town. It's actually the first Washington before Washington DC, and is also known as Little Washington. We are about an hour and a half south of Washington DC.
I fell in love with the Inn at Little Washington and all of its whimsy and quirks, from the start. Our cheese cart is actually a cow named Faira that "moos" as she is pushed through the dining room by our Fromagier. We have kitchen tables where guests can dine and watch the cooks in action. The entire kitchen crew has a whole Catholic ritual that is performed as guests enter because Robert Mondavi dubbed our Chef and Proprietor, Patrick O'Connell, the "pope of American cuisine." It's refined with a sense of humor and I feel right at home. Ultimately, I am grateful for the opportunity to add to a phenomenal wine program that has been 44 years in the making.
Everyday on the job is different, and that's why I like working in restaurants. You walk in, and there are so many moving pieces and variables. I start the day by looking at the wines we sold the day before and reprint wine lists. We have about 2,000 different wine producers and the list is 90 pages long. I remove anything we no longer have available and start the night with a clean list. When the restaurant opens at 5pm, I work on taking care of guests. It's an overwhelming list for people to encounter, and we are a three-star Michelin restaurant, one of 13 in the country. Oftentimes people come for very special occasions. It's not an inexpensive evening out. It's really about us trying to figure out what they like, what works with their food, and how we can make their night more special. We help our guests have the best experience possible.
What is a Michelin star and why is it so meaningful?
Originally the whole Michelin thing started because Michelin was trying to sell tires. High quality restaurants are rated with one, two, or three stars, and three stars means that it is worth the journey. It is the highest honor, so this is worth however far you have to travel to get there, because this is going to be the best dining experience you can have.
What is it like to be the only female wine director of a 3-star Michelin restaurant?
I have mixed feelings about it. Being a sommelier is synonymous with humility. We are serving guests and our main objective should always be to deliver an extraordinary dining experience. It is further humbling to be recognized. I love what I do, and I want to do it well, and it's a little overwhelming to be singled out. I just feel like I'm doing the best I can, and I am fortunate that I work with an exceptional culinary team that has earned 3 Michelin stars. There are so many talented women in this industry that are as passionate as I am, but I have the good fortune to be working in a very special place.
How did Simmons prepare you for this kind of work?
I'm still very close to the women I met at Simmons and many of us travel together. We are now going on almost 30 years of friendship. Being part of the Simmons community was instrumental because one of my friends at Simmons, who was a nursing student, encouraged me to relocate to California. That move brought me close to wine country. San Francisco has a huge dining scene, and I spent much of my free time in Napa, Sonoma, and Monterey learning about wine. The relationships I developed at Simmons have been pivotal, both personally and professionally.
I also had inspirational talks with my advisor in the Psychology Department at the time. She told me that my whole life is going to be a series of opportunities and questions, and it's how you answer them that leads you to where you will go. I've continued those conversations in my head as I've gone through life and made decisions.
What are your future aspirations?
It's a hard question because for most people this is the top, that is, running one of the best wine programs in the country. Sometimes I see myself retiring in France and running around on a bicycle and eating cheese and drinking wine everyday. However, there are some growth opportunities where I work now. We are building a bigger wine cellar that has a whole dining area, so we can host private events there. And there will also be teaching opportunities. I teach the staff and sommeliers that are under me, but we would like to offer that opportunity to anyone who wants to learn about wine.
I also think about becoming an importer. I would like to bring wines from countries all over the world that don't have representation in this country yet. What I love about selling wine to guests every night is that you find wineries you fall in love with or have some memory of going there. When you can bring that story to people, it makes them feel closer to the wine itself and enhances their experience. I would like to find underrepresented wineries and regions that people may not know about and bring them to this country.
What do you find most rewarding about your work?
I love working with younger sommeliers and watching them achieve their own dreams. It's amazing to inspire other people. And with guests, you have helped make their night memorable. It's wonderful to create a new experience for them.