Announcement
Meet the American Library Association's Spectrum Scholarship Recipients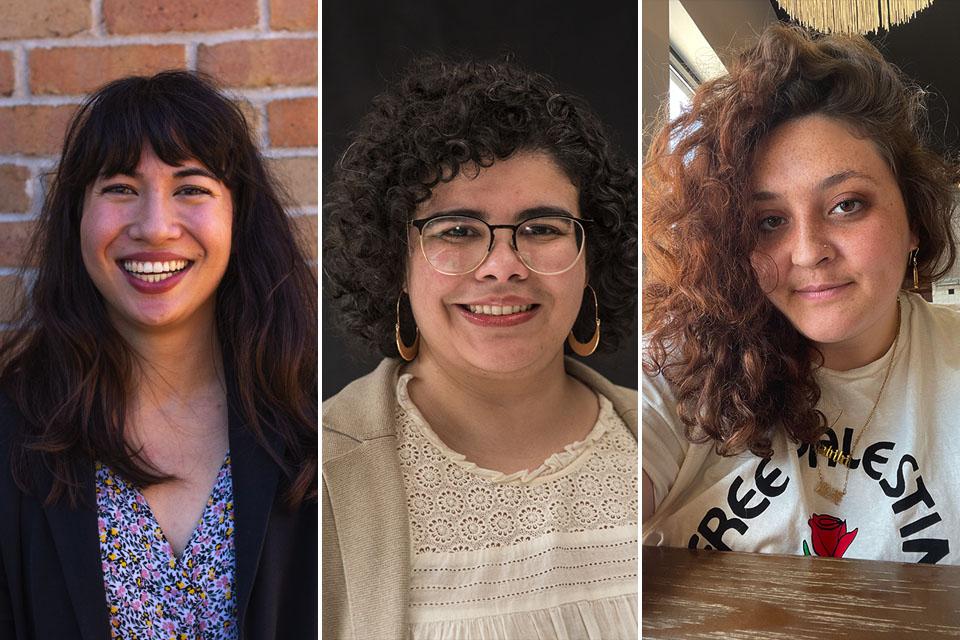 The American Library Association (ALA) recently awarded Spectrum scholarships to 60 exceptional students throughout the country pursuing library degrees. Spectrum scholarships help support diversity, equity, and inclusion in library and information science. This year, five Simmons SLIS students received the award. We spoke with three of them, Maria Lee '23, Marian Toledo Candelaria '23, and Caitlin Abadir-Mullally '23.
Why did you choose Simmons?
Why did you apply for the Spectrum Scholarship?
What is most rewarding to you about library work?
Maria Lee
Simmons has a fantastic reputation and alumni network. The program also offered the flexibility for me to both take classes online and in person.
I connected with a librarian in the Twin Cities when considering applying to library school. She was a Spectrum alum and encouraged me to apply!
The LIS field has so much to offer the community. It's been rewarding to identify where my training in the field connects to the problems I identified in my previous career in municipal government.
Marian Toledo Candelaria
My RBMS mentor recommended I attend Simmons, since she's an alumna and had a positive experience studying here. I was particularly struck by Simmons' commitment to DEI in the curriculum, and so far I've experienced how my online MLIS course creates a space for dialogue and reflection on the many barriers and challenges faced by LIS professionals of color and the ways systems imbed those barriers into the profession. My Simmons professors have been very supportive and accessible so far, and the online degree structure works for me, since I have a full-time position in Virginia. Plus, my classmates are so great!
I applied for the ALA Spectrum Scholarship because it provides the means to help finance the cost of my MSLIS but, most importantly, because it creates a community of BIPOC LIS students and professionals who are committed to improving diversity and inclusion in the field. They also constitute an important professional network for aspiring librarians like myself where I can find the career support and mentorship I need to advance in the field and my studies.
Growing up in Puerto Rico, I didn't have access to libraries outside my school's small library--Puerto Rico doesn't have an island-wide system of public libraries like other parts of the mainland US and other countries do. There isn't a library culture like you'd find in other places, so I didn't have an exposure to the work librarians do; I thought they only scanned and shelved books! Now I know librarians are allies of preserving and disseminating information and their work is crucial in providing literacy skills and ease of access to any information that patrons need and want. Librarians are uniquely positioned to democratize knowledge: that's what attracts me about the profession. The most rewarding aspect of the profession, I find, is helping others achieve literacy and learning goals, to mentor and collaborate with the public and colleagues, and to make information accessible to everyone.
Caitlin Abadir-Mullally
I chose Simmons because of the professors, online flexibility and financial support. In my process of applying to Simmons, I had a video call with Professor Katherine Wisser. We talked about how the archiving and library science field is evolving to address issues relating to diversity and equity. I was grateful to hear that those conversations were happening at Simmons and I wanted to be part of them.
The Spectrum Scholarship program was recommended to me by several information science professionals I met through a workshop by We Here when considering studying to be an archivist.
The most rewarding part of my work is learning skills that I can share and bring back to my community of LGBTQ+ Southwest Asians and North Africans in the diaspora. Whether it is designing appraisal criteria, understanding donor stewardship, or learning how to code, I have been able to apply these skills to my project Saffron. Saffron is an archive that documents, preserves, and shares access to celebration, stories, and moments of joy by diasporic, queer SWANA artists and creators. Please read more about my project here: http://caitlinabadirmullally.com/saffron.