Alumnae/i Feature
Maya Bergamasco '19MS Supports Research at Harvard Law School Library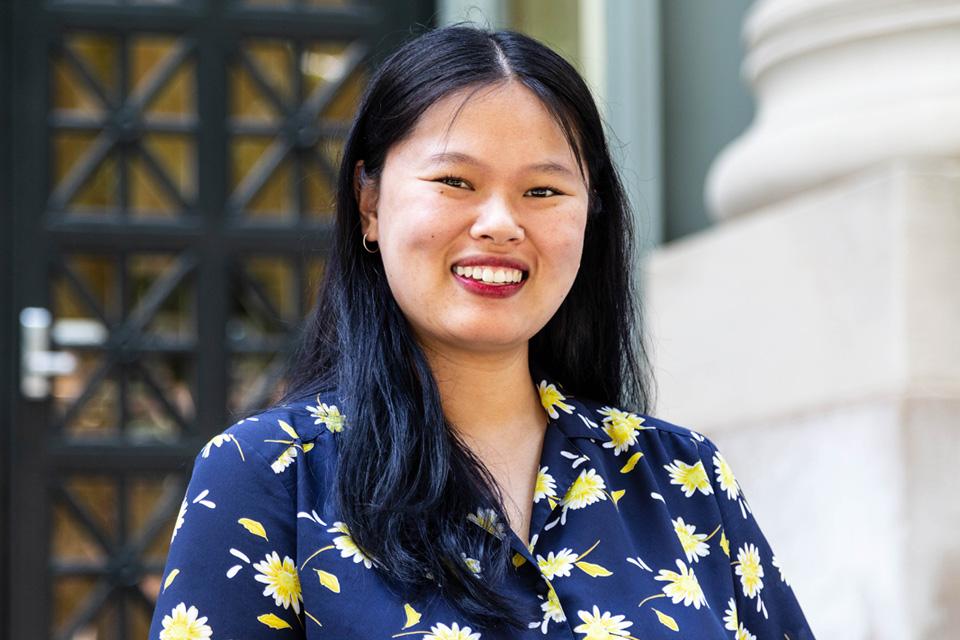 What led you to your current position, Faculty Research & Scholarly Support Librarian, Harvard Law School Library?
In my previous jobs I was working with undergraduates, so working at the graduate level provided an interesting change. Working in a subject-specific library was also a new experience for me, as I've never been so immersed in a specific subject before now. It's nice to take a deep dive, and law is interdisciplinary so there are many opportunities to pursue my own research as well as those of others, in a wide variety of fields — health law, criminal law — it's so vast that it never gets boring. 
The methodology I've used for my career is to look at the career paths of professionals I admire. If they have a job I aspire to, I may try to replicate their success by following a similar path to see where it may lead me. I had a mentor through the Association of College & Research Libraries (ACRL) who was a past resident. She was my mentor for a year, and while she didn't explicitly point me in that direction, I noticed it on her resume when we were first matched as mentor and mentee. After gaining work experience at Boston University and Harvard, I became a Diversity Resident Librarian at the Harvard Law School Library. The diversity residency program, run by the Association of College and Research Libraries (ACRL), is meant to increase the pipeline of librarians from underrepresented groups. After the residency, I was hired into my current position, Faculty Research and Scholarly Support Librarian at Harvard Law School.
While at Simmons, my research interests included community outreach, user instruction, and diversity in libraries. Since then, I've researched the impact of diversity residencies on the LIS profession, and I've published an open access Diversity Residency Toolkit to help support residents in those programs. Through research and my own lived experiences, residents don't always feel supported; a lot of institutions focus on the program but not the residents themselves. The toolkit is a resource for residents and shifts the conversation about diversifying the LIS field from expanding the pipeline to retention. The research is ongoing, but I've presented at a few conferences and I'm thinking of submitting it for publication in a scholarly journal along with my co-presenters.  
How did your studies at Simmons prepare you for your field?
Assistant Professor Rebecca Davis was my mentor while at Simmons and I still consider her a mentor. She was the first professor I had at Simmons, and I appreciated that she was a faculty member of color. She goes the extra mile to support her students, and I always felt I could email her with questions, even for questions outside of the classroom. She took the time to meet with me for a mock interview, read my resume and cover letter, and wrote a letter of recommendation. The culmination of the work I did in her class resulted in a presentation on library instruction for first-year students that I was asked to give for a second round job interview. I don't think I would have my job at Harvard if not for her.
While at Simmons I learned a lot about community service and building and partnerships — I took Information Services for Diverse Users with Professor Colin Rhinesmith — and was able to apply what I learned outside of class as a community organizer. In my current role, I organize the faculty book talk series and convened a library BIPOC group across Harvard Libraries. I like creating opportunities for people to share what matters most to them and give them a platform and space to share their lived experiences. 
When I enrolled at Simmons SLIS, I knew enough about the Library of Congress (LC) and Dewey Decimal classification systems to find what I needed as a library user, but I knew nothing about how those systems worked on the back end, or about cataloging. Taking Information Organization with Professor Candy Schwartz gave me an understanding of the organization of library materials that has allowed me to be a much more efficient library professional; I'm able to find materials faster using LC subject headings, and I'm able to understand and predict where materials might be if they are harder to find. That course also helped me understand where information organization fails us, and where it can be improved. Whether that is the physical arrangement of books — where the user cannot find what they need on their own — or whether the subject headings themselves are explicitly harmful and offensive to library users, knowledge of library organization systems is crucial to making the library as accessible and user-friendly as possible.
What has been most rewarding about your career?
Librarianship is a service-based profession, and that's what I love most about it. I love helping people with research and working with students, which is why I like working in an academic library. Hearing what people love about what they research is incredible — I don't need to be an expert, as long as they are excited and passionate about it, that is exciting to me — and to be able to help them with their research is really rewarding.