Alumnae/i Feature
Mary Grahame Hunter '20MS Advocates for Intellectual Freedom for Youth in Libraries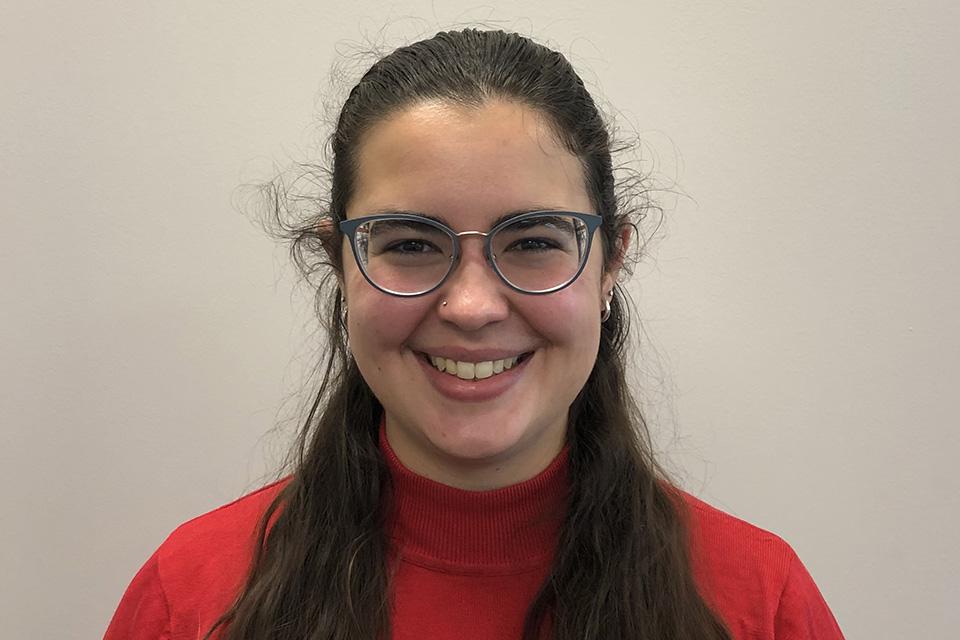 Mary Grahame Hunter '20MS is a Youth Services Librarian at the Ferndale Area District Library in Ferndale, Michigan. She also serves on the Michigan Library Association's Intellectual Freedom Task Force, where they have a coalition called MI Right to Read that opposes book bans.
What made you choose to pursue your Library Science degree?
I was an English major as an undergrad, but I knew I didn't want to be an English teacher. I was looking for other things I could do with an English degree, and I've always liked libraries, so I thought a career as a librarian was worth looking into. Also, the 2016 presidential election made me realize the importance of information professionals who know how to help people find factual data. I decided to apply to library school the day after the 2016 election.
Why did you decide to attend Simmons?
I wanted to go to a library school that would teach me public library skills. At Simmons, I knew I could build my own public library education and there would be a strong children's services curriculum as well. I had a lot of summer jobs where I worked with kids, and I enjoy reading a wide variety of children's literature. Since I'm going to be reading a lot for my job to stay aware of what's happening in publishing, I might as well stick with the stuff that I enjoy reading.
Tell me about your work as a Youth Services Librarian at the Ferndale Area District Library.
I love my job; I get to do so many things. I'm in charge of collection development for our children's nonfiction section. One of the first things I did when I was hired was weed the entire section, book by book. I also develop our Parent Teacher collection, which includes books for adults that we keep back in the children's section so that parents don't have to bring their toddler into the adult nonfiction section when they're looking for parenting books.
I also do programming. We have fantastic book clubs for kids: one for kindergarten through second grade and another for third through fifth grade. There are five people in my department and a couple of us switch off on which book clubs we run. With my book clubs, I pick the books and do half an hour of conversation with kids – it's one of my favorite things. I love hearing what they think of books they've read. It's made me realize that you can start literary thought education very early. The library also has storytimes for babies zero to two, and toddlers two to four, which are very popular. Our facility has a great courtyard, so we've been doing outside storytimes so that there's a lot of fresh air and a lot of room.
Ferndale is an area district library. We're separate from the city, but we are community partners with the public school district. We have book clubs at the middle school and the high school that take place at the schools, so that there's very little barrier for the kids to attend. We also do a lot of outreach events, especially during the back-to-school season. This fall, we went to every single back-to-school and curriculum night to sign people up for library cards — no matter where students live, if they're a student in the public school system, they can get a library card here at the Ferndale Library. We partner with school librarians in the district to coordinate services.
Talk about your work with the Michigan Library Association's Intellectual Freedom Task Force
Serving on the task force is broader, statewide work that I feel very lucky to do. We have a coalition called MI Right to Read that provides emotional, professional, and financial support to librarians and library systems across Michigan that are experiencing book challenges. I write email newsletters and FAQs about intellectual freedom, because it's not a phrase a lot of people have heard. Your average person might read a newspaper article about parents getting mad that a book is in a library and ask themselves how that book got there in the first place. I explain the reasons why in my writing.
I developed an interest in intellectual freedom while at Simmons. After taking Professor [now Division Director] Laura Saunders's class on Intellectual Freedom and Privacy, I decided that this was what I wanted to make my career about. I'm interested in the library privacy rights of children and minors. I'm glad I can be on the task force with my children's literature and intellectual freedom background, because kids are really being hit hard by books being challenged. Being able to support these causes is important to me.
What do you find most rewarding about your work?
Fighting censorship is important work that I'm glad that I get to do, but it's also a long haul. I don't go to bed at the end of the day thinking I fixed it; it's going to take a long time but I'm in this fight regardless. On the other hand, there are a lot of daily, small interactions that I find satisfying. When people ask me for book recommendations and walk away with a stack of books they're excited about, that's a win.
Working in youth services, I've realized it's important to treat kids like people. In American society, when we think about treating people like humans, we often, in practice, treat them like adults. But kids aren't adults. They're not grown yet. Their brains are still cooking, but they're still people. There are not a lot of places where they're taken very seriously. When they come into the children's room at the library, the desk is the right height for them to see over. The attitude in our library is, especially in the children's room, kids are going to talk. It can get loud back there just because of the number of kids, but I don't shush people. They are children and this is their space, so they can talk back here. We don't have a lot of spaces like that left for kids.
How did Simmons prepare you for a career as a youth librarian?
Simmons provided the theoretical framework that underpins the policies that we have at my job. We're doing a bunch of policy revisions right now on patron behavior and requests for reconsideration of materials forms, and a lot of the principles that I learned in library school are guiding what I'm advocating for in the on-the-ground policies.
We're also discussing getting rid of the Dewey Decimal System in the youth section, and because it affects my section of nonfiction, I'm thinking, what should we switch to instead? What are the pitfalls of Dewey, and how can we make sure that we don't recreate those when we move to something else? I'm coming back to a lot of the foundational discussions I had in my Introduction to Cataloging class. I also think back to my courses about public libraries and services to underserved populations.
The course offerings that I had really allowed me to design my education around public libraries, justice principles, intersectionality, intellectual freedom, and how to bring all these concepts together. I'm grateful that my graduate school education has been so useful in my day-to-day work.
What advice would you give to current students in an MLIS program?
When I was in grad school, I was concerned that I didn't have a lot of time to do conferences or professional development, because I was working while in school. Because of this, I worried that I was missing out and that I would somehow be behind. Certainly, for people who can do these things, absolutely do it. But to any student who might be reading this, everything turned out just fine.