Student Story
Living Your Best Life: Elena Bergomi '21MS Teaches Patients to Trust and Respect Their Bodies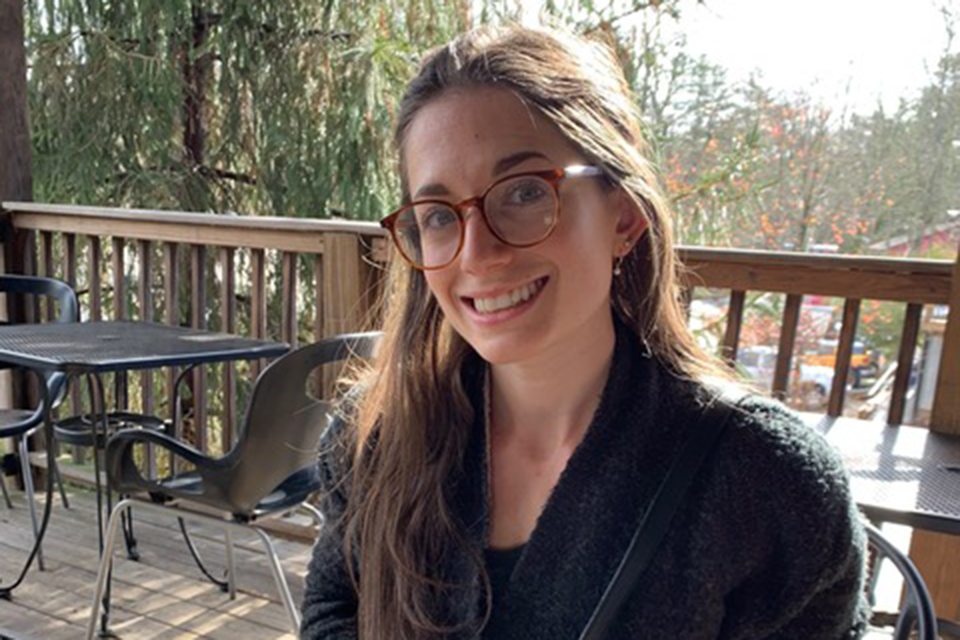 I'm able to connect on a deep, individual level with my patients. It is rewarding to help them find a sense of agency and control over their eating patterns and stop fighting their bodies.
What inspired you to pursue a career in nutrition?
I chose to pursue a career in nutrition because I wanted to work in a field where I could use both the science-focused and people-focused parts of my brain. I'm able to use my knowledge-base and help people navigate their health challenges, practicing under the model that while I am the nutrition expert, the individuals I work with are the experts of their bodies. This allows us to form a close partnership and develop trust in our relationship. I believe that "health" boils down to "quality of life." Since food is something that people need to face daily, I love helping my patients become more confident and eat in a way that supports their overall quality of life.
Why did you decide to attend Simmons?
I was lucky enough to match with Simmons as my first choice dietetic internship program. I had an amazing time throughout the internship with a wide variety of experiences and incredible faculty support. Given this positive experience, I chose to continue to pursue my master's degree with Simmons.
I'm working towards the MS in nutrition with a concentration in entrepreneurship. This program is unique as it focuses on building research, counseling, and education skills as a provider, but also allows students to take several courses in business and management. My dream is to open a private practice someday down the road, so these skills are vital in terms of allowing me to understand best practices in business as well as how to own, manage, and grow a small company. I knew that the Simmons program not only aligned with my goals, but that I could also complete the program while working full-time with the appropriate help and support from faculty.
What inspired you to focus on eating disorders and women with polycystic ovary syndrome (PCOS)?
While I work with a variety of diagnoses and conditions, my two focus areas are disordered eating as well as PCOS. I have found that in both of these cases, individuals feel as though they have lost trust in their bodies. In the case of disordered eating, there is often a disconnect between rational beliefs/intentions and the resulting eating behaviors. In women with PCOS, many feel betrayed by their bodies, and the very physiology of PCOS can make it challenging to follow generic diet recommendations often given to these women following a diagnosis. In both cases, my goal is to help patients develop trust and respect with their bodies, and provide a sense of hope that these diagnoses will not define them. I have found that eating disorders and PCOS can often be intertwined, though my reasons for focusing on each diagnosis differ.
I was inspired to work with individuals with eating disorders because it challenges me daily as a provider, but also proves to be extremely rewarding in many cases. There is a stigma around eating disorders—as there is for mental health in general—so I find it gratifying to help patients feel that they are not alone.
I was inspired to work with women with PCOS after working in a women's health research lab in undergrad. Here, I helped with a variety of research projects, but my primary project focused on analyzing levels of social support and trust in medical providers in women with PCOS. I eventually co-authored a full manuscript published in the Journal of the Endocrine Society. We found that compared to women without PCOS, women with PCOS reported greater distrust of their primary care physician (PCP), more arguments with their PCP, and felt that their PCP was less qualified to treat their PCOS compared to general health concerns.
This finding highlights the need for more PCOS-specific education and counseling. Many women with PCOS are given "blanket" nutrition advice, and I hope to work with them on an individual level to help address their specific concerns and allow them to feel heard, valued, and respected.
How has the pandemic impacted your day-to-day work?
The pandemic has impacted my day-to-day work significantly! It's most stark impact has been on the transition to virtual care, or tele-nutrition. I've been able to continue my one-on-one counseling sessions seamlessly using a virtual platform and working from home. I have been able to continue to support those in need, especially since many of my patients began facing new challenges in their own lives due to the pandemic.
My patients actually increased significantly once we went virtual, as more patients were able to access our services. I believe that the availability of tele-nutrition will continue to remove barriers to receiving nutrition counseling from a registered dietitian and support the movement towards a preventative care health model.
What do you find most rewarding about your work?
I'm able to connect on a deep, individual level with my patients. It is rewarding to help them find a sense of agency and control over their eating patterns and stop fighting their bodies. Overall, my work allows me to help people use nutrition and lifestyle in order to live their best, most gratifying lives.
What leadership skills did you learn at Simmons that have helped you succeed in your career?
My time at Simmons has helped foster a variety of leadership skills, including interpersonal communication, integrity, and respect. I can effectively communicate with peers, providers, and patients in order to ensure I'm conveying appropriate messages and intentions. I adhere firmly to the principles that I believe to be true and always aim to practice ethically. Finally, at the foundation of each relationship, I have learned to practice with respect.