Alumnae/i Feature
Literary Agent Larissa Pienkowski '15 Uses Social Work Skills to Support Diverse Books and Authors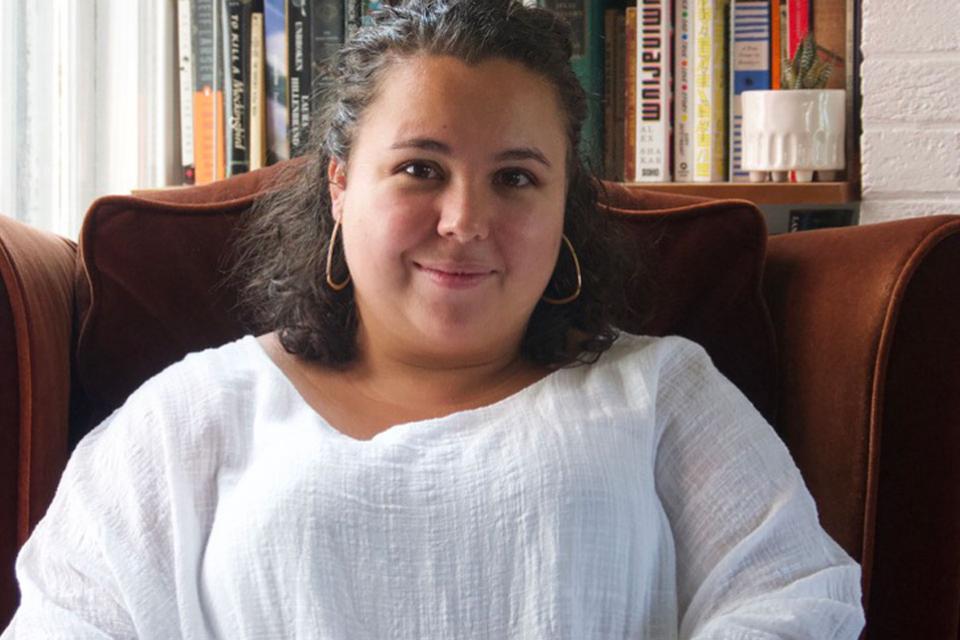 What led you to study social work at Simmons?
I applied to both co-ed and women-centered colleges, but I was attracted to the small class sizes at Simmons. There was this idea that I would have a voice in the classroom and an active hand in my own education, rather than being one of 200 nameless, faceless students in a class. When I visited, it felt like the right place. I loved how it was in the city, but also insular and tucked away. I could see myself thriving at Simmons.
I wanted to find a way to integrate social justice into my professional life. I wanted to work with marginalized communities in thoughtful ways to advocate for their needs to be met, and to push back on inequitable systems from within. I believed in community care, and I still do.
What led you to your current role as a literary agent?
I threw myself wholeheartedly into community care throughout college, but my ability to help people was hampered by systemic and institutional red tape. I found that within certain systems, there was a limit to what I could do. I was burned out and thought, What rejuvenates me? I'm a writer, and I worked on literary magazines throughout college. Over the years, what tethered me to myself was words: writing and editing, poetry or prose.
Initially, my goal was to be an editor. I got a master's degree in writing and publishing, then I started to work at Dottir Press, where we acquired books represented by Jill Grinberg Literary Management. My overarching publishing goal has always been to uplift marginalized voices, and when I saw they were looking for a literary agent, I applied. It's exactly the work I had been looking for.
What do you find most rewarding about this work?
Being able to support authors in making their dreams come true! I love delivering good news to authors, whether it's an offer or an auction or cover samples, there are so many opportunities to share good news after the slog that is querying agents, revising the book, and going out on submission. And bringing books into the world that represent voices and characters that have been underrepresented in the past — books that say something totally new and fresh and exciting.
For you, what is the value of diverse voices in literature for adults, teens, and children?
I grew up as a queer, mixed-race Latina child of immigrants, and I didn't find a single book that represented my experience until college. Simmons Interlibrary Loan was really helpful! That's how I discovered books like This Bridge Called My Back and Borderlands / La Frontera. Unfortunately, the publishing ecosystem hasn't changed dramatically over the years; from 1950-2018, 95% of books were written by white authors. Diverse literature and non-fiction acts as a mirror in which people can see themselves — whether it's for the first time or the 100th time, it's valuable. Stories that show a child of color experiencing joy outside of systemic oppression are valuable. For kids to see themselves going on adventures previously limited to White or able-bodied kids, that's valuable, too. Championing those stories is rewarding for me.
Does your social work background impact your work as a literary agent? Does it influence the projects that intrigue you?
It influences the projects I take on. I want books to be intersectional and representative of experiences in the most authentic and genuine way possible. For example, I fell in love with J K Chukwu's The Unfortunates because of how viscerally and incisively Chukwu exposes the countless micro- and macro-aggressions students of color — especially Black students — face in college, while still handling issues of identity and mental health with a gentle, deft hand.
I think my background in social work influences the way I interact with authors and my values as an agent. Open communication is incredibly important to me, just as it was when I practiced social work. I'm incredibly dedicated to representing marginalized voices from different identities — that has always been my goal in publishing. I know when to ask questions and help people feel comfortable sharing their vision for their work. It's important for the stories to be as authentic and true to the author's vision as possible. As a literary agent, I want to advocate for my author's needs and goals as best as I can.
Larissa's recommendations: