Campus & Community
Lessons in Renewal and Innovation: Simmons 44th Annual Leadership Conference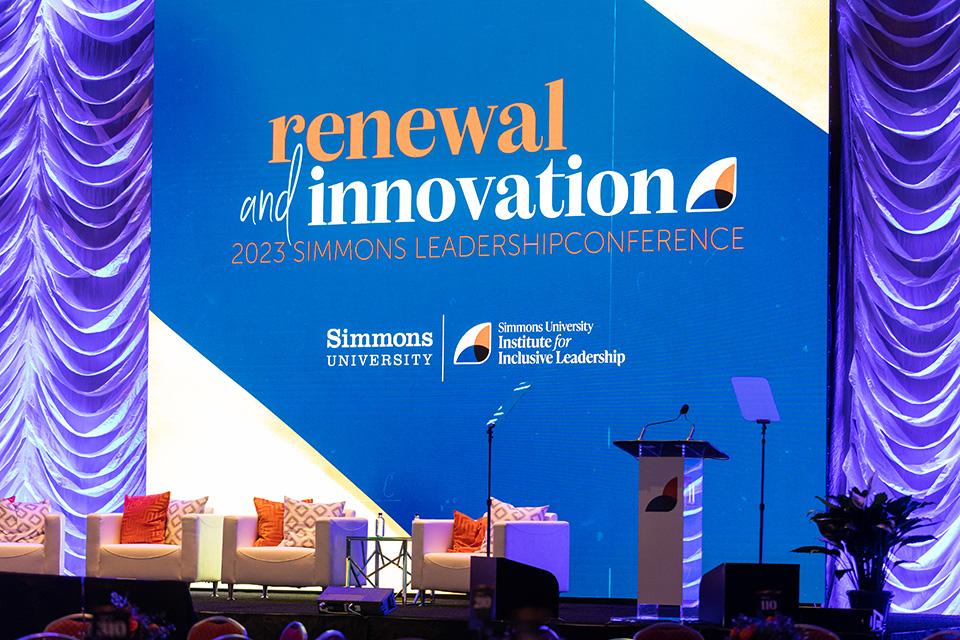 On March 14, 2023, the Simmons Leadership Conference, organized by the Simmons University Institute for Inclusive Leadership (the Institute), took place at the Hynes Convention Center in Boston. This year's conference theme, "Renewal and Innovation," focused on navigating the uncertainties of the contemporary moment with agency, fortitude, and sisterhood. Co-hosted by Emmy-Award winning journalist Joyce Kulhawik '74 and the Institute's Chief Operating Officer Kristen Palson, the conference featured twenty-one guest speakers and fourteen sessions.
Kulhawik, Palson and the Institute's Chief Executive Officer Susan Brady provided the welcoming remarks. Palson expressed that in our current, post-pandemic climate, "we need to rebuild, reconnect, and reinvent" as we navigate a "new norm" that demands inclusivity in the workplace and beyond. Likewise, Brady stated that "we now have a historic opportunity for renewal and innovation" in which organizations must aggressively fight for gender equity and racial inclusion. Moreover, to overcome our fears and obstacles, she suggested, we must be our best selves and act as "inclusivity enablers."
Following the welcoming remarks, the conference featured Carla Harris with her presentation, "Lead to Win." Harris is a Senior Client Advisor at Morgan Stanley and an accomplished gospel singer who has performed to sold-out crowds at Carnegie Hall and the Apollo Theater. "Chaos breeds opportunity, and we are in a chaotic time," she said. Throughout her talk, Harris offered numerous "Carla's pearls" of wisdom drawn from her experience as a Black woman and a professional who has worked on Wall Street for 36 years. One of her pearls involves authenticity, which Harris calls one's "distinct competitive advantage." She also advised professionals to be intentional about diversity, warning that "we are all vulnerable to unconscious bias." Ultimately, Harris sees courage as "the strand that holds all the pearls together."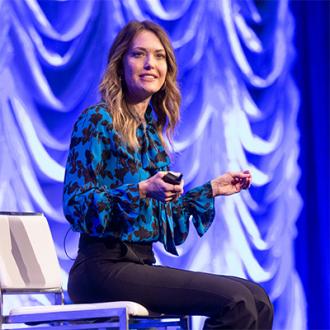 A moving story of perseverance and innovation came from athlete, actress, author, and podcaster Amy Purdy, "A Story of Renewal Against All Odds." Purdy described the devastating, near-fatal health condition that caused her to lose most of her legs at age nineteen. In spite of the incredible challenges, Purdy learned how "to let go of the old Amy and embrace the new Amy." At a critical moment in her young life, she consciously reinvented herself, and even helped design her own prosthetic feet. Purdy retrained her body to resume her beloved snowboarding, and later won a gold medal for her sport in the Paralympic Games, and came in second on Dancing with the Stars. Her story reveals how embracing courage, risk, and the unknown can yield extraordinary transformations.
Concurrent "Signature Sessions" included a mix of virtual and in-person offerings, including a presentation on work-life balance from CEO of Lobos 1707 Dia Simms; "Thriving as a Leader: Innovating with Courage," presented in-person by Brady and virtually by the Institute's Vice President of Allyship & Inclusion Elisa van Dam; and a business panel moderated by the Institute's Vice President for Women's Leadership Kerry Seitz, which featured Joanne Stephane, Principal at Deloitte Consulting LLP and Executive Director of the DEI Institute, and Ann Stanberry, Executive Vice President and Chief Strategy Officer at Liberty Mutual Insurance.
In her signature session, "Emotional Intelligence: Lessons from the Flight Deck," Lt. Colonel Olga Custodio of the United States Air Force (retired) recounted her personal journey to become the first Latina military pilot in the U.S. "People will try to discourage you, but just ignore them," Custodio advised. "Surround yourself with people who believe in you." She also shared, in Spanish and English, her signature motto: "where there is a will, there is power."
During a "fireside chat" with Brady, Grammy Award-winning singer, actress, innovator, and businesswoman Gloria Estefan offered her personal take on how renewal leads to innovation.  Estefan credits her entrepreneurial Cuban grandmother and her well-educated mother for providing her with role models of indomitable women. Estefan also stressed that "education is key" to help us develop the skills we need to realize our dream job, and that "we need to be able to pivot" in these uncertain times. According to Estefan, women are uniquely positioned to be successful in business because they exude dedication, motivation, and fearlessness.
In the penultimate session, "Ending the Gender Apartheid Regime," Iranian activist Masih Alinejad underscored the political urgency of renewal and innovation.  Responding to questions from ABC News Anchor Juju Chang, Alinejad explained how the Iranian Republic criminalizes women's rights: "we cannot show our hair, dance, or sing." Alinejad has inspired other Iranian women to protest the compulsory use of the hijab, or head covering. For her, the headscarf emblematizes the many restrictions placed on women, and is, therefore, a symbol of oppression. "This is a regime telling you what to wear," said Alinejad. "This is clearly 'my body, my choice.'" Iranian women (many of whom are mothers) protesting this form of oppression are, in Alinejad's words, the "true feminists [of today]" and "the Rosa Parks of my country." She believes that leaders of democratic nations should expand their definition of apartheid to include gender.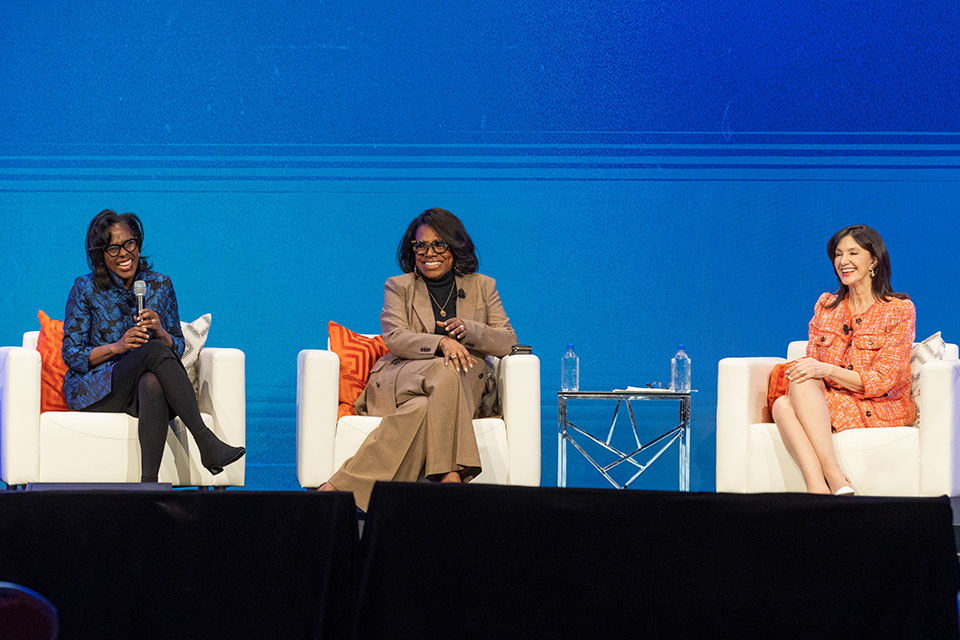 The final session included presentations by Emmy Award-winning actor, singer, and activist Sheryl Lee Ralph and Emmy Award-winning writer, producer, and actor Quinta Brunson. Ralph framed renewal as a natural and necessary process for humanity. She told the audience to "embrace the inevitability of hope and renewal. Change can be scary...but we must welcome change as we move toward peace." In conversation with Kulhawik and Simmons University President Lynn Perry Wooten, Brunson discussed the importance of collegiality and collaboration, as opposed to confrontation and competition. For Brunson, innovation is a vital part of her acclaimed television series Abbott Elementary. As she explained, although the mockumentary genre is not new, Brunson and her collaborators constantly reinvent it with diverse characters and nuanced situations.
In addition to high-profile celebrities, the conference featured panels with successful businesswomen. During their panels, female CEOs and Vice Presidents of major corporations, including Saidah Grayson Dill (Cisco), Kavitha Imani (Dell Technologies), and Jen Petersen (Raytheon Technologies), offered heartfelt expressions of how they overcame gender and racial biases. Dorie Clark, a Wall Street Journal bestselling author, emphasized the need to keep long-term ideas in sight, despite the vicissitudes and instant gratifications of our fast-paced world. Simmons' President Emerita Helen G. Drinan presented the Visionary Leader Award to Indra Nooyi, CEO of PepsiCo, for her admirable commitment to diversity and inclusion.
President Wooten and Erika H. James discussed their book, The Prepared Leader: Emerge from Any Crisis More Resilient Than Before. Based on over two decades of research, this book argues that leaders of any industry must be prepared for a crisis at all times. Wooten and James guide leaders in making the right decisions under pressure. Their book encapsulates many of the themes of this year's conference, as it advises readers how to enact calculated risk and transformation against a backdrop of incertitude and the unknown. Even in the most troubling of times, as Carla Harris said, "we always have choice and power."