Campus & Community
Latinx Reading List: New Titles and Cherished Classics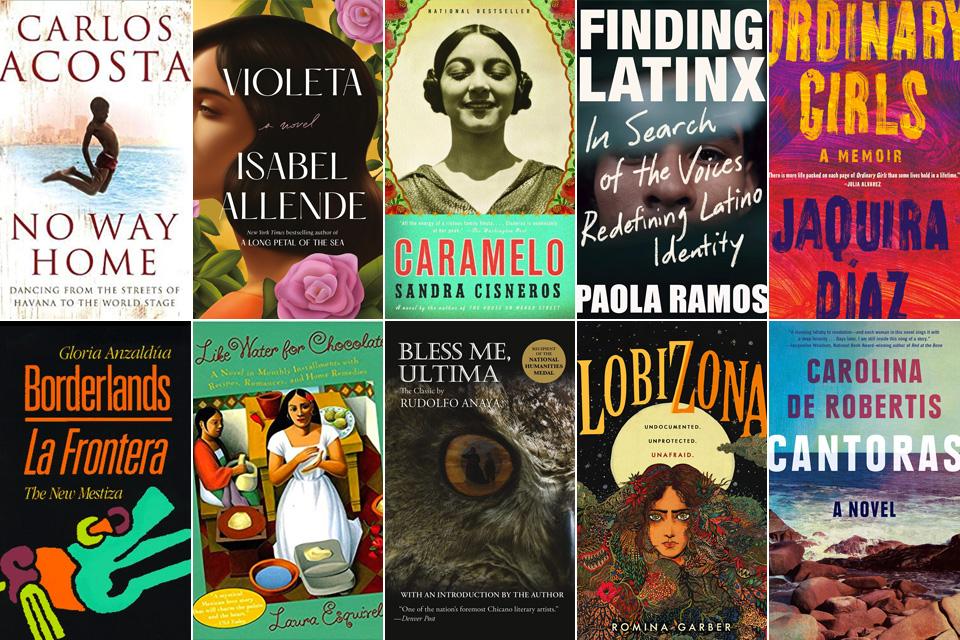 To honor Hispanic Heritage Month, we have compiled a list of books by Latinx authors that explore their cultures from a variety of perspectives, including recent publications and classic texts.
Isabel Allende, Violeta (2022). The new novel by The New York Times bestselling author follows the one hundred-year life of Violeta del Valle. Born in South America in 1920, Violeta displays passion, determination, and humor as she lives through the Great Depression, the fight for women's rights, and two pandemics.
Romina Garber, Lobizona (2020). Garber's young adult novel follows the story of Manuela Azul, an undocumented immigrant from Argentina living in Miami. The first volume in the Lobizona trilogy taps into issues of heritage and identity, intertwined with Argentine folklore.
Paola Ramos, Finding Latinx: In Search of the Voices Redefining Latino Identity (2020). Ramos, a journalist and activist, encounters diverse communities who identify as Latinx, including Indigenous, Afrolatino, queer, and Muslim, among others. What brings them together is their remarkable sense of collectivity and solidarity.
Jaquira Díaz, Ordinary Girls (2019). Díaz's memoir chronicles her upbringing in the housing projects of Puerto Rico and Miami Beach. While her life was upended by violence, depression, sexual assault, and her mother's schizophrenia, she has found triumph with love and hope.
Carolina de Robertis, Cantoras (2019). From the award-winning author of The Gods of Tango, this novel follows five women who are affected by the Uruguayan dictatorship in the 1970s. Set in a culture that views homosexuality is a dangerous transgression, Cantoras offers a moving portrait of queer love.
Carmen Maria Machado, In the Dream House (2019). This memoir, from the author of award-winning short story collection Her Body and Other Parties: Stories (2017), offers an account of a psychologically abusive relationship, told in Machado's unique style, combining poetry, social satire, fairy tales, and horror.
Carlos Acosta, No Way Home: A Dancer's Journey from the Streets of Havana to the Stages of the World(2007). Born into dire poverty in Havana, Cuba, Carlos Acosta emerged as one of the greatest male ballet dancers of his generation. In his own words, he tells the extraordinary story of how he became a star dancer in the Royal Ballet of London, but never forgot his Cuban family and culture.
Sandra Cisneros, Caramelo (2002). In this epic novel, readers are taken through hundreds of years of Mexican history. Composed in a bilingual English and Spanish voice, Caramelo engages themes of memory, female strength, and the search for home.
Laura Esquivel, Like Water for Chocolate (1992). Winner of the American Booksellers Book of the Year Award in 1994, Esquivel's novel explores the distinctiveness of Mexican food and the passions of forbidden love. The book intersperses narrative text with traditional recipes and embodies motifs of self-growth and rebellion.
Gloria Anzaldúa, Borderlands/La Frontera: The New Mestiza (1987). Rooted in the author's experience as a Chicana, lesbian, and scholar, this semi-autobiographical text examines Latinx identity through the lenses of gender, race, and colonialism. Although theoretical and scholarly, the writing is engaging and accessible.
Rudolfo Anaya, Bless Me, Ultima (1972). In this breakthrough work of Chicano literature, Anaya chronicles the coming of age of a young boy in 1940s rural New Mexico. The text engages Indigenous culture through themes of healing, myth, and magic.