Alumnae/i Feature
Kirath Miller '21MS On Her Move From Law to Libraries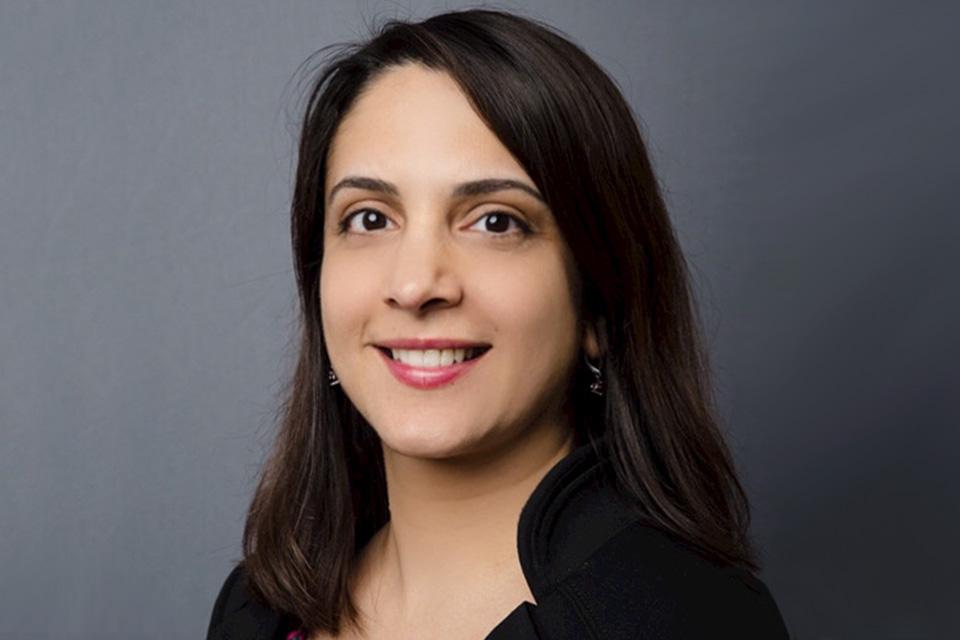 What made you choose to pursue LIS after corporate law?
I always wanted to be a librarian. When I graduated from college, the career development office was pushing new graduates toward corporate jobs. I worked as a legal assistant, and from there ended up in law school. I was interested in the research aspects of law, and saw it as a reliable way to pay the bills. After law school I worked at two large law firms and I remember being so envious of the law librarians. The partners would tell me, call the library for this, they'll do the research for you. And I was thinking, that's the piece I want to do!
Simmons kept coming up in conversation whenever I mentioned wanting to attend library school. So I put myself on the mailing list and finally decided to go for it.
Tell us about your SLIS experience.
The first class I took was Information Organization, and I loved it. I was learning skills that aren't usually taught but I feel everyone should know: how to find accurate sources for information, how Google interprets your search terms. I've saved my class notes and a bunch of recommended websites because it was such useful information. It's one of the best classes I've taken.
The required classes were all a really good mix of practical skills, theory and background. I hadn't realized there was so much technology involved in librarianship, and was initially intimidated by the Technology course, knowing that I would have to make a website. But I ended up loving it! And it has proved useful to be familiar with coding, even if I'm not using it in my current role.
Tell us about your role as a library specialist at The Brattle Group.
My goal was to work in a law firm as a librarian. I happened to be at the SLIS Career Fair one year and stopped by Brattle's table. My law degree turned out to be a great fit. The Brattle Group is a corporate library that supports consultants with a variety of requests — article, book, and data requests, as well as a variety of research.
I had a good background for the work, but no direct LIS experience. My only experience working in a library was as an intern in high school, working with card catalogs and shelving books. I ended up getting a part time internship at Brattle, which was a great way to learn. The role brings in the best of both worlds, legal research and researching subjects beyond that scope, so I get to learn new things. I work with a fantastic group of people, and that makes the biggest difference to me. I interned for a year and was fortunate enough to be offered a full time position before I graduated in May.
My forte is legal research, looking at dockets and helping people find the information they need. My role involves a huge variety of tasks and I really like that. Most of the consultants I work with serve as experts in litigation on all manner of economic issues, such as competition and securities. I also work on a variety of business development projects. We are always very busy - Brattle has grown tremendously in the two years since I joined.
What do you find most rewarding about this work?
The research is so dynamic. Day to day, we research a variety of topics that our projects touch on — cryptocurrency, gaming, music, healthcare. I love how every day is different. I rarely see projects through from beginning to end, but I enjoy the variety that jumping from project to project offers.
The culture at Brattle recognizes us for our hard work, and they've been very flexible during the pandemic, willing to work with people to create flexible schedules. I work on a team with four librarians. We work well together, meeting every week to discuss issues we've encountered in our research and to goover best practices.
How did Simmons prepare you to become a leader in your field?
When I left my law firm during my fifth year in the field, I was just starting to take on managerial responsibilities, so I didn't have much experience in that area. The Library Management class at Simmons taught us the importance of supporting junior people and managing the expectations of senior staff. I find that very useful in my current position. It can be intimidating to tell a senior consultant that I can't fulfill their request in three hours, that it will take a full day. I'm still learning how to make my needs clear and ask the right questions. Another component of that class was about budgeting, and while I don't need to do that in my current position, it's a lesson I've taken with me.
Your advice for career changers?
Fear was my number one barrier. Changing careers was extremely scary, especially after going through law school, which was a massive investment of money and time. You get a sense of identity through your job — I was a lawyer, that was how I described myself. I worried that I had wasted 8 years of my life. I was afraid to tell my parents about my decision to leave. I had law school loans and a great job with an amazing salary that I knew I wouldn't get back. Once you leave it's very hard to get back into the legal field, where the openings are few and far between. I had to make peace with those losses before I made the switch.
It took me at least a year to work up the courage to give notice. As soon as I started at SLIS, all of my fears melted away. LIS is so much better suited to my personality. For those considering a change, I suggest you think of the environment you want to work in every day. I didn't want the exciting, fast-paced prestigious law firm environment. I wanted a library environment — I kept that in mind, in the midst of my fears. You want to do something every day that excites you rather than makes you anxious and unsure.