Alumnae/i Feature
Kelly Fanning '05MBA Shares Passion and Purpose Throughout the Pandemic, and Beyond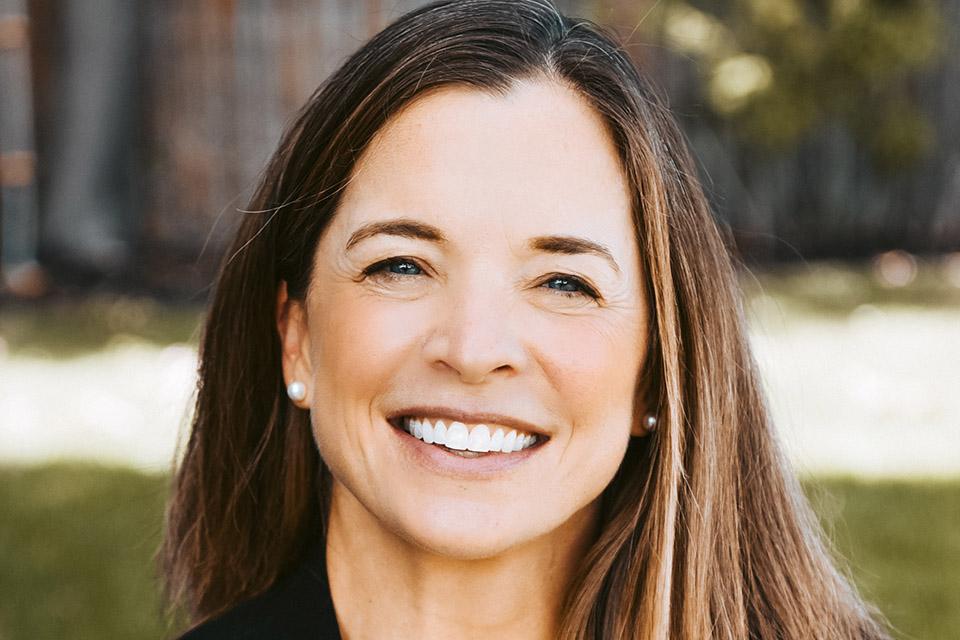 I got a strong foundation for my communication, change management, and operations skills at Simmons and have put it into practice over and over in my career, and it has been invaluable.
Kelly Fanning '05MBA Shares Passion and Purpose Throughout the Pandemic, and Beyond
We spoke to Kelly Fanning '05MBA about the pivotal role she played at Brigham & Women's Hospital (B&W) throughout the pandemic, and how the experience has transformed what she wants from her career.
Tell us about your previous role as VP of Ambulatory Services & Patient Experience at B&W.
When I began in that role the main goal was to improve access for patients by reducing the wait time, particularly for high-demand providers. I saw an opportunity in that the organization was willing to commit to creating a team that could better support our outpatient practices in providing a safe & high quality patient experience, and that I would have the opportunity to build that team and spearhead improvements. I love building and leading teams! I love having the opportunity to create a culture and manage and lead in order to support that culture.
During my time in that role, the team grew from four to 34 employees. We collaborated with different departments to figure out how to get the patients more easily scheduled with physicians and in the clinic for treatment. When I moved on from that role there was a great team in place, including an Executive Director who was able to continue with the mission and vision. I have had a lot of successes in my career to-date and I look forward to more to come. What I do know is that I will consider my work a success, if I have seeded the healthcare industry with other leaders driven by their values.
How did your role change during the pandemic?
The pandemic created a moment in my career in which mission and business came together as never before, creating one of my greatest professional opportunities. After the Biogen Leadership Conference met in Boston in late February of 2020 [later identified as a super-spreader event], cases started to roll out. I was pulled into the Emergency planning team, designing a testing approach and a scheduling approach for testing and results management. It was like working in a startup — design, implement, pivot, change. I got to work in teams with nurses, physicians, administrators, medical assistants who all came to work with me in the most collaborative fashion. What began as a bare bones plan evolved to be multiple testing sites with a central scheduling team and central nursing team to call in the results. A mobile testing unit went around different Boston communities that were at a high risk for COVID-19 to offer easier testing within higher risk communities
After running this model for over 75 days straight, we moved into more standard operations. We had a team to run it and over time evolved the way patients could schedule. I and the Ambulatory Services team then returned our focus to bringing patients into outpatient practices in the safest way possible with prescreening and PPE and also continuing to leverage virtual care, where appropriate. Three to six months later, the vaccines were getting ready to be offered. In December of 2020 I worked on vaccination efforts, as most of the efforts around testing were local to Brigham & Women's. I worked on a strategy for Mass General Brigham as a whole, as well as one for Brigham, specifically. We had to consider locations, spacing, wait time, storage of the vaccine, administration of the vaccine, and the check-in and check-out processes. All of that evolved frequently due to the phased rollout of the vaccine: first to healthcare workers, then to people 65 years old and older, and so on. We had to rethink our operations slightly for each different population. I often thought about the Operations course I took at Simmons, as I put those skills to use a lot! I think of everything as a through-put operation [measuring inputs and outputs] and consider turnaround time. I led that for a little over a year before we started to move the vaccination efforts into standard outpatient practices as more of the population was vaccinated.
How did it impact your work-life balance?
During the first surge of the pandemic I was working most weekends. My husband brought our kids to one of the testing sites, where they saw people lined up for testing and healthcare workers dressed in PPE. It helped them understand that I was doing something important. My kids were eight and ten when schools shut down in March 2020, and they didn't go back until the schools opened on a hybrid schedule the following year. My husband worked from home and cared for them. We did what needed to be done and I couldn't be prouder of my kids and super grateful to my husband. I'm fascinated by the impact this pandemic has had on people of different ages.
When my twelve year old finally got her vaccine at B&W, I cried. It was emotional to see my children benefit from all the work that took me away from them for so much time. The pandemic has had an impact on everyone, but I especially worry about the impact it has had on women. Trying to work during these challenging and changing times makes it difficult to be a present parent. I also worry about women who were forced to leave work to care for their kids full-time.
I left B&W in May of 2022. I may not have identified it as such at the time, but on reflection I think I was suffering burnout. When I'm really fired up about something, my workaholic tendency ramps up. The pandemic required that behavior and it became a habit. Stepping away, I'm able to reflect on my behaviors as an individual to avoid burnout in the future. There are solutions we can implement as individuals, but organizations can offer support as well.
You've recently transitioned to consulting. What does that entail?
I loved my time at B&W and grew so much as a leader during that time. As the post-pandemic needs of my job moved from community centers to conference rooms, I found that I wasn't as professionally satisfied. Coming out of the pandemic, having a sense of purpose became even more important to me in my job. I thought about how I could continue to bring change, be close to an organization's mission, and grow my leadership skills. I've spent a lot of my career as a mentor to people, often women, and I've always tried to be a role model for women in my career, especially as a working mother. It would have been easy to stay in that role and keep progressing because I wanted to show women that we can do it, but it wasn't fulfilling me anymore. I don't want to be that woman who barrels through and does it but is unhappy. I wanted to be a better role model for other working women and for my own daughters, who I hope will be working women some day. I wanted to model the idea that we can evolve in our career and still be successful and professionally fulfilled.
Leaving my role at B&W was one of the bravest things I've ever done in my life. I've worked every day since college, except for the eleven months I spent in business school. I love to work, I love to lead teams, and the idea that I wasn't continuing on a path I had been on for so long was frightening for me. I knew I needed more, and was too busy at work to find the space to figure out what "more" was. A job fills so much of your life, and if my kids can't see that I have a purpose in my job then I'm not being the role model I want to be.
Now, I'm consulting with Bellwether Analytics, a firm that allows me to work with other like-minded leaders to provide strategic and analytics-based consulting for health care and life science organizations. This role has allowed me to continue to work with B&W as a consultant, while also engaging with other health care organizations. I get to hear about the challenges and problems facing these organizations, then use my skills and experience to suggest improvements. I don't know if I will stay in consulting long-term. I'm currently working with a career coach to take everything I've learned from the pandemic, the skills I excel at, my values, and what I want in a career and an organization to figure out a way to bring all of that together in my next role.
How did getting your MBA with an all female cohort develop you as a leader?
Going to a women's focused program shaped who I've become as a leader. It was as competitive as a coed program, if not more so, but not cutthroat. I was 27 years old and my peers were women who had careers before their MBA and were strong, articulate, opinionated, and smart. They made me want to share my opinion in class, even though my experience was limited, and that made me more confident. Now, I'm rarely in a room where I don't speak up if I have an opinion worth sharing, regardless of the hierarchy in that room. I'm a competitive person but I'm not looking to beat anyone else, I'm looking for people to use as benchmarks to improve myself. That's what Simmons, and the strong women in that program, provided me.
Operations has become a natural way of thinking for me, and that started at Simmons. I took a lot of different classes in leadership, change management, communications, culture management, that were incredibly helpful. Communication is incredibly important in everybody's career. You're trying to communicate to a lot of people with differing priorities, and you need to do so in a clear, succinct way, adjusting the message for each audience. In healthcare, everything is constantly changing, and it's vital to understand the culture and people's reaction to change. Often people who are tired and frustrated and burned out come across as frustrated and angry. I got a strong foundation for my communication, change management, and operations skills at Simmons and have put it into practice over and over in my career, and it has been invaluable.