Alumnae/i Feature
Kate Clifford Larson '80 '95MA Writes History through the Eyes of Women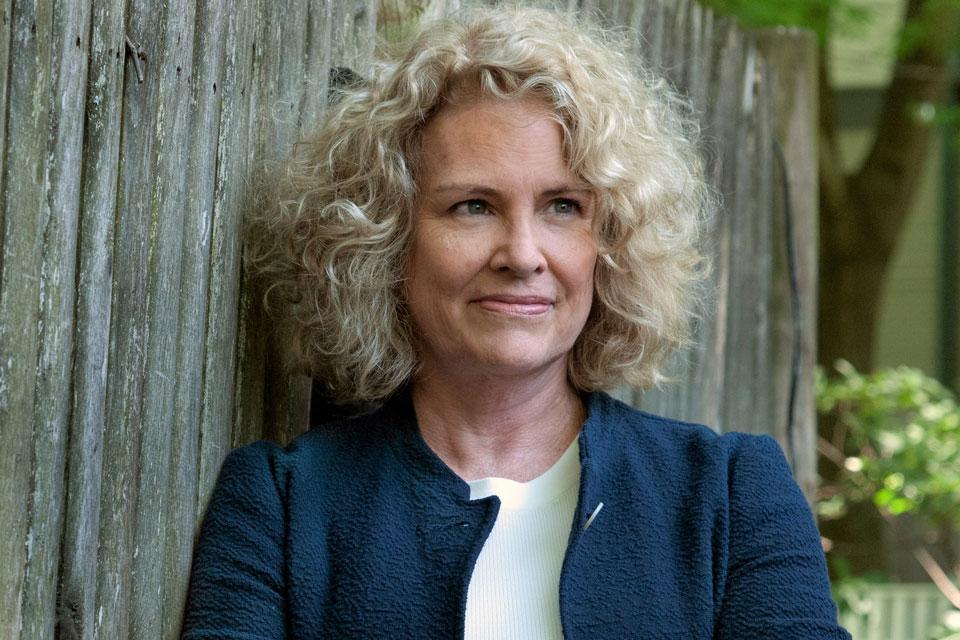 There's no question in my mind — Simmons gave me confidence I did not have. The environment was fabulous and helped me blossom in college.
Historian Kate Clifford Larson '80 '95MA is the author of Bound for the Promised Land: Harriet Tubman, Portrait of an American Hero (2003, Penguin Random House), The Assassin's Accomplice: Mary Surratt and the Plot to Kill Abraham Lincoln (2008, Basic Books), and Rosemary: The Hidden Kennedy Daughter (2015, Houghton Mifflin). She was a historical consultant on the films Harriet (2019) and The Conspirator (2010). Most recently, she published Walk with Me: A Biography of Fannie Lou Hamer (2021, Oxford University Press) and created an online reference guide to Harriet Tubman's life and works. Larson shared what Simmons meant to her, personally and professionally, and why she came back for her master's degree.
What led you to Simmons for your undergrad degree?
I liked the concept of an all-women's college. I had a great aunt who attended Simmons in the 1920s, and I loved it when I visited. I grew up in Lewiston, Maine, and I wanted to be in the city. I wanted to study economics, and get into the financial industry. After graduating, I worked for an investment bank.
Were you always a history buff?
I've always loved history. My father was a lawyer, and all lawyers love history. Our home was filled with history books, we visited historical sites on vacation, and he was always telling us stories. For years, I was collecting antique diaries written by women, mostly from the 19th and early 20th centuries. I was so fascinated by their lives. There weren't a lot of biographies about women at the time, but those diaries showed me that women's lives were mundane and extraordinary, just like men's lives.
When I read Good Wives and A Midwife's Tale by Laurel Thatcher Ulrich ['72MA, '93HD], that convinced me that I really wanted to study women's history. I left the investment banking field and returned to Simmons, where I met the magical [now Emerita] Professor Laurie Crumpacker, Professor Susan Porter, and [now Emeritus] Professor Mark Solomon. There was an incredible environment at Simmons, supporting each other and learning women's history. I loved it.
What do you look for in a good, book-worthy historical subject?
When my daughter was in second grade, she was reading books about American heroes. She came home with a book about Harriet Tubman, and she was so excited and inspired and I was, too. I went to the library and found only one biography of Tubman, published in 1943. No one had written a biography about her since then. Tubman became the focus of my dissertation, and that paved the way for me to become a biographer.
I learned about Mary Surrat and thought she would be a great person to write about, with the goal of proving her innocence [of her involvement in the plot to assassinate President Lincoln]. I got a book contract and started researching, and three months in I realized, she was guilty! I decided to plough through, though I didn't like her very much.
People still argue with me about Surrat, saying that she was railroaded, that everyone lied during the trial. But why would they lie about a woman? She was a powerful Southern woman with financial resources and status, and the Southerners hated Lincoln. She was very bright and strong in a world dominated by men and the patriarchy, but that's where my sympathy ends. I will never again write about someone I don't like.
In 2005, while I was working on my book about Mary Surrat, Rosemary Kennedy [the younger sister of President John F. Kennedy] died. I had read many books about the Kennedy family, and her obituary was so sweet and sad that I wanted to know more. In 2008, the JFK Library opened [their mother] Rose Kennedy's papers, which included letters from Rosemary to her siblings and parents. That set me on a very long journey of discovering Rosemary.
Each time I write a book, I learn more about myself as a writer and historian. With Rosemary, I learned that a story can look different depending on who you put at the center. Many books have Jack or Ted Kennedy at the center, but with Rosemary in the spotlight you see the parents and siblings very differently. Rosemary brought out some things in that family that may not have developed without her struggles.
While I was working on Rosemary's biography, my son was diagnosed with schizophrenia. The diagnosis upended our lives, and we spent years making sure that he would survive. I learned in a personal, visceral way the struggles that parents have with children with disabilities. Rose and Joe Kennedy went through a lot trying to find resources for their daughter, and there were very few answers back then. The experience forced me to rethink their roles in Rosemary's life.
What was it like Harriet's and Mary Surrant's stories transformed for the screen?
The script for The Conspirator was written in 1993, and the studio approached me to rework it once Robert Redford signed on to direct. In the original script, Mary was innocent; the revision presented how she could have been involved. I got to meet Robert Redford at the film's premier!
My Harriet Tubman book has been optioned many times. It's never been used for a film, but I did consult on Harriet, the film that came out in 2019. The original script was written in the 1990s, and director Kasi Lemmons took over the script in mid-2018 and put Tubman at the center. I was a historical consultant, there to help add texture to Tubman's life. However, Lemmons reminded me that this wasn't a documentary, it was a Hollywood film. I thought the film was fabulous, if not historically correct. They nailed Tubman's character — powerful, smart, determined, and full of love. The film inspired people and I loved it.
What does your research process look like?
I'm forcing myself to get out of the habit of footnoting every sentence. I need to add texture, sound, and visuals to the story. I tried to do that more with Rosemary, and my latest biography of Fannie Lou Hamer. The weight of history and documenting her life with the latest research was really important to me. I listened to audiobooks of Southern novels to get the cadence and feel the tone of Hamer's story. I didn't know anything about Mississippi. I needed to understand the drawl, know what the landscape looked like, feel the heat and hear the sounds of the bugs. Fortunately, there were a lot of recordings of Hamer, so I could watch how she walked and how she related to people.
How did Simmons prepare you to be a leader in your field?
There's no question in my mind — Simmons gave me confidence I did not have. The environment was fabulous and helped me blossom in college. Going back years later as an older person, married and with children, I found another supportive environment. It was like divine providence that I went back to Simmons! My professors were amazing and provided fertile ground and support, and that's what I needed. All of my friends from Simmons say the same thing, that Simmons did something great for all of us.