Student Story
Kasie Cassell '23 DNP Finds Fulfillment Working in Mental Health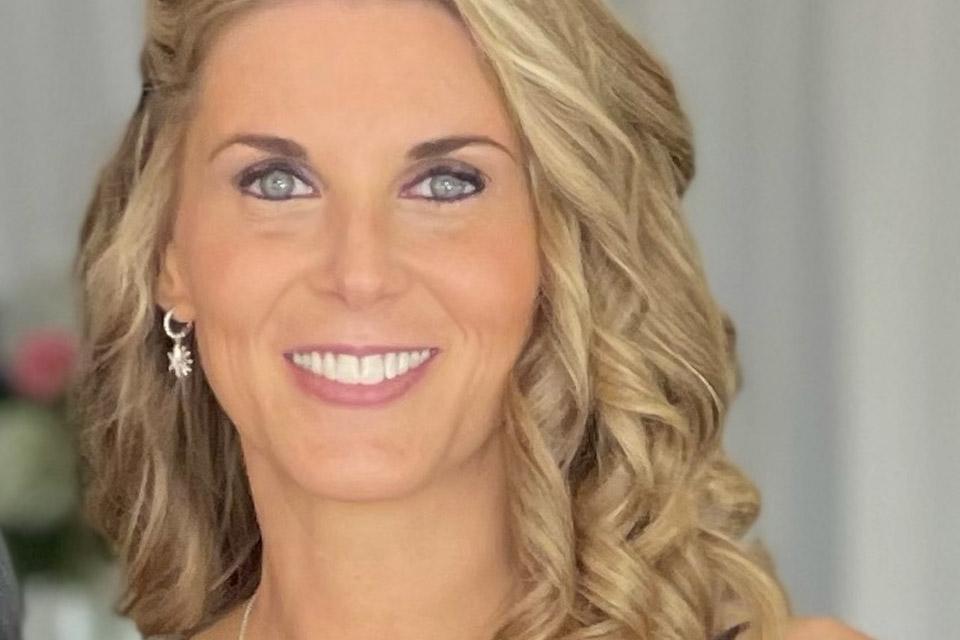 Tell us about the work that you do.
I am a dual licensed, board certified Psychiatric Mental Health Nurse Practitioner and Women's Health Nurse Practitioner. I work at Columbia Associates in Psychiatry, an outpatient psychiatric practice based in Virginia, with locations in Maryland and Washington D.C.
I am the Market Vice President for our company and oversee all of our offices and the growth of our practice. We have been a private practice for 35 years, and we were acquired by a larger corporation this past December, but we strive to maintain the feel of a small, private practice to provide exceptional care to our patients. Becoming part of a larger corporation has allowed us to reach a much larger population. I transitioned from working directly with patients to managing the entire market, mentoring, consulting, and helping our corporation grow Columbia Associates.
How did you become interested in mental health?
My stepfather is a psychiatrist, and my mother is a psychiatric nurse. I was a registered nurse for 10 years and started my career in the military. I went on to earn my Master's in Nursing Education because I love to teach and mentor. I eventually found my niche in women's health, and I loved it, which led me to furthering my education and career as a Women's Health Nurse Practitioner.
My family is on the east coast, and I was living in Colorado when I had my first child and experienced postpartum depression (PPD). I have always been a very positive, happy person, so this was completely out of the ordinary for me. I felt very isolated, and realized I was too far away from my family. My stepfather recognized that my personal experience with PPD could help serve the mental health crisis for the perinatal population by working to treat pregnant and postpartum women. This inspired me to move back to the east coast and return to school for my Psychiatric Mental Health NP degree. Before my experience with postpartum depression, I never thought I would end up in mental health care but it has now become my passion to be a resource for women who are facing similar challenges.
Why did you choose Simmons?
I have a good friend who is a social worker, and she was interested in getting her doctorate at Simmons. She suggested we both go back to school together. I initially said no — I had already been in school for many years and have four children — but she encouraged me to at least look at the program. I was paired up with a wonderful academic counselor who ultimately convinced me to attend Simmons. I learned how amazing the DNP program is and recognized that in order to be a leader in my field and set the example for all NPs I needed to achieve the highest level of education and become the expert in my field.
My Simmons professors have been wonderfully supportive. Even when I am stressed with work, kids, classes and papers they help mentor me through it all and create a positive culture. I currently hold 4 degrees from 4 different Universities and without a doubt Simmons has been the most supportive program I have attended.
How is Simmons helping you become a leader in your field?
Before COVID, I became involved in screening women for perinatal mood and anxiety disorders. Women fill out a questionnaire that has been validated as a useful tool to evaluate their mental health. Currently, there are no consistent guidelines to screen women for anxiety and depression, and this can affect pregnant and postpartum women. The biggest barrier for primary care providers is when a patient gets a positive screening they don't know where to send the patient due to a lack of resources. I want to go into primary care, OBGYN, and pediatrician offices and implement a program where we are screening electronically. My goal is for the screening to go to a mental health coordinator so that they can reach out to the patient directly and connect them with a mental health provider.
My DNP gives me the opportunity to collect this data for my research project. This project will help me implement changes using evidenced based practices into a primary care setting and improve outcomes for perinatal women and their mental health.
What is your advice for students with similar career goals?
You must be passionate about what you are doing, and it can take time to find your passion. It's possible to just finish a project, get your grade, and get your degree. However, you should have the motivation to create change. To get through a rigorous graduate program and become an expert in your field and a leader, you have to understand yourself and your goals.