Alumnae/i Feature
Kaitlin Allair '21MS Researches Effects of Teen Media Use for the Digital Wellness Lab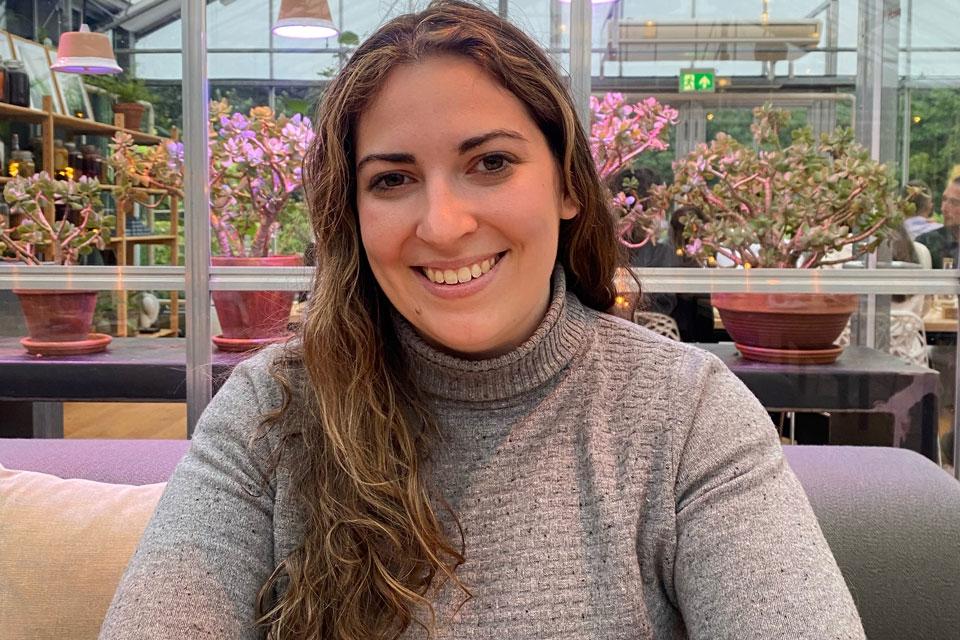 All of the little pieces of my job that I do every day are absolutely curated by Simmons.
Kaitlin Allair is a research librarian for Boston Children's Hospital and the Digital Wellness Lab, where she gathers and evaluates research on digital wellness and the effects of media on children and adolescents.
What led you to Simmons School of Library and Information Science for your Library and Information Science degree?
I grew up in Massachusetts, so I'm familiar with the area. I noticed a lot of School of Library and Information Science alumni out in the field, and I liked the ability to design your own curriculum [for the Masters degree in LIS]. I took a lot of classes in academic librarianship, technology, reference, and management. I took multiple classes with Professor Laura Saunders, which I really enjoyed.
Tell us about the Digital Wellness Lab.
The Digital Wellness Lab is part of Boston Children's Hospital. I'm employed by the hospital but I work in the Lab with a team of people focused on conducting and disseminating research that helps us understand young people's connection to media to help create evidence-based guidelines that can be used by the medical profession and tech industry.
We work to use rigorous research and clinical insights to impact the design of products and policies within technology and media companies, which is a bit unique in the research realm. The ideology of the Lab is that these companies do exist and kids are using the tech, and we want the companies invested in making their products healthier for their users. For example, we recently worked with a major tech company, presenting them with our research and other information about the impact of social media use on young people's mental health to help impact more wellbeing-forward defaults for their youngest users. Following public health principles, we are working to impact the tools and platforms kids around the world use every day.
I love that we also launch surveys to get data from adolescents about their device usage. Kids have strong opinions on how they are using their devices, what it helps and what it hurts, and that often gets overlooked in policy-making.
Do you research whether technology is addictive?
My job is to stay up to date on the research, and there is a wide breadth of opinions about the negative effects [of media use], or if it's addictive. It's interesting to see the research [in this area] develop. We try not to use the word "addictive" as there are often underlying causes for why kids are using tech so much. A kid with ADHD may have trouble regulating their behavior or a child might be going through a difficult family situation, and their needs are met with a device. On the clinical side of things, there are kids and teens who really struggle with problematic media use.
The old ways of measuring [potentially addictive behaviors] are time-focused. In the early days of internet use, a lot of questions to test for "addiction" were asking about how much you go online or how many times you check your email in a day. Now, screen time alone is not necessarily a good indicator [of negative uses]. After COVID, a lot of research came out about how kids moved socialization online, playing Fortnite while also FaceTiming with each other or talking on the phone. Some kids play video games for hours while talking to their friends, but they are able to walk away from it, while other kids may keep buying loot boxes and are unable [to detach].
What is your role/examples of daily tasks?
One of my biggest tasks is collecting research. I have alerts set up on Google Scholar, as well as other database alerts, and keyword searches on journals in the realm of research on technology and human behavior, with a focus on research about kids and teens. I organize the research by topic and age group, and support the research process at the Lab. Someone may ask me what the research is showing about parental mediation and development effects on a specific age group; once they are writing their article, I help find citations for their claims.
Is there a particular research thread that you find compelling and valuable?
The research about gaming is really interesting. Growing up, I loved playing video games with my brother, and still do enjoy gaming. There is research about how people with disabilities are creating their own adaptive use of video gaming. I'm also interested in what it means to have disabled representation in gaming; for example, Minecraft has a special server for kids with autism and their families.
What have you discovered about how to make the internet safer for children and teens?
It's important to understand the nuance of tech use and how so many different pieces can be helpful to kids, as well as understanding individual differences. How can we help a girl who may have tendencies toward an eating disorder by fixing the algorithm to filter dangerous content out of her social media feed? Or how can social media help an LGBTQ+ teen searching for support online? Our goal is to encourage the creation of technology that represents the needs of kids in order to create a safer and more comfortable space online for everyone.
One big problem with the research is just how quickly it changes. Now, the kids we survey don't use Facebook anymore. TikTok is really big right now and I don't see a decline in its usage, but YouTube is even bigger; 95% of teens use YouTube. I've also seen research on the dangers of "sharenting," when parents post photos of their children on social media. Do those kids later have the right to [remove those posts]? If you post your kid's full name and birthdate online, it may [put them at risk] for identity fraud [in the future]. Kids are also a big driver of views for parents who are influencers, but labor laws for child actors don't really apply to social media. There are very few laws and regulations on whether the parents have to save any of that money for their kids, or on how they use that money. It shows how complicated the social media sphere is and how many industries it crosses.
Our polls have also shown that kids are more likely to block someone [harassing them] online but not report them. They don't necessarily think the company will do anything if they report. Research shows that telling people what the reporting process entails may make them feel more comfortable doing so.
How did Simmons prepare you for this role?
All of the little pieces of my job that I do every day are absolutely curated by Simmons. Comfort with research skills, databases, and search strategies were a huge focus in my classes at Simmons, and it helps my job exponentially that I can narrow down information. I often present or communicate what I'm doing, explaining my research process to people who don't have a background in librarianship, so communications skills are also vital.